A century after its dazzling debut, Cartier's most famous feline has received a makeover with a stunning new 56-piece collection dedicated to the Maison's emblematic cat.
If the lion is king of the jungle, then surely the panther is queen. A timeless symbol of beauty and power, this mystical creature has long fascinated the fine jewellery world. It comes as no surprise then that the ferocious feline has become one of fine jeweller Cartier's most iconic symbols. For more than a century Cartier's panther themed accessories have adorned the wrists, hands and décolletages of some of the world's most fashionable and inspirational women.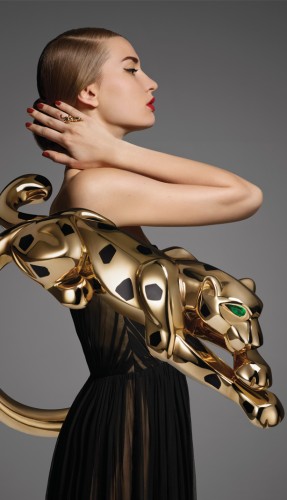 To celebrate this monumental milestone, the French jewellery house has released a 56-piece collection inspired by the black cat. The new Panthère de Cartier collection, which features more than 50 pieces, is the biggest in the house's history and arguably one of its finest. From playful panthers who wrap their tales around wrists in onyx, diamond and emerald bracelets to frisky felines who coyly sit atop citrine pendants, each piece has been carefully crafted to convey a personality trait of the striking mammal.
First introduced in 1914 in the form of a black-and-white onyx-and-diamond-pavé motif on a watch, the panther would later go on to become a royalty favourite, worn by the likes of Grace Kelly of Monaco and chosen by the Duke and Duchess of Windsor. With a royal fanbase behind them, it wasn't long before Cartier became the go-to jeweller for Hollywood stars like Elizabeth Taylor and society figures such as Daisy Fellowes. Today not much has changed, with the famous panther adorning the hands, fingers and necks of some of the world's most influential women, including Cara Delevingne, Stella McCartney, Miranda Kerr, Lady Gaga and Gwyneth Paltrow.
The Cartier panther has gone on to become one of the brand's most well recognised icons, as well as a symbol for modern women across the world, as Laurent Salomé, the curator of last year's Cartier exhibition in Paris explains. "The idea that women can be like panthers is really the symbol of a certain type of woman; a new free, fierce, and maybe dangerous woman."