As the star of WatchMe's Intern, Ellie Harwood plays a role that sees her subjected to the wacky whims of a workplace environment that would give any HR manager heart palpitations. In reality though, Ellie is a smart 25 year-old at the cutting edge of ZM's online strategy and part of the future digital, radio, and on-demand content evolution. 
How did Intern come about and how did you become its star? Were you the inspiration? I'd definitely like to say that I was the inspiration behind it, but I'll be honest, I wasn't involved from the get-go. WatchMe launched a whole lot of new shows all at the same time, and they wanted to collaborate with ZM as a brand. Fletch, Vaughan and Megan are incredible talent so I'm not surprised they decided to write a show around them. It just so happened that the writer for Intern, Alan Morrison, is one of the brains behind Viva La Dirt League (@vivaladirtleague)– a YouTube/Facebook channel I also act on. I think he did have me in mind while he was writing the script, but not because I was suited to playing an intern; it was more because I was quite an obvious choice – 1) Because he knew my capabilities and talent and 2) I already worked at ZM!
How do the shows come together? Are you involved in the writing process? Is there an ad-lib element? Alan the writer generally writes a season all in one go, and no, I'm not involved in the initial writing process. But then we'd have a read through, get a feel for our characters and discuss any potential changes to the script. Then the actual filming is done across 2-3 days, probably 15 hours altogether for one entire season. And it's there that I do a bit of ad-libbing, because sometimes scripts don't come across as they were intended once you're actually on-screen and filming. The producers and directors were very open to letting me change my lines if I thought it would suit my character more.
Do find that strangers relate to you as your character? It's funny, I think a lot of people don't realise it's a character, and instead strangers feel like they're actually relating to me. 90% of the time when I'm stopped in public, they genuinely think I'm an intern, and I think that's why people aren't too afraid to come and talk to me (which I love) because they see a real person, trying to make their way up the workplace ladder, dealing with a**holes.
There's always the occasional seed of truth within comedy, how would you some up the world of radio from your experience? Radio is a crazy, intense, fast paced industry where no day is the same as another! The gags/jokes/sketches you see in Intern are obviously over-exaggerated, but in some ways reflect real-life. Of course the 'talent' aren't actually like that in real-life, that's the most far-fetched part about it! But the silly pranks and stupid office banter aren't too far from the truth!
Can you give us 5 tips for dealing with office-politics? Humour, humour, humour, humour aaaaand humour! Okay, maybe not every time… but it's a good way to break the ice.
What advice do you have for women working their way up the corporate ladder? Never go into anything with the attitude of 'oh, I'm a woman…' – I think often being pigeon-holed as a woman, affects the way we think and perceive ourselves. If you think of yourself as a 'woman in the workplace', it can automatically make you feel like you're disadvantaged because of the connotations that come with that phrase. I say, grab your job by the balls (or should I say t*ts) and see that being a woman is an advantage! There are a lot of opportunities for women coming to the surface as society becomes more aware of the gap, so you're in a good place if you believe in yourself!
In a way you have become one of the original faces for WatchMe's mandate of discovering talent. How would you describe WatchMe's evolution since its inception? WatchMe is still a baby really, but it's come a long way in two years! It went from a website that housed a few Kiwi shows that already existed, with a few fresh pieces of content, to the beast that it is now – full of 100% Kiwi-made comedy, many of which are created in-house on small budgets. WatchMe is only getting bigger and better and I'm confident that WatchMe has a huge future ahead of it. As a society, we're quickly moving away from traditional TV and we're craving our content online. The fact it's 100% Kiwi made and produced makes it even cooler!
And carrying on from that evolution in content and tied into your role as an online content producer for ZM how do you think things are changing in that respect? Is it fair to say that online content is currently supportive of on-air content? How do you see that relationship changing? 100% – you can't be a successful radio show anymore, without being across social media platforms. Gone are the days of wearing trackies to work, because everything is filmed now (although, I definitely still wear trackpants to work!), and it's become a job that's much more 'around-the-clock'. Radio announcers are expected to create content that sits outside the realm of their on-air radio shows. The social presence has become just as important as the 20 hours a week radio announcers are actually on the radio!
What was the most memorable birthday for you? I've always been a sucker for theatre, music and acting so my 15th birthday was pretty special to me. My best friends organised a surprise party that was 'musical' themed. When I arrived at my friend's house for what I thought was a dinner for two, all my friends were there waiting for me dressed up as characters from movies like Grease, High School Musical and The Wizard of Oz!
Turning what age was most significant for you? That's hard to say, so I'm going to go with the most recent, the big 2–5! a) Because it was like, last week and b) because it dawned on me that I'm halfway to fifty.
What was the biggest hurdle you have had to overcome? (business and/or personal). I'm going to sound like a total 'millennial' here, but I want to speak out and stand up for those who are crippled by the connotations that come with being in this generation. The biggest hurdle in my life was actually when I came out of University as a Psychology graduate at 22 years old – that horrible limbo age. My childhood was incredible; I had a lot of friends, played a load of sport, did every school theatre show, I was a prefect, Deputy Head girl, and I managed to get good grades at both school and University. I'd done everything by the book and had a lot of potential – so why was I complaining? It was when I left the 'system' that I realised I was completely lost and not happy with where I was at. I had this degree, a lot of support, but no direction. And absolutely no idea what to do with myself. I was terrified of disappointing my friends, parents and all those people who had put so much faith in me. I hadn't reached the potential I had been told I would, and I felt like I was stuck somewhere I didn't want to be, with no way out. I'd just got a random job – not in my field of specialty – and I found that my reality could not be further from all those expectations of how 'successful' and 'great' my life would be. I actually ended up in therapy and on medication for a while, and I'm proud of myself for doing so, because I was able to get back up and find myself again! I actually wrote an article on my experiences in the NZ Herald if you're interested in reading more. So, my hurdle wasn't one major single event, it was a combination of many 'little' things that all added up.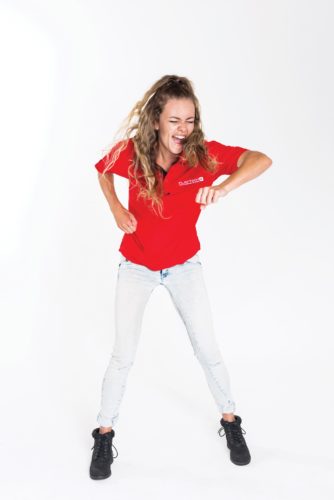 What advice would you like to go back and give your 16-year-old self? You're going to be okay, so stress less. At school, we get so tied up on finding a career, knowing where we want to go. And don't get me wrong, it's important to find direction! But I threw myself at everything and although it's played a part in who I am today, I ended up naturally finding my passion in the end, without even looking. As I mentioned earlier, I studied psychology and then ended up really lost and stressed because I felt like I had to do something with my talents. But it's very hard to know what you want to do at 16! I ended up finding my passion for radio after becoming a part-time promotional worker at ZM. I had no idea that my summer job would end up moulding into my career! It's only at the age of 25 that I've worked out what I want (I think)!
What three words would you use to define yourself? Funny, listener and @ellharwood …because let's be honest – Instagram has totally become a part of defining ourselves (as much as it hurts to say!)
How do you achieve a work life balance? Being an online producer, actress and weekend on-air announcer, I do find myself working a lot. But it doesn't really feel like work because I love my job! I just consciously appreciate and make the most of the times I'm not working.
What kind of failure have you faced in your life, and how did you push through that? Repeatedly if necessary. There's no such thing as 'failure', only lessons. There were no major 'events' that happened where I felt like I'd failed, but there were plenty of times at school, university and work where I didn't get to where I wanted to be, or I didn't achieve what I had set out to do. From there though, I was able to learn from those experiences and change how I approached similar things next time! I can't stress enough that talking to others about how you're feeling, is SO important. And if you don't have a friend or family member you feel comfortable enough to talk to, therapy is incredible. I think everyone should try therapy – and you don't just have to have therapy when something goes 'wrong'. Every 'experience' or 'hardship' or 'failure' is big and important enough to talk about and learn from!
What mantras do you live by? Relativism – I even got it tattooed on me. In young person's talk, this basically means that everything we see, feel and experience is only relative to our perceived world. For example, your mate might reach out, crying about something that doesn't really sound like a big deal to you. But that's only because you value that particular thing less, in your relative world. If a mate is sad, regardless of how big or small you perceive the problem to be, if it's affecting their emotions, then it matters. On the flip side, never feel silly for talking to someone about a problem you might have – if matters to you, then it matters. This mantra reminds me to support others and accept your emotions, because this world is scary and we need to look after ourselves and each other, always!
You can watch Season 2 of The Intern here – http://www.watchme.co.nz/entertainment/intern/