Spring Summer 19's beauty reports were a string of wild child nomad aesthetics – showing off a range of simplistic statement looks, there's an almost-permanent feel to the visible shift in artistic minimal makeup. The sun-kissed wanderers of Phillip Lim, the fun 90's clubbing Adeam girls, Chanel's French bourgeois seaside walkers, and Kaliardos' vibrant yet abstract block colour beauty for Rodarte – all the looks gave post-facial vibes with ultra-healthy, glowing skin as a base and tastefully eye-catching makeup to mimics artistic embellishment.
Hour of Heatwave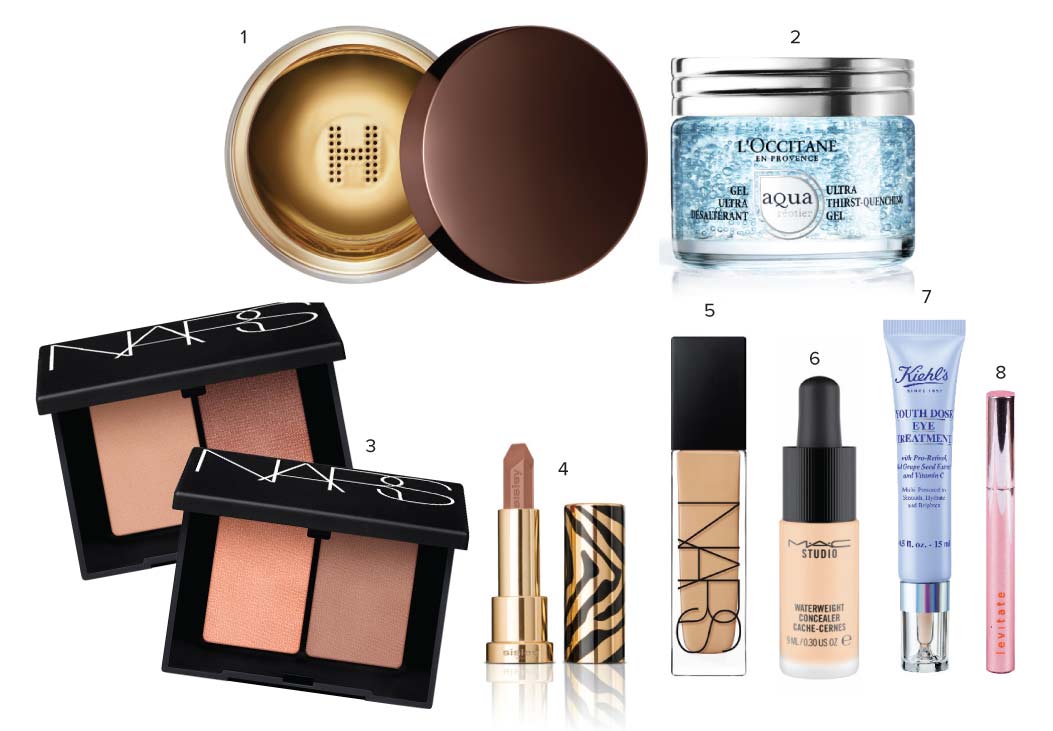 It seems that Phillip Lim has been having wanderlust urges as of late. The bohemian and Moroccan influences are subtle but noticeable on his slick designs for the metropolitan woman. Wraparounds, tunics, swishy silhouettes and a whole load of variants on khaki – it's like a full resort collection for a hot vacay in the city.
1. Hourglass Veil Translucent Setting Powder, $73; 2. L'Occitane Ultra Thirst Quenching Gel, $64; 3. NARS Eyeshadow Duo in Hammamet and St Paul de Venice, $55 each; 4. Sisley Le Phyto Rouge in Beige Tahiti, $68; 5. NARS Natural Radiant Longwear Foundation; 6. M.A.C. Waterweight Concealer, $46; 7. Kiehl's Youth Dose Eye Treatment, $65; 8. Indigo & Iris Levitate Mascara, $39;
Graced by Glitter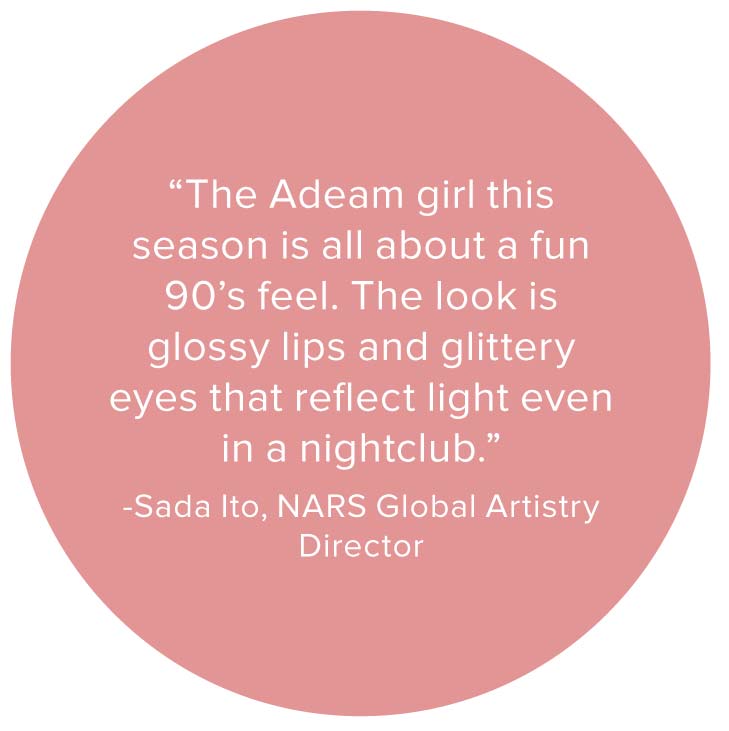 Glitter, shimmer, gloss – all the methods of creating iridescence was used on the runway this season. And it's no coincidence that sparkles and metallics are maniacally output on shelves while mattes are staying back in the shadows.
The '90's throwback' influenced, perhaps, one too many designers who showed at NYFW. Hanako Maeda was also giving off those vibes, but with impeccable execution. While ugly-cool is making waves in the designer world that usually results in a yawn of maximalist tacky streetwear, Adeam is unaffected by this brief trend. Instead, she has left out all the cliche design elements and has brought in her own original spin to it. Maintaining the factor of sophisticated femininity, her designs are executed impressively and very well-tailored. Taking glitter to the max, Tadashi Shoji's galaxy-themed ready-to-wear, dubbed "Cosmic Wonder and Future Hope," was translated directly into their beauty look. In collaboration with Inika, high-impact drawn-out chunky glitter lids were created by Pep Gay.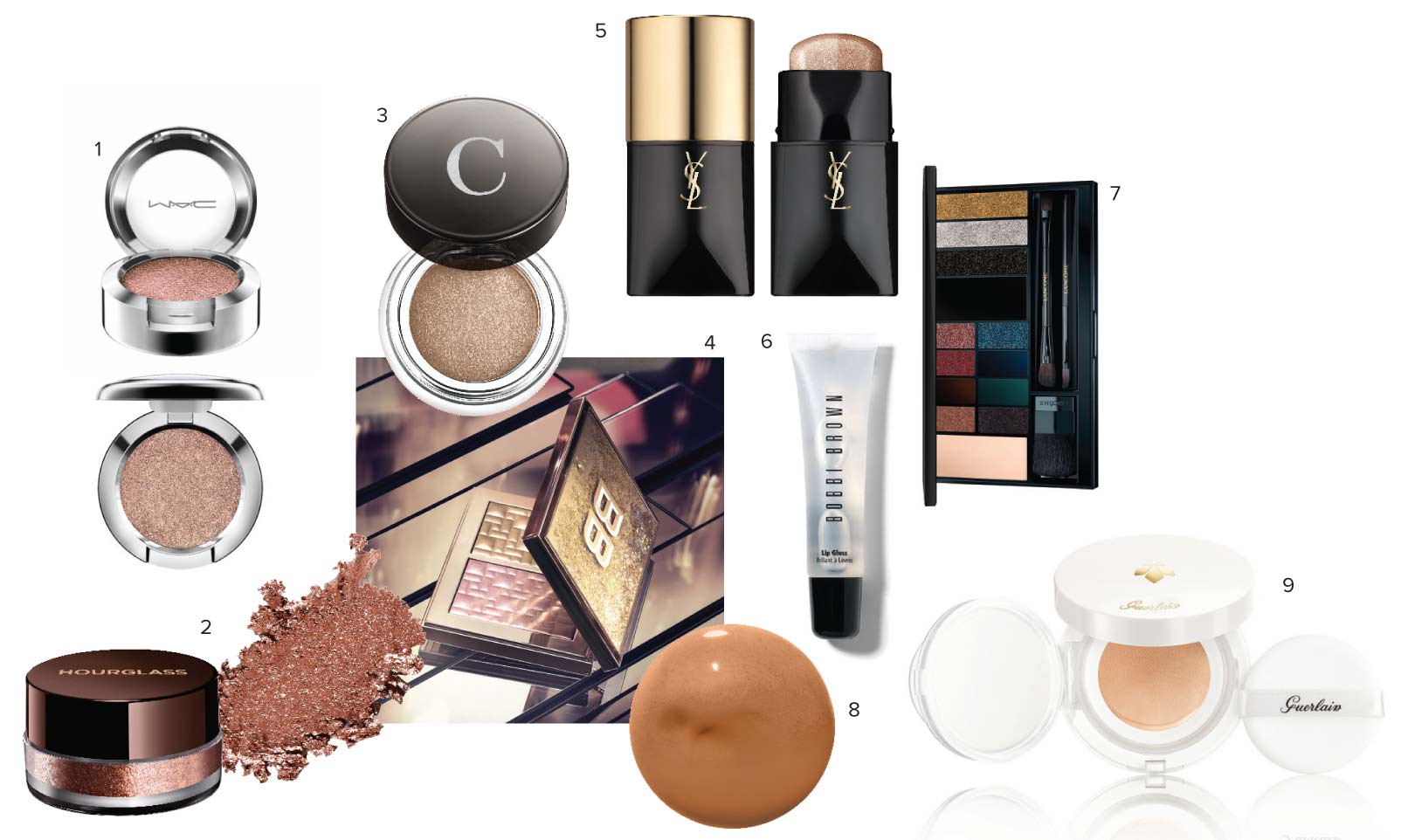 1. M.A.C. Shiny Pretty Shadow in P for Pink and Major Win, $45; 2. Hourglass Scattered Light Glitter Shadow in Blaze and Reflect, $46; 3. Chantecaille Mermaid Eye Colour in Seashell, $54; 4. Bobbi Brown Highlight & Glow Highlighting Powder Duo, $180; 5. YSL Gold Attraction Face Highlighter, $70; 6. Bobbi Brown Crystal Lip Gloss, $57; 7. Lancôme Starlight Sparkle Golden Star Eye Palette, $130; 8. Shiseido Lacquer Ink in Honey Flash, $55; 9. Guerlain Abeille Royale Bee Glow Aqua Cushion, $145;
A Sweet Escape
Set in the East Village New York Marble Cemetery, Rodarte's comeback to NYFW was received with open arms. In classic Rodarte fashion, the Mulleavy sisters gave us ultra-frilly dreams with brilliant colours, intricate richness in texture and voluminous silhouettes; a refreshing ending to the cold aesthetic that most American labels are pumping out. Timed with New York's downpour, the grey skies added to the broody graveyard ambience and heightening the romance, making for a ghoulish fairy tale that Tim Burton would be proud of. Paired with Odile Gilbert's glorious rose-encrusted hair design that excitedly graced the headlines of fashion week reports, James Kaliardos took the reigns on a look "inspired by modern art with strong vibrant colors and abstract shapes."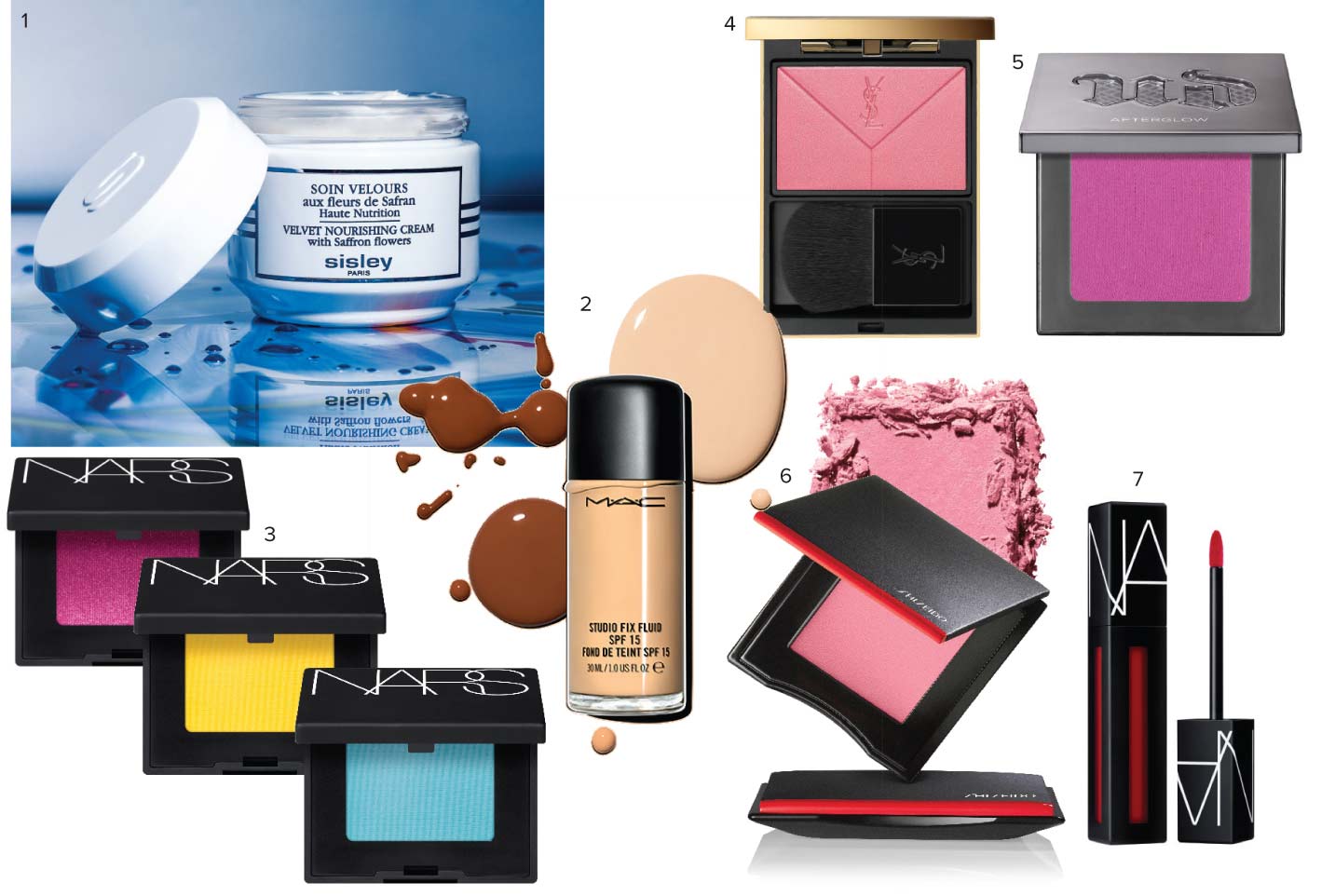 1. Sisley Velvet Nourishing Cream, $225; 2. M.A.C. Studio Fix Fluid SPF 15, $62; 3. NARS Single Eyeshadows in Domination, Baby Jane and Douro, $27; 4. YSL Couture Blush in Fuschia Stilleto, $96 ; 5. Urban Decay Afterglow Powder Blush in Quickie, $42; 6. Shiseido Innerglow Cheek Powder in Aura Pink, $65; 7. NARS Powermatte Lip Pigment in Don't Stop, $38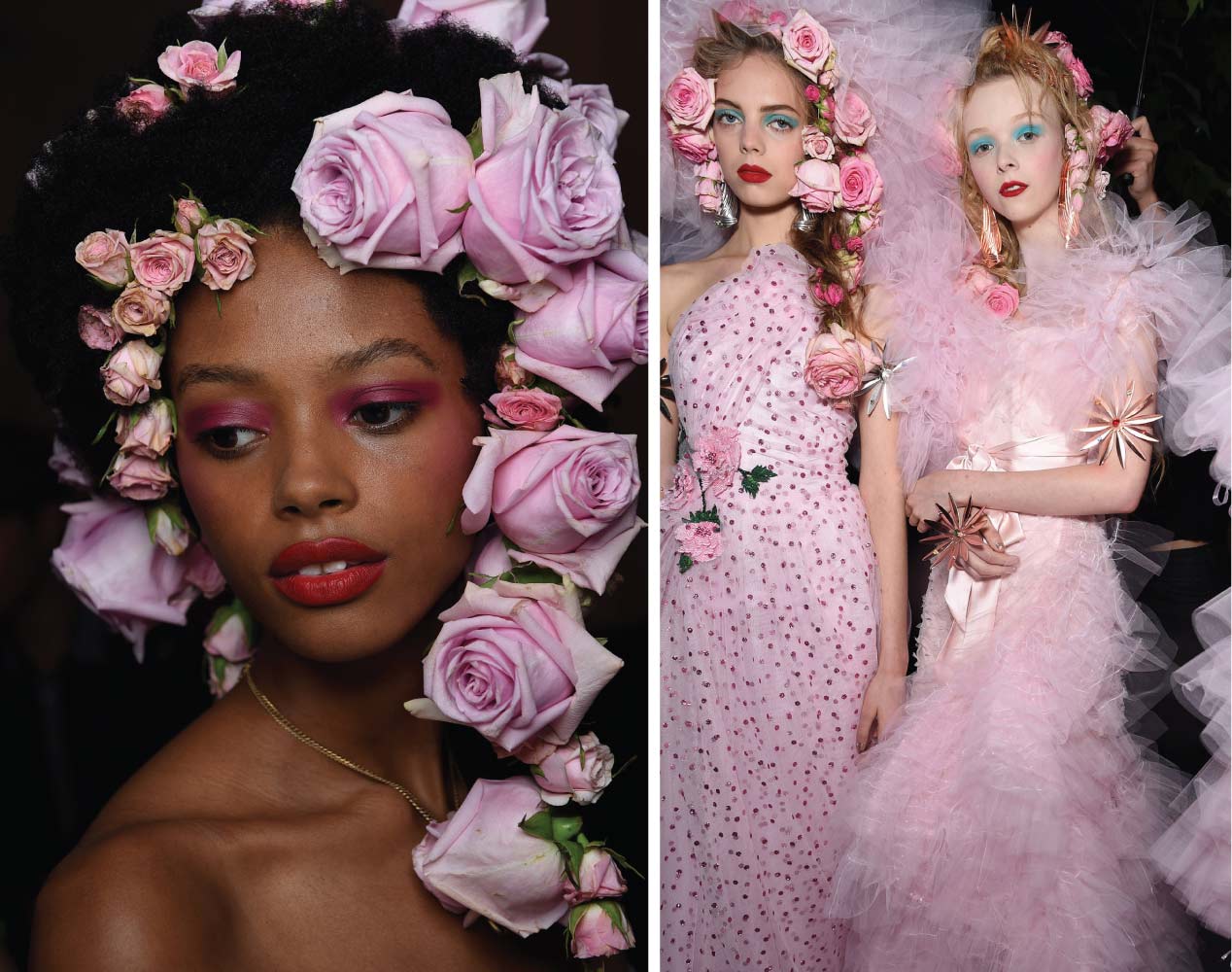 If there's one designer that tests the limits of a fashion spectacle, it's Chanel. Once again, Karl Lagerfeld transformed the Grand Palais des Champs-Élysées into his own playground – this time round, the runway was a soothing beach with soft champagne sand, lapping waves and barefooted models. The silhouettes were relaxed to be worn à la plage; jackets were oversized, sarongs were tweed, swimwear was an 80s revival; all evoking that hedonistic seaside joie de vivre. "They are beach girls but they are still Chanel girls: they are strong but also fresh and joyful. Dewy, glowy and sexy but still perfectly sophisticated" – Lucia Pica opted for a matte rose-tinted red lip, glossy silver lids, high-shine cheeks and thick lashes for an expensive getaway look.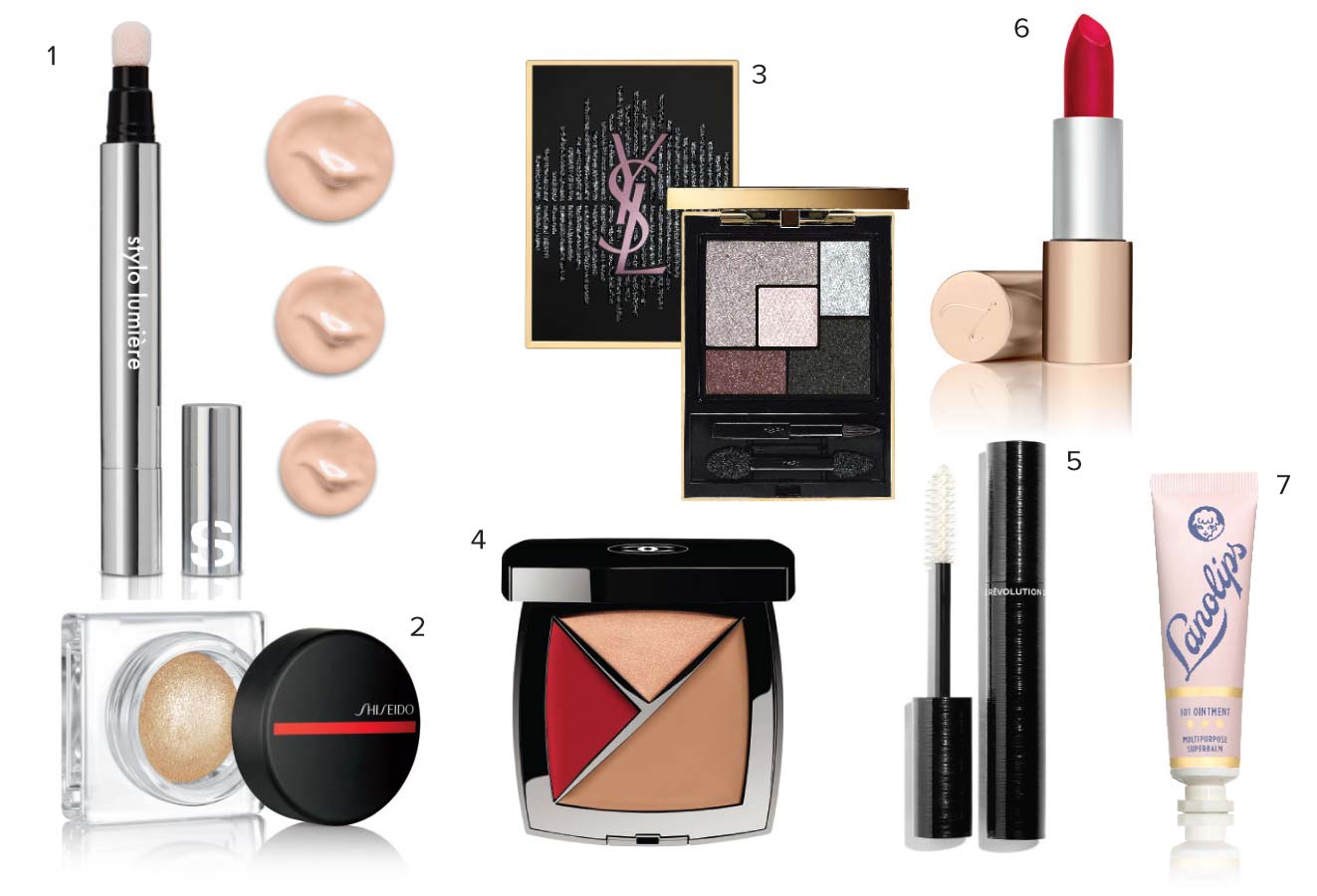 1. Sisley Stylo Lumiere, $75; 2. Shiseido Aura Dew in Solar, $55; 3. YSL Couture Palette Black Opium Sound Illusion, $126; 4. Chanel Palette Essentielle, $115; 5. Chanel Le Volume Revolution de Chanel Noir, $65; 6. Jane Iredale Triple Luxe Long Lasting Naturally Moist Lipstick in Gwen, $62; 7. Lanolips 101 Ointment, $17.50