Shelter In Place
Robyn and Leighton Langley felt conflicting emotions as they stood road-side on a wet and somewhat blustery day and watched a gigantic mechanical arm lift their bedroom pod up and over a specimen pohutukawa to its place on their section. On the one hand they felt very excited; on the other, it was the most nerve-wracking experience of their lives. "It was an absolute monster of a crane," explains Robyn. "And because our site is high above the road, the arm had to extend way, way out."
The couple had owned a little old bach on this land overlooking Onetangi Beach on Waiheke for 26 years. When they decided to retire and live here permanently, Robyn put her foot down. "I told Leighton, 'I need a house'." The bach was sold and relocated as a minor dwelling and the Langleys, who had admired a Box™ house elsewhere on the island, approached the company cautiously. "We knew the spaces that we wanted but at the same time hoped they would challenge our thinking and surprise us with some 'wow' moments," says Robyn.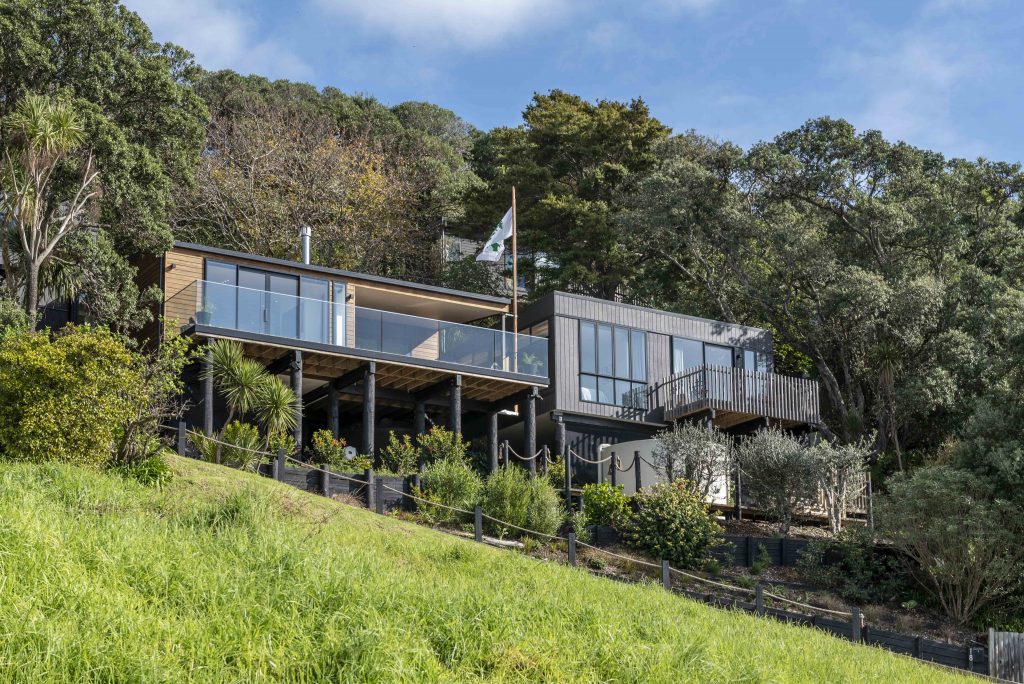 Co-founder of Box™, Dan Heyworth, was delighted to oblige. "We love clients who have done their research and have minds of their own. The exchange of ideas is inspiring and tends to lead to better outcomes."
When Dan suggested the home be assembled in modules in a factory and then transported over to the island and craned into place, the Langleys weren't fazed. A neighbour had built this way so they knew what was possible. To keep costs under control, Box™ conceptualised seven small pods that could come over on regular ferries (rather than a chartered barge) and travel along the road on normal-sized trucks. 
Being mindful of the protected pohutukawa and other vegetation, the on-site construction team slotted the pieces together and hooked up the services. "With a regular build, the site often ends up a mess but by craning in the volumes of the dwelling, we kept much of the land pristine," explains Dan. On the eastern flank of the north-facing section, the kitchen/living/dining area is on the ground floor and the upstairs master suite sits above the double garage. "We get all the morning sun," says Robyn. To the west, a studio wing is separated from the main part of the home by a deck. It has two bedrooms, its own lounge and a bathroom for when family come to stay – or it can be used as a holiday rental for extra income.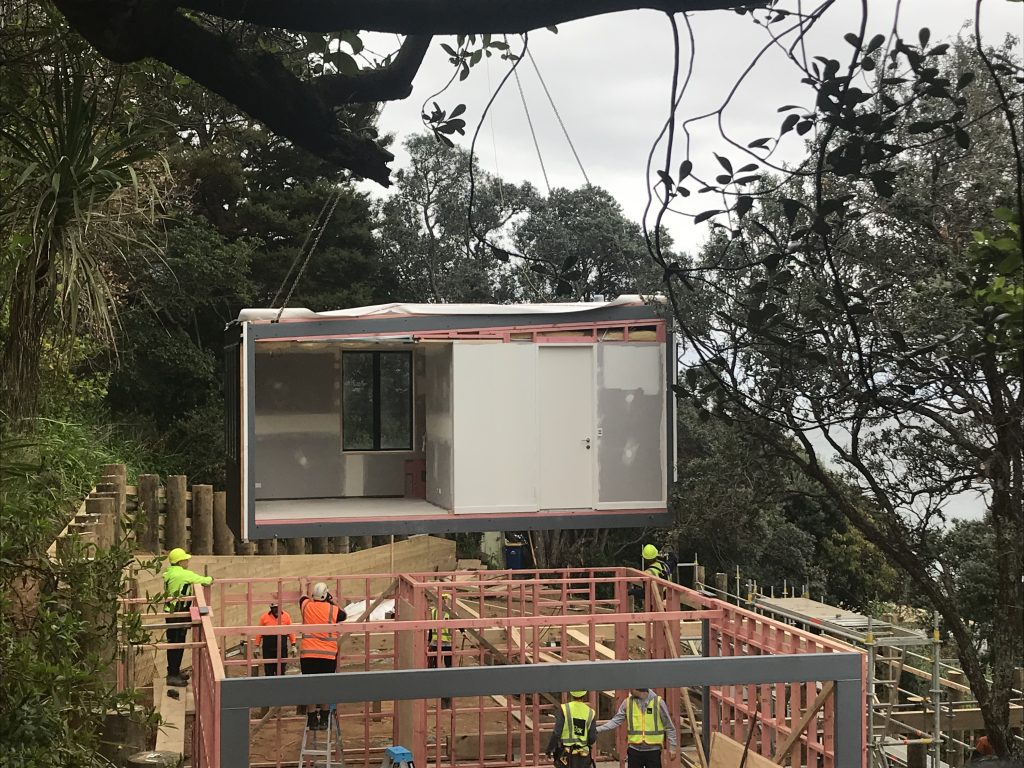 The volumes are long and narrow and follow the line of the hillside, slotting in demurely amidst the surrounding bush. They are clad differently – in horizontal rusticated cedar and vertically grooved ply – which breaks up the mass of the home and yet gives it more visual interest. "People often ask us whether there are two or three separate buildings here," says Robyn.
Working closely with the Box™ design team, she was eager to put her own stamp on the spaces. While Box™ suggested the dark/light combination of painted Strandboard and gaboon ply cabinetry in the kitchen that the couple went with, Robyn added her own touches for a look she describes as 'soft industrial'. There's a metallic theme that flows through the home, and that starts at the front door. "I didn't want the coloured front door that is a Box™ trademark," she says. Instead, she painted it herself in a product that mimics weathered steel. This design trope is picked up in a commercial-sized stainless-steel oven, in coppery pendants above the island bench and in rusted and concrete-look wall tiles in the bathrooms.  "I also sourced the timber flooring, a European smoked oak with nice wide planks that we oiled for a matte finish."
The Langleys love the easy living that the modernist-led architecture brings to their new home with floor-to-ceiling windows that allow the views to flood in. The interiors are a juxtaposition of contemporary and rustic elements, art from their travels and keepsakes they love. Exotic carpets, a beautiful alabaster chess set from Italy and a set of Turkish plates mark this place as their own.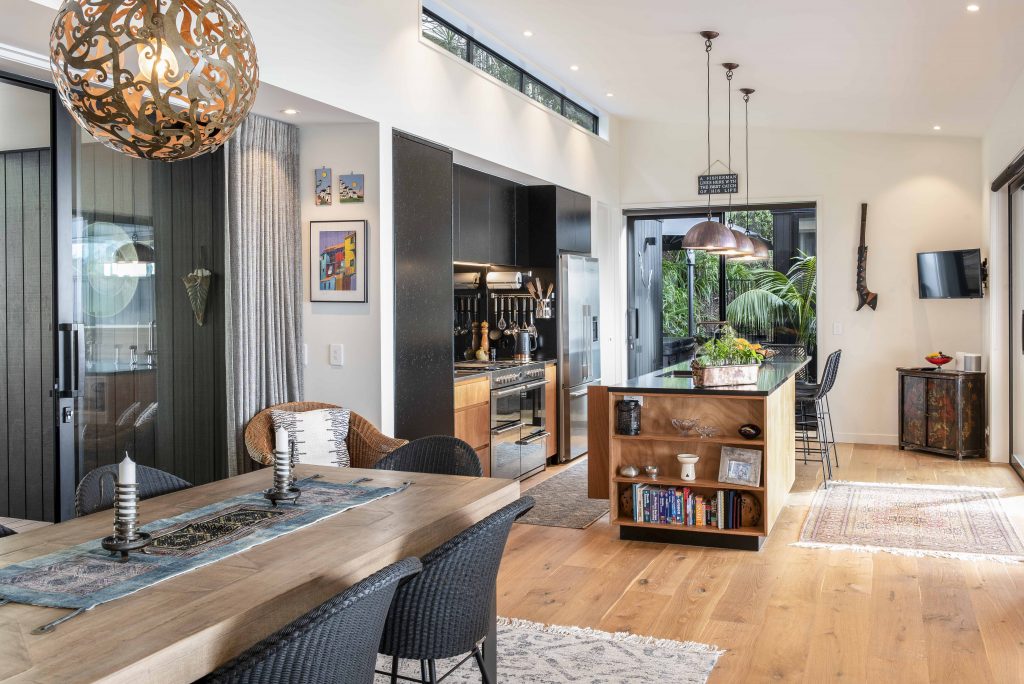 The couple took up full-time residence here in March 2020, just before the lockdown, and are relishing their good fortune. Filled with light and personality, their new abode is so easy to live in. Home is a collection of memories – those already made and those yet to come. Each day, Leighton rises, sips his coffee on the deck as he looks out to the horizon and ponders the flag he will choose to hoist on the pole fashioned from an old yacht mast that once belonged to Robyn's father.
"We only have flags of the countries we have been to," explains Robyn. So far that's 50 plus and counting. They are looking forward to their next adventure although, with such a special slice of the world to inhabit in the meantime, there's no hurry to venture very far.
Check out Box.co.nz for more inspiration on your build.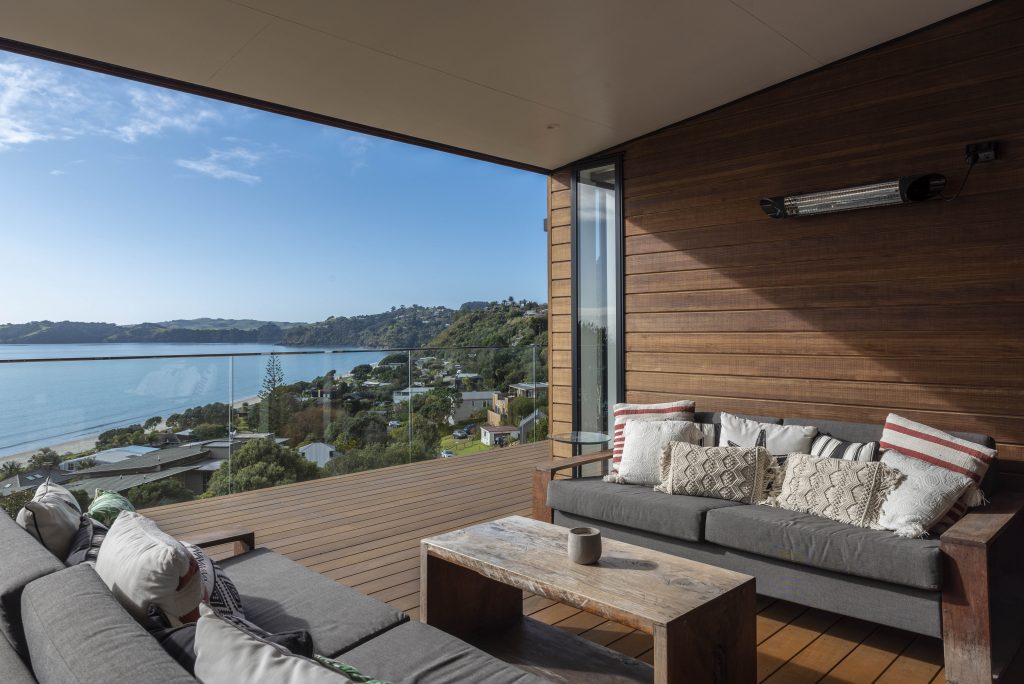 You'll also like: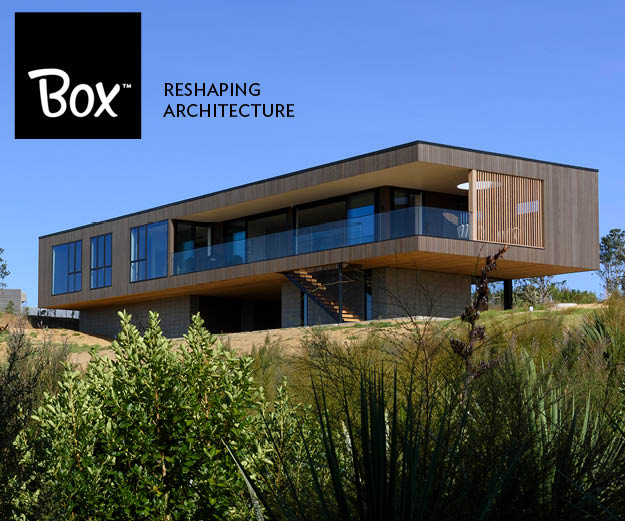 BECOME AN M2WOMAN SUBSCRIBER FOR JUST $1.99 PER MONTH
We hope you enjoyed this complimentary M2woman article made available thanks to our channel sponsor. Become an M2woman subscriber for just $1.99 a month and gain instant access to our entire library of NZ-made content on beauty, health, style, design, technology, entertainment and more.
Subscribe now