Skin Through the Ages
Ageing is unavoidable, however, there's something so beautiful about it. Our skin carries with it the wisdom and history we've gathered. We often forget this as we battle the pressures of being 'selfie-ready' while trying to embrace ageing gracefully.
Our skin is more than just an aesthetic element and it should be cared for diligently to preserve its health. After all, it is our largest organ. They say it takes around 27 days for skin cells to replace themselves and, depending on environmental conditions and age, this can change.
From your 20s-30s, collagen begins to deplete at a rate of approximately 1% a year. As you get older, your skin gets thinner, providing less protection.
Applying the right routine to your skin is key to maintaining a healthy glow and youthful radiance through the decades. In this issue of M2woman, we talk to Kahlia Ferris, Managing Partner and Therapist of Clear Skincare Clinics, to learn about the difference between ageing and premature ageing, decade by decade.
20s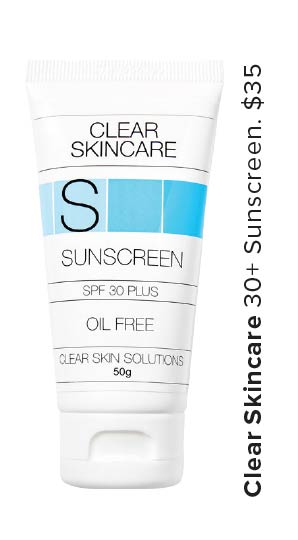 You might link your twenties to an invincible decade with limitless energy and youthful sprite. However by this time, the skin's cell turnover has already begun to slow down, which means your collagen levels are starting to deplete. "This means your skin will start to lose plumpness and fullness over time," says Ferris.
It's to no surprise that prevention is the best resolution. "This is the age to focus on preventative care for your skin, ensuring you can keep your cell turnover and renewal powering. Always, always, always wear an SPF on a daily basis to protect your skin cells from depleting further via UV damage," Ferris emphasises.
"The great thing about Clear Skincare's 30+ Sunscreen is it is oil-free, which means it's perfect for those who are still breakout-prone as it doesn't add more oil to the skin."
Clear Skincare's Signature Skin Peels and 7-Step Microdermabrasion are great entry-level treatments for those in their twenties looking to power-up their cell turnover and renewal. By clearing away dead skin and cell congestion, these exfoliation treatments force your skin cells to regenerate.
A common issue is adult acne. "More than half of adult women still suffer from breakouts well into their twenties and are twice as likely as men to suffer from chronic acne," Ferris says. There are specific skin peels that work deep within the skin to combat the root causes of breakouts. Clear Skincare's Dr McCaffery's Acne Treatment is designed specifically to combat adult acne by destroying the 'rogue sebaceous glands' and stopping the acne cycle in its tracks.
30s
By the time you hit your thirties, cell turnover slows down considerably. Dead cells start accumulating on the skin's surface and interfere with light reflection. The skin appears dull and you might begin experiencing more dryness and pigmentation. This is a popular time for becoming a mother and while it is exciting, it brings its own stresses and hormonal swings that can wreak havoc on your skin, with many women experiencing acne and pimples.
During these years, it is important to ensure you have regular treatments to maintain the health of your skin. "With cell turnover slowing right down, we recommend treatments that assist with uneven skin texture, age spots, and skin imperfections. Clear Skincare's Dermapen™ Skin Needling treatment is ideal for those wanting to correct and maintain ongoing skin conditions or utilise it as a preventative," says Ferris.
Dermapen™ involves creating micro-punctures in the skin's surface to stimulate collagen production and renewal. The results are significant and with each treatment, the skin will look smoother, more even, and more youthful.
Another pesky side effect of slowing skin turnover is that the top layer of skin has a more difficult time staying moisturised naturally. "Use at home products that contain active ingredients such as an AHA-inclusive cleanser, as well as a serum to gently exfoliate the skin. This will help to reduce pigmentation, improve tone and texture, as well as lines and wrinkles. Ensure you nourish your skin with antioxidants and keep it well-protected with SPF," says Ferris.
40s
In your forties, more processes start to slow down. Your body's production of elastin and collagen and, of course, skin cell turnover, all dramatically reduce, resulting in dullness, dryness, and deeper wrinkles. Red veins and capillaries will also appear.
"As collagen starts to break down and deeper lines appear, Clear Skincare's Anti-Wrinkle Injections and Dermal Fillers can result in smooth, youthful looking skin. They are the perfect solution for smoothing lines and wrinkles around the eyes and forehead. Dermal fillers are great for plumping lips, filling deep smile lines and restoring face volume. Fractional Skin Resurfacing or Red Vein Removal is also a great treatment that will target fine lines, redness and broken capillaries," says Ferris.
---
Using scrubs and other exfoliators, such as Clear Skincare Microdermabrasion Cream with Glycolic Acid, assists in between peels.
---
50s & Beyond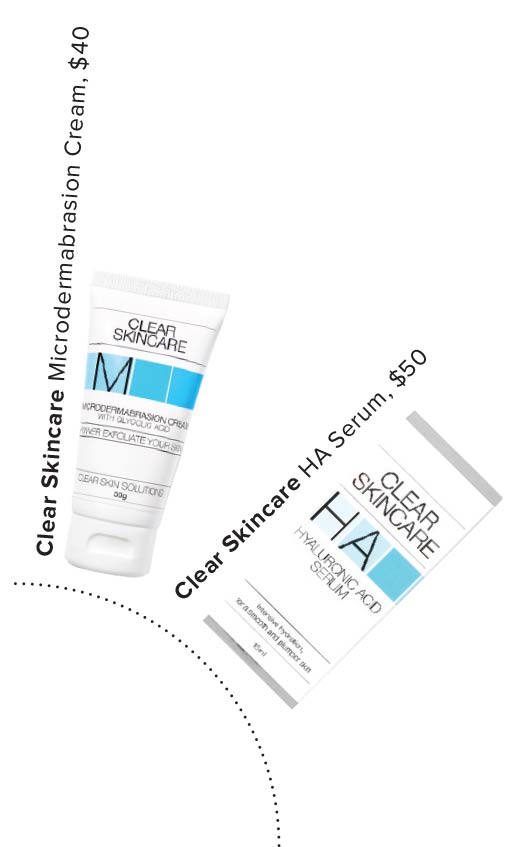 Amongst hot flushes, mood swings, sleep disturbances, and a myriad of other nightmarish symptoms that menopause brings, the drop in oestrogen levels causes a dramatic reduction in oil production and water retention. "The key at this age is hydration and locking in moisture," Ferris says. Strap in for this, "there will most likely be a loss of fullness in the cheeks and once defined necklines will be marred by jowls and loose crepe-like skin. On top of this, skin can look dull and grey.
"We can replace face volume with fillers but we stress not to overdo it. A better option is Clear Skincare's RF Skin Tightening for the neck and jowls, as this is good to boost collagen production and helps with skin tightening and toning, but regular treatments are essential to maintain results," says Ferris.
Skincare should be centred around exfoliation and intense hydration. Ensure Hyaluronic Acid is used in your skincare to add volume and life to the skin.
---
For a limited time, you can receive 50% off* your first treatment at Clear Skincare Clinics.
*Book in before 15 March and quote M2woman for your discount. Conditions apply, visit clearskincareclinics.co.nz/m2woman
Ts + Cs apply: 50% off discount only applies to full-priced individual treatments, excluding cosmetic injecting, mole and skin tag removal, fat-removal treatments, and packages. Discount cannot be used in conjunction with any other offers, discount or promotion. One per customer. Discount only applies to a treatment that customer has not tried at Clear Skincare Clinics before. Offer ends 15 March 2020.
You'll also like: