Spring In Your Step
Flowers for spring? Groundbreaking…perhaps not, but a welcome and familiar sight indeed. Click refresh on the old favourite of blooms in the springtime with a refined and romantic rendition that breathes life into any room.
Wallpaper collection available from Resene ColorShops
Cool Kids
Style Tip
A desk space is absolutely essential for homework and doubles as a display for photographs and momentos.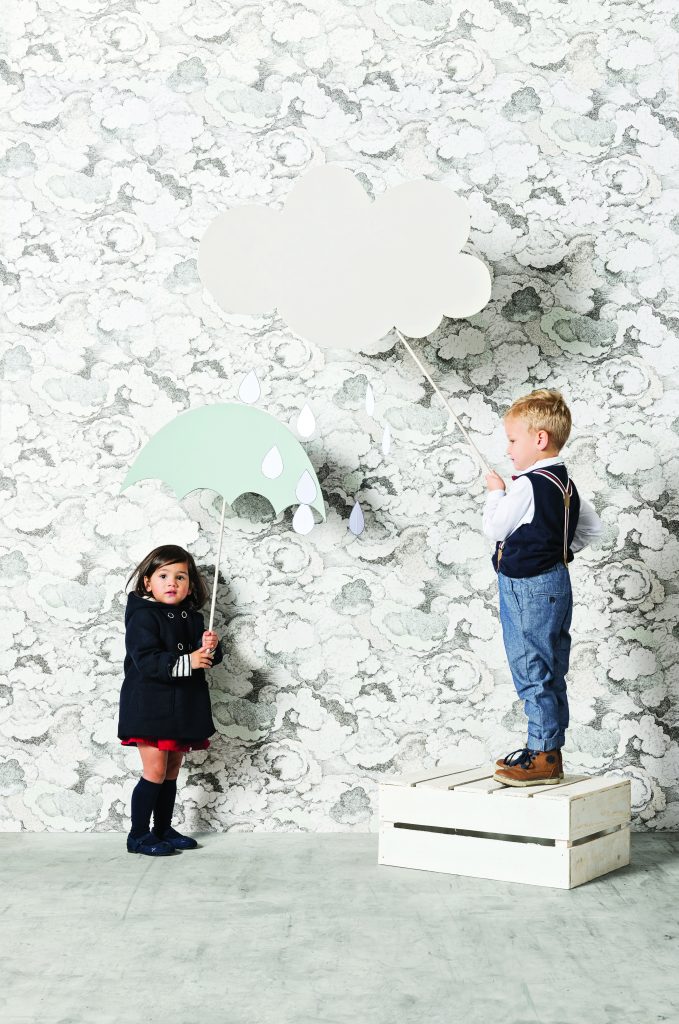 Kids these days… don't require an old-fashioned, fussy approach to their spaces. Veer away from childish, cutesy and impractical decor and look towards a modern aesthetic that blends stylish design with a touch of wit and whimsy.
Image from The Small Talk Collection available from Resene Colorshops
1. Bedhead $499 from Shut The Front Door. 2. "Little People, Big Dreams" – Coco Chanel $25 from Collected. 3. Desk $149.95 from Mocka. 4. Globe $219 from French Country Collections. 5. Table Lamp $490 from Citta. 6. Bunkbed by Magis POA from ECC. 7. Locker Bedside Tables $849 (for pair) from Nest. 8. Teepee $249 from Nood. 9. Duvet Set by Snurk Bedding $179 from Father Rabbit. 10. Beanbag $725 from Lujo. 11. Print by Adam Popovic $195 from The Poi Room. 12. Chair POA from Forma
California Dreamin'
Style Tip
Create cohesion by using the same woods and metals throughout a space but mix things up with the soft furnishings.
Get lost in a wave of California cool with a perfect mish-mash of earthy, coastal elements and slick, industrial accents. Laidback, mid-century furnishings, nomadic, tropical prints and bursts of muddy citrines and mustards add to the contemporary yet casual feel.
Image from the Pop Wallcovering Collection by Elitis, available at Seneca.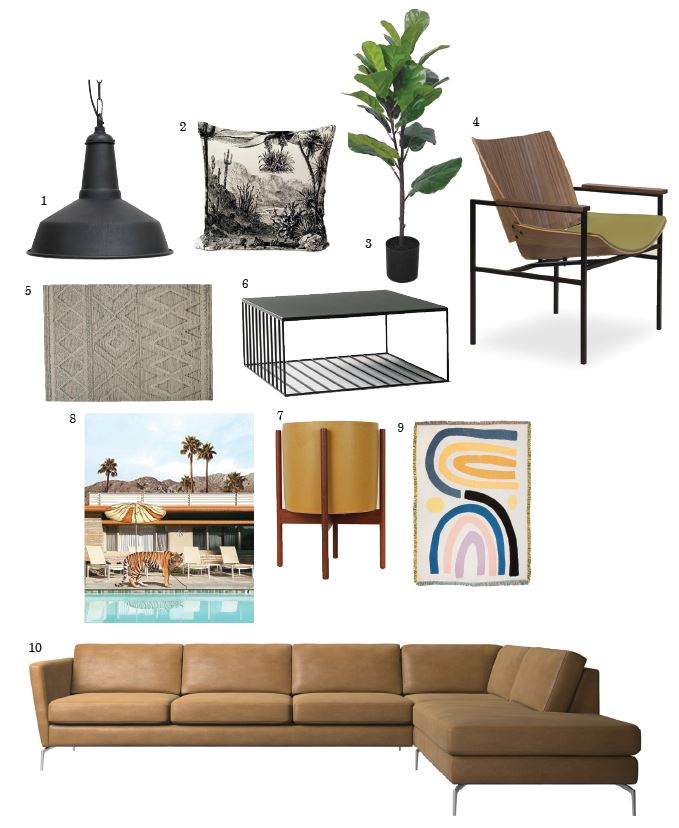 1. Pendant $748 from Leopold Hall. 2. Cushion $275 from Partridge Design. 3. Artificial fig plant from Mocka. 4. Chair by Rex Kralj POA from Good Form. 5. Rug $449 from Freedom Furniture. 6. Coffee Table $990 from Citta. 7. Planter by Case Study $535 from Tessuti. 8. Print $595 from Collected. 9. Throw by Slowdown Studio $399 from Sunday Home Store. 10. Sofa $15390 from BoConcept.
Everything In It's Place
Style Tip
Take a leaf out of Marie Kondo's book and invest in different sized storage, catering specifically to the needs of your home.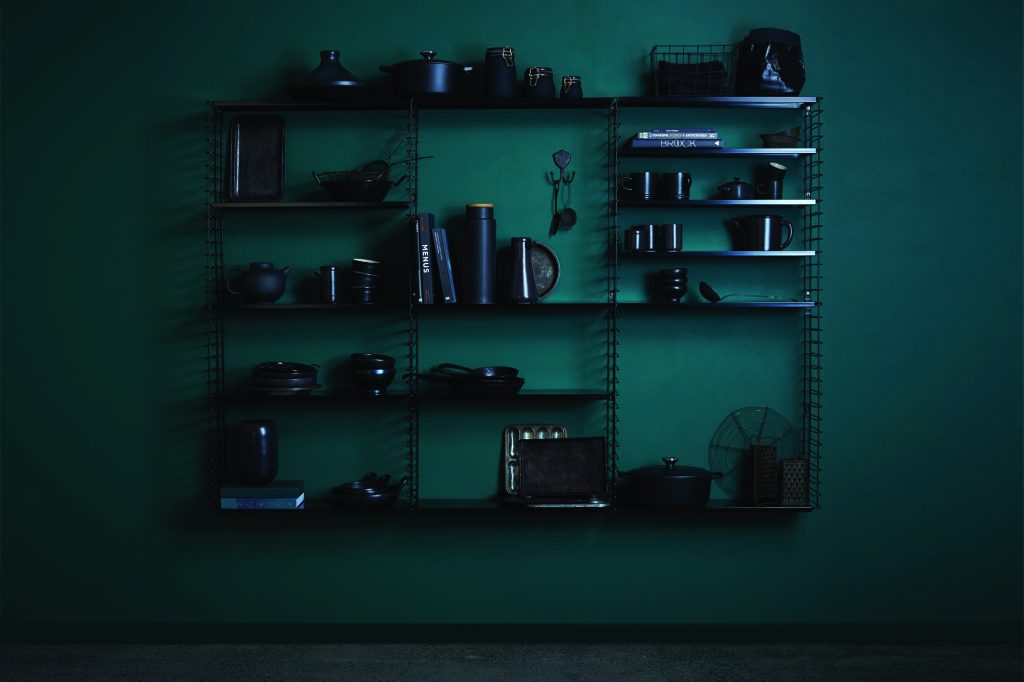 While the urge to Konmari your entire home may present itself at the start of spring cleaning season, nailing the perfect storage solutions that are both useful and attractive should be the first thing on your to-do list.
Shelving System by Adrian Dekker, from $185 from Good Form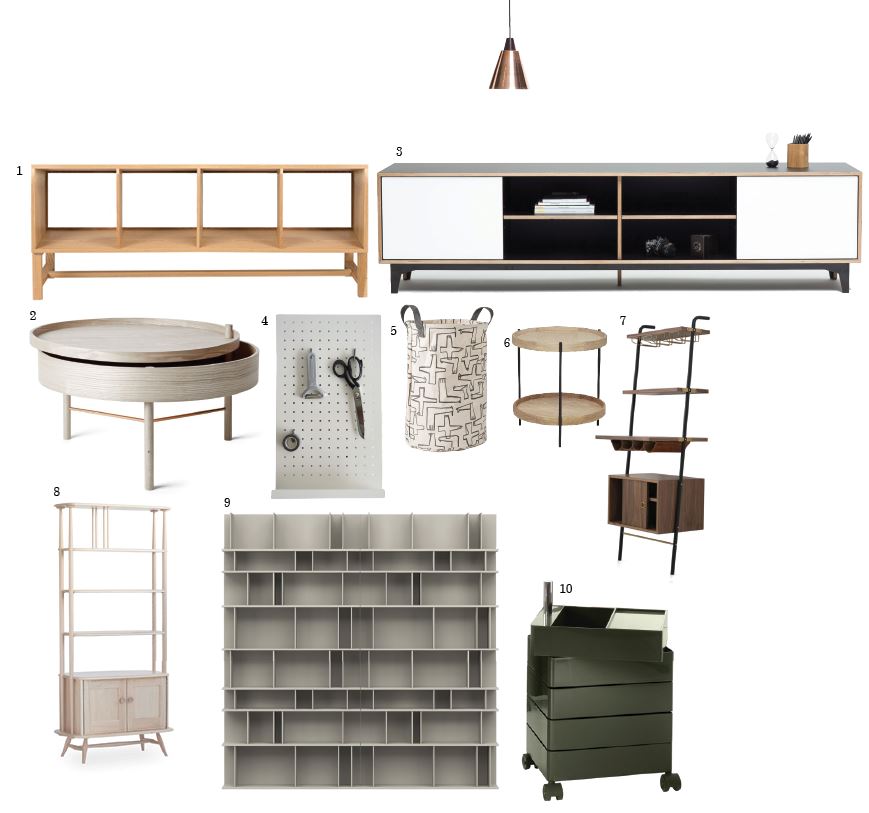 1. Shelf $499 from Nood. 2. Coffee Table by Menu $958 from Partridge. 3. Entertainment Unit $4335 from Tim Webber Design. 4. Pegboard $89 from Father Rabbit. 5. Storage Bag $64.90 from Citta. 6. Sidetable $875 from Nest. 7. Mixology Center by Stellar Works POA from Backhouse. 8. Room Divider by Ecrol $5450 from Good Form. 9. Wall System $5589 from BoConcept. 10. Draws by Magis POA from ECC.
Sketchy Business
Style Tip
To add flair to any occasion, look to a mix of vintage glassware such as coupes, flutes and tumblers.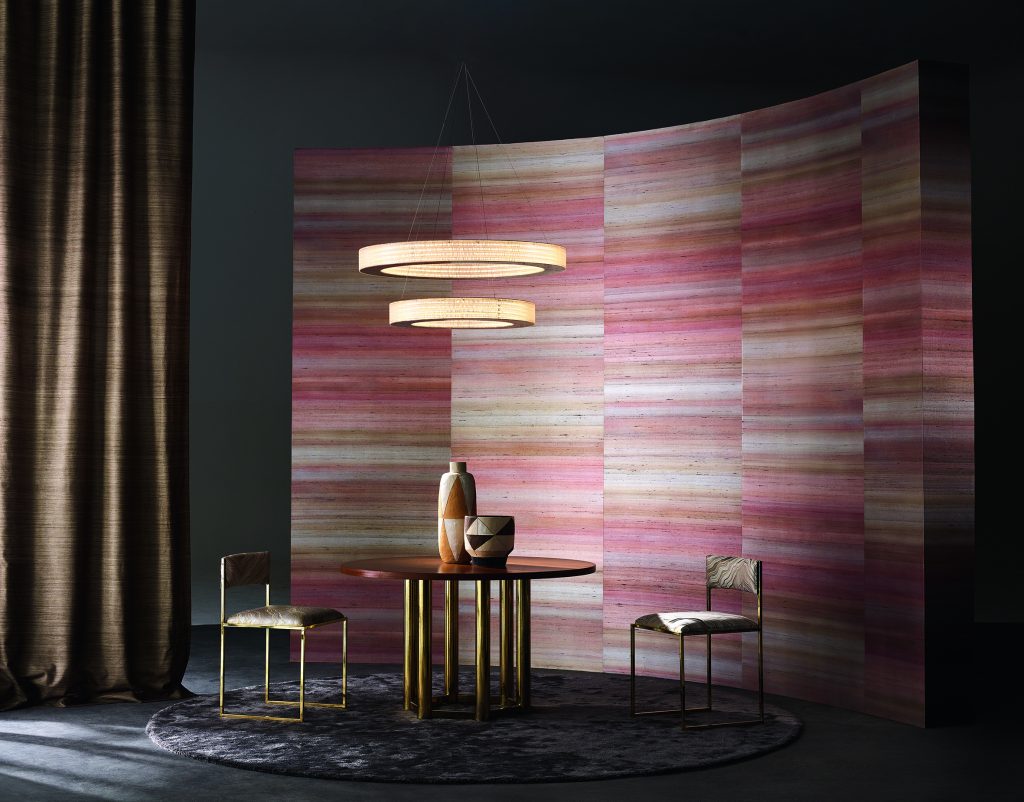 Taking style cues from the iconic Sketch restaurant in London's Mayfair, a sumptuous feast of brass fixtures, Art Deco nuances and rosy pink accents combine for a feeling of sheer decadence, perfect for the ultimate entertainer's home.
Image of the Cazenove Wallpaper Collection by Zinc, Available at James Dunlop Textiles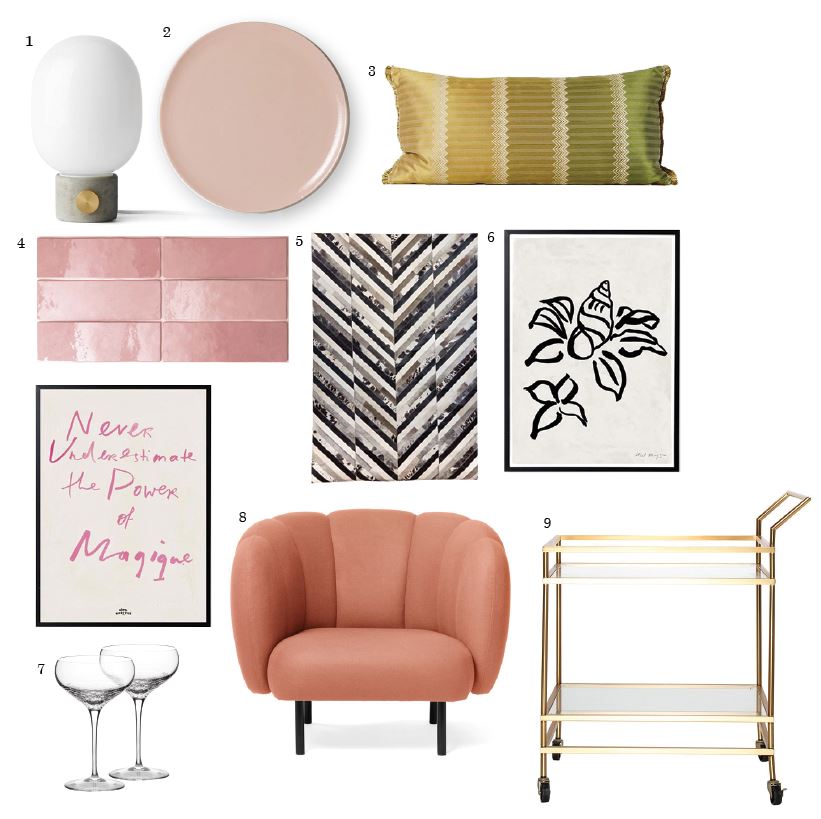 1. Table lamp by Menu $450 from Tim Webber Design. 2. Platter $99.90 from Citta. 3. Cushion by Missoni $580 from Tessuti. 4. Subway Tile POA from Tile Space. 5. Rug by Signature Rugs $1499 from Smith & Caughey's. 6. Prints by Hotel Magique $95 each from Father Rabbit. 7. Champagne Saucer by Vera Wang for Wedgewood $185 (for pair) from Smith & Caughey's. 8. Armchair by Warm Nordic $3850 from Good Form. 9. Drinks Trolley $319 from Freedom.
Slow & Steady
Style Tip
Invest in handmade objects from reputable artisans and makers for items that last and to treasure.
Press pause on the daily hustle and bustle and fill your home with pieces that adhere to an ethos of slow living. Natural, fibrous textiles and artisanal goods in an earthy palette add to the relaxed atmosphere.
Image from the Opening Wallpaper Collection by Elitis, Available at Seneca.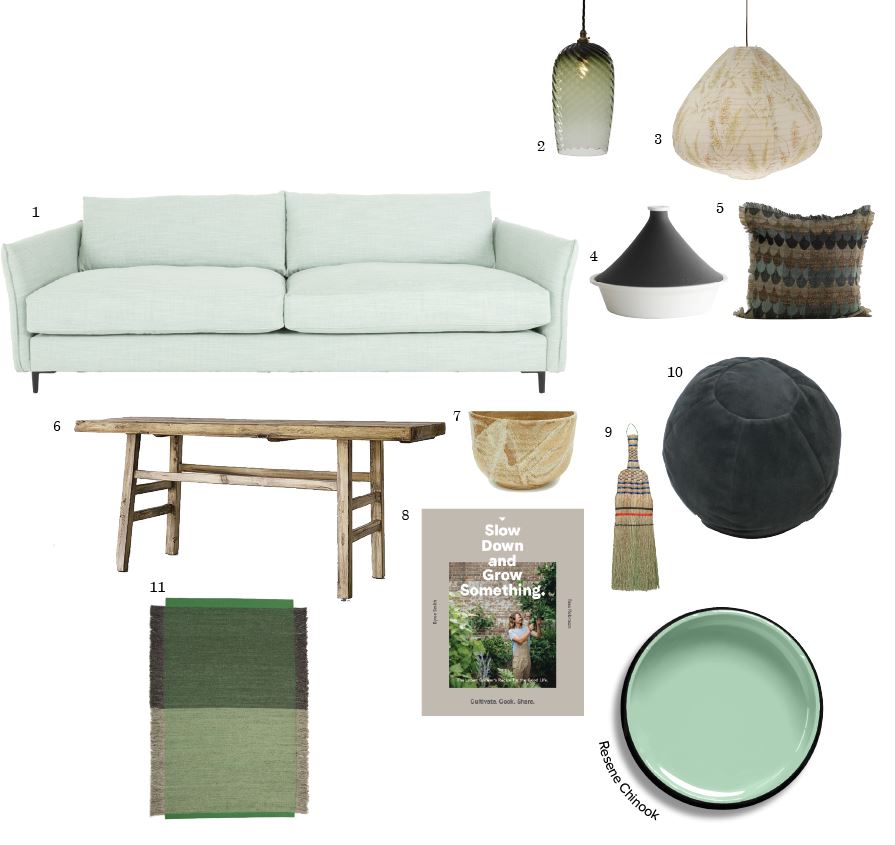 1.Sofa POA from Forma. 2. Pendant from $490 from Monmouth Glass Studio. 3. Lampshade $39 from Nest. 4. Tagine by Revol $399 from Father Rabbit. 5. Cushion $159.99 from A&C Homestore. 6. Bench $2490 from Indie Home Collective. 7. Bowl by Pegs Marlow $55 from Monkhouse. 8. "Slow Down and Grow Something" by Byron Smith $49 from Sunday Home Store. 9. Broom $95 from everyday needs. 10. Cushion $160 from KLAY. 11. Rug by Kvadrat Rugs POA from Simon James.
You'll also like:
BECOME AN M2WOMAN SUBSCRIBER FOR JUST $1.99 PER MONTH
We hope you enjoyed this complimentary M2woman article made available thanks to our channel sponsor. Become an M2woman subscriber for just $1.99 a month and gain instant access to our entire library of NZ-made content on beauty, health, style, design, technology, entertainment and more.
Subscribe now