A Creative Immersion with Bombay Sapphire.
"Sorry about the super short notice on this but we've just been presented with a really cool op by Bombay Sapphire that I think you'll be able to cut a number of ways. Knowing you, thought it could be right up your alley." Deeply flattered by Ian's perfect email pitch, I was instantly sold on the trip.
I like to think that when he says "knowing you," he's summing me up as a super-cool good-time chaser who loves to get on it (in moderation). Plus, he sweetened the deal with more compliments over the phone, stroking my ego about how wonderful I am and how I'm the obvious journo of choice – blah, blah, blah. "Stahp~ it. I'll go to Sydney to experience an elite three-day pub-crawl if it means this much to you, OK?!"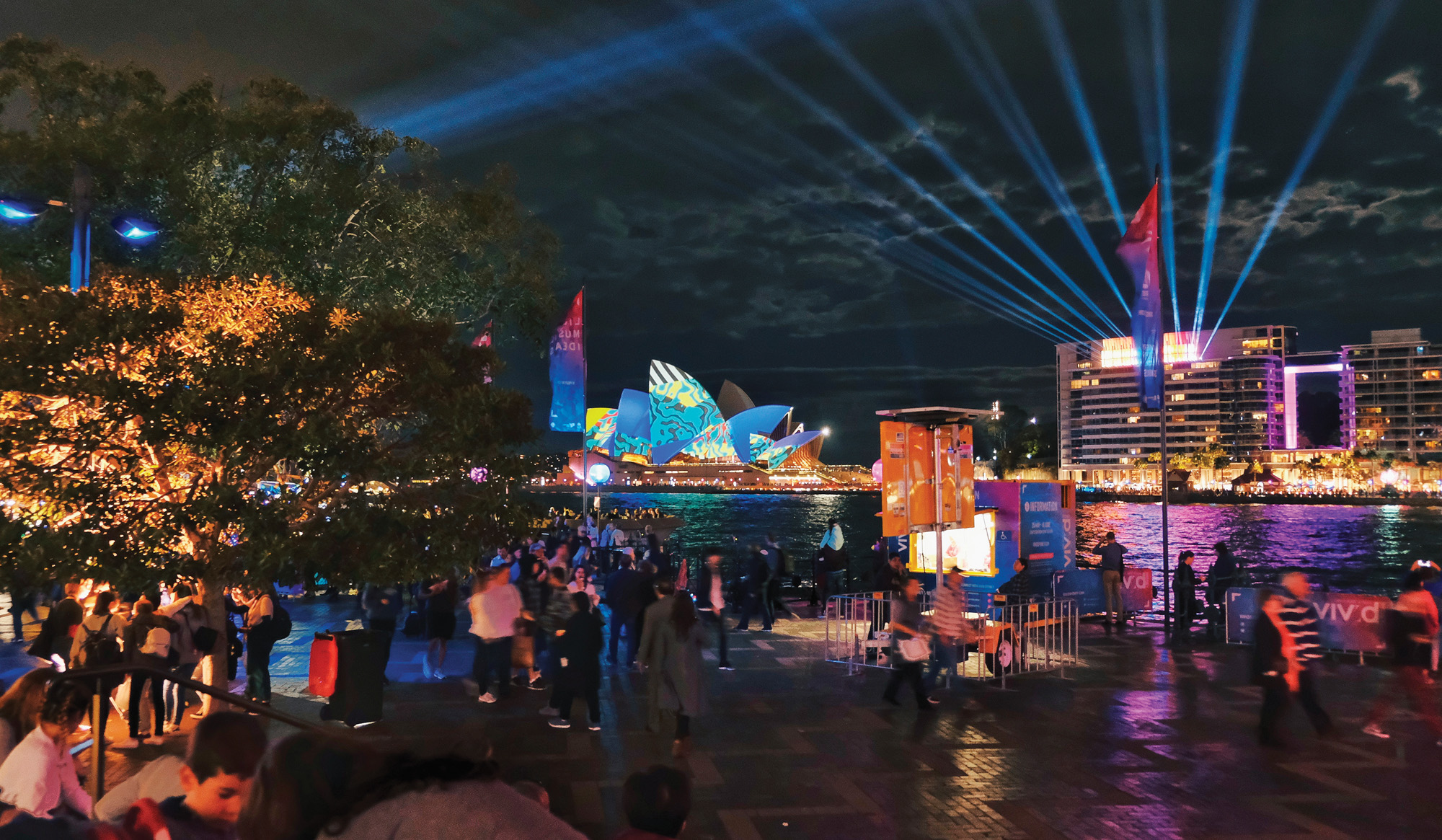 Next thing I know, I'm being ushered into a shuttle van at an ungodly time; facing a bearded Scottish hippie dubbed 'Lil Rich' and a tall English lad called 'Big Stu.' They've just finished their shift a couple of hours beforehand and Lil Rich has satiated his morning feed with a Snickers bar. Being a supremely unhealthy and perpetually lethargic woman with zero upper or lower body strength, I thought to myself, 'Right – I'm going to have to kick my energy levels up a notch to keep up with these fiends. Where's my Vitamin B?!' Despite my best efforts with activated charcoal, olive leaf and quarter of a suitcase worth of vitamins and minerals, I couldn't make it to the end on either of our nights out. I'm usually the last one standing but hospo kids are a whole new breed of humans with uncompromising stamina to take on whatever challenges and shenanigans the night throws at them. They also seemed to have zero anxiety. Mad respect for your refreshing attitude guys, and my spirit's still partying with y'all – but the balls of my feet are about to explode and I'm craving that sweet relief of throwing my heels behind me. I'm no Lindsey Lohan. I also was highly repulsed by screaming punk rock – a genre of music that Chase was into – so Nicola and I had to, never thought I'd ever say this – take a break with some country music next door.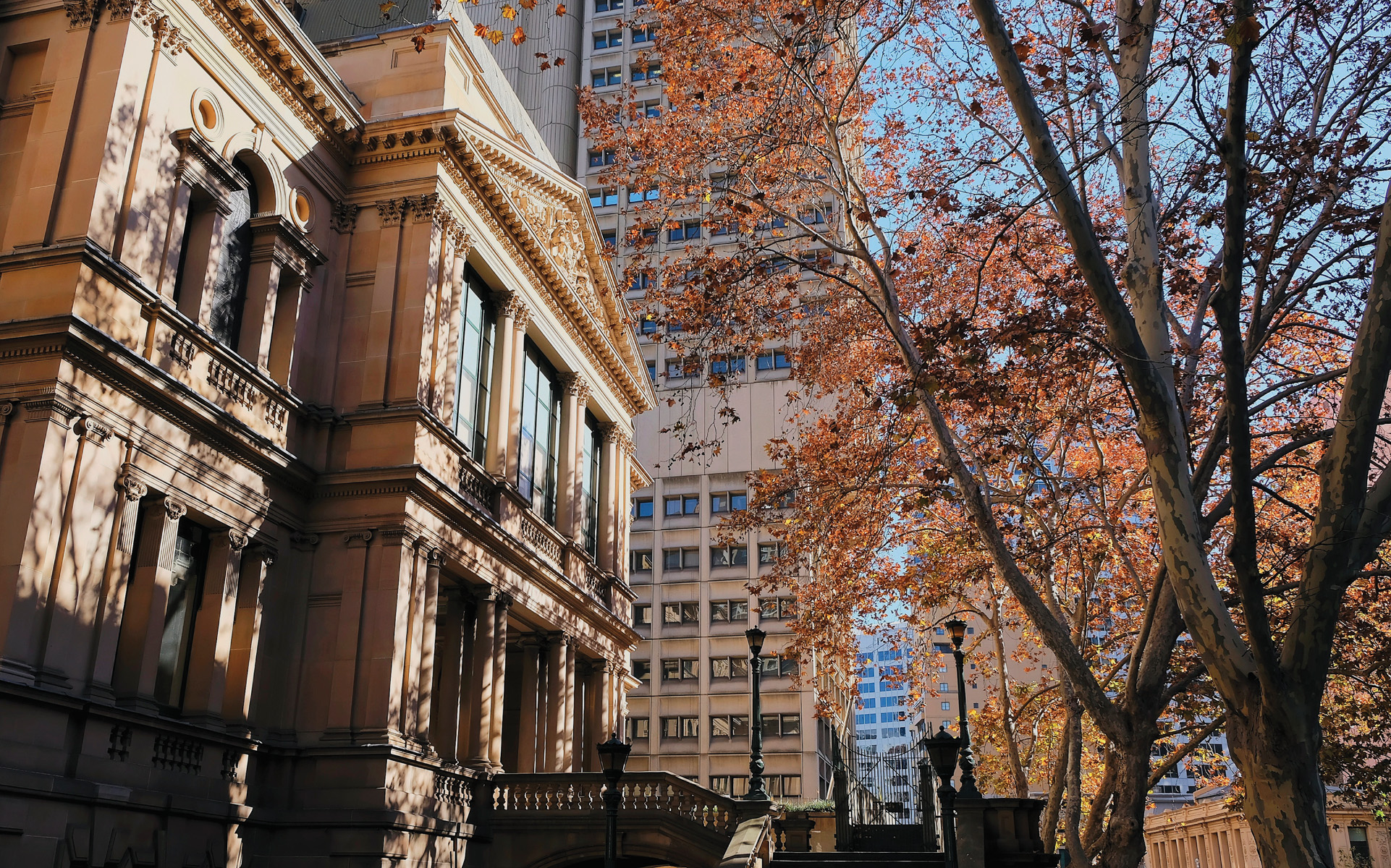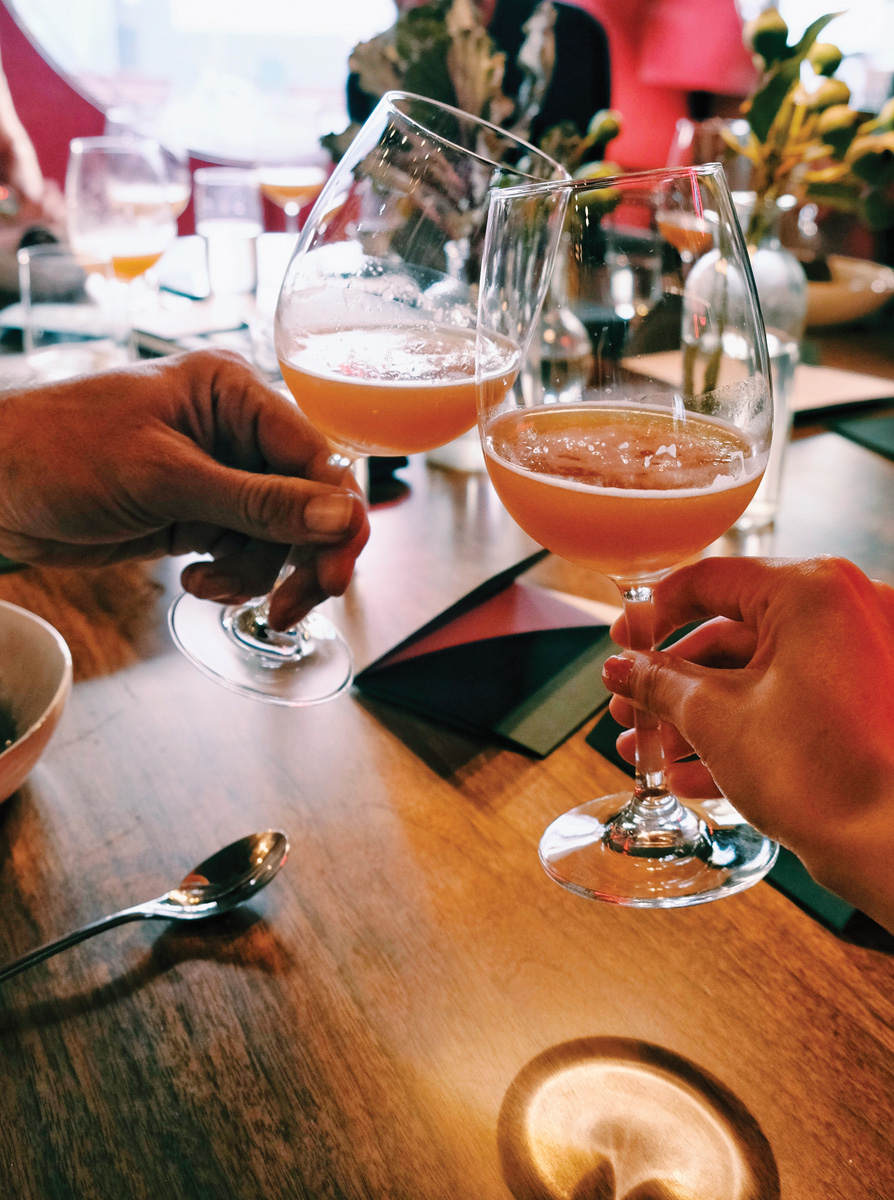 Upon arrival at QT Sydney, we ran through the standard big awkward group intro – Kane, NZ Country Manager of Bacardi; Nicola, Lab5 Agency and champion multi-tasker; Chase Bickerton, Bombay Sapphire Brand Ambassador; and four of New Zealand's best bartenders; Laura Walker, Andrew Pollard, Richard Stonehouse and Stuart Arstall. They were there to be deeply inspired by Sydney's top-notch creative bar scene, concoct an ambitious Bombay Sapphire cocktail of their own, and to ultimately lead the way in this new-age gin renaissance.
All the while, I was there to simply taste and experience everything, and in turn, become a supreme cocktail snob. Turns out, Ian does indeed, knows me. I've been to a few boozey famils and this one was unforgettably epic. I'm always worried that there'll be a wanker in the midst who'll test my patience but the people on this trip were all ego-free cool-cats who were incredibly talented and unapologetically down for a good time. Plus, Kane and Nicola were such awesome hosts who connected with my soul. I'm grateful as hell for this experience. Even today, I enjoyed a Fatimas wrap with Kane as he told me about his big toe gout that he got from eating squid. He's got high uric acid levels and everytime he eats seafood, it crystallises in his toes and joints and he can't walk from the pain. Ah~ tis the straw that broke the camel's back. Enough with the name-dropping and details of gout, let's dive into it.
The Immersion Sequence
Experimental Degustation
First stop – Gelato Messina Creative Department. If you're a heinous foodie who likes to push the boundaries with miscellaneous edible things, their seven-course dining experience will be a delightful mindf*ck for your palate. Consisting of a single modest 8-seat table as their entire restaurant, the weird and wonderful creations amalgamate the concept of savoury with sweet for an audacious degustation that's brilliantly unique.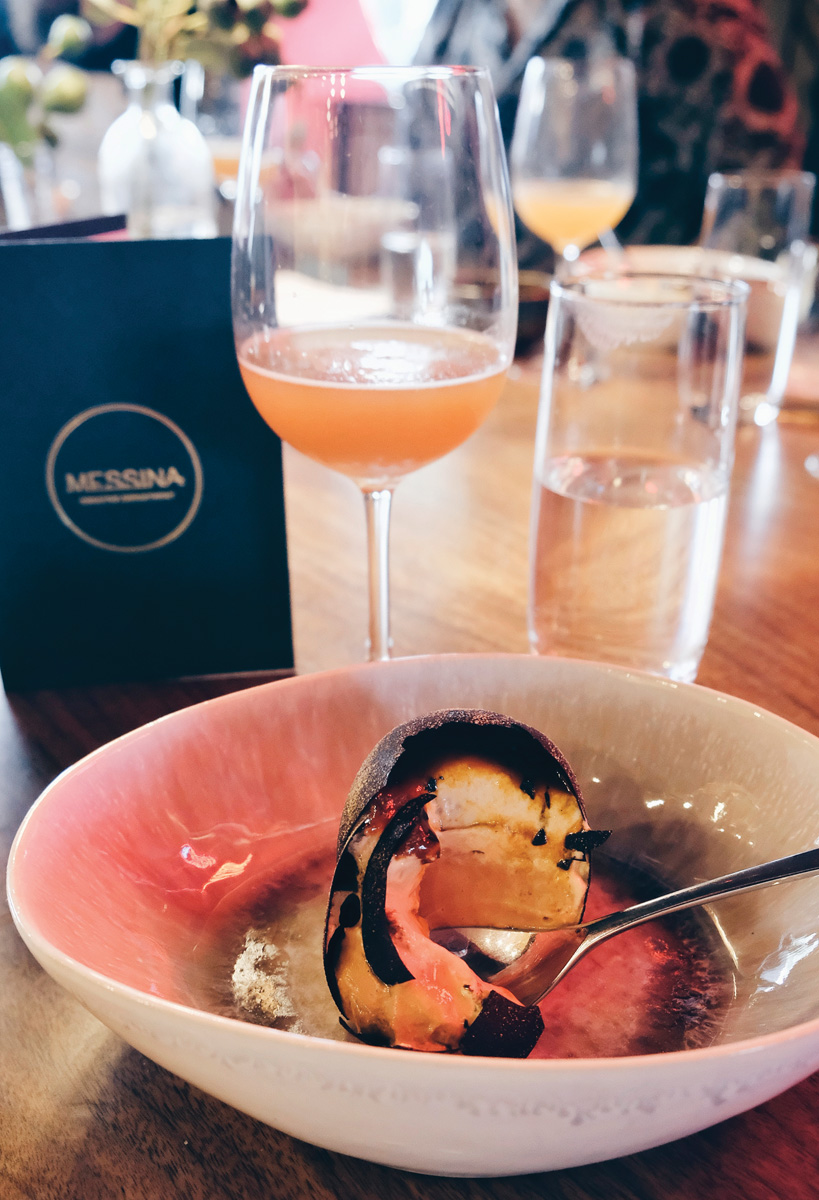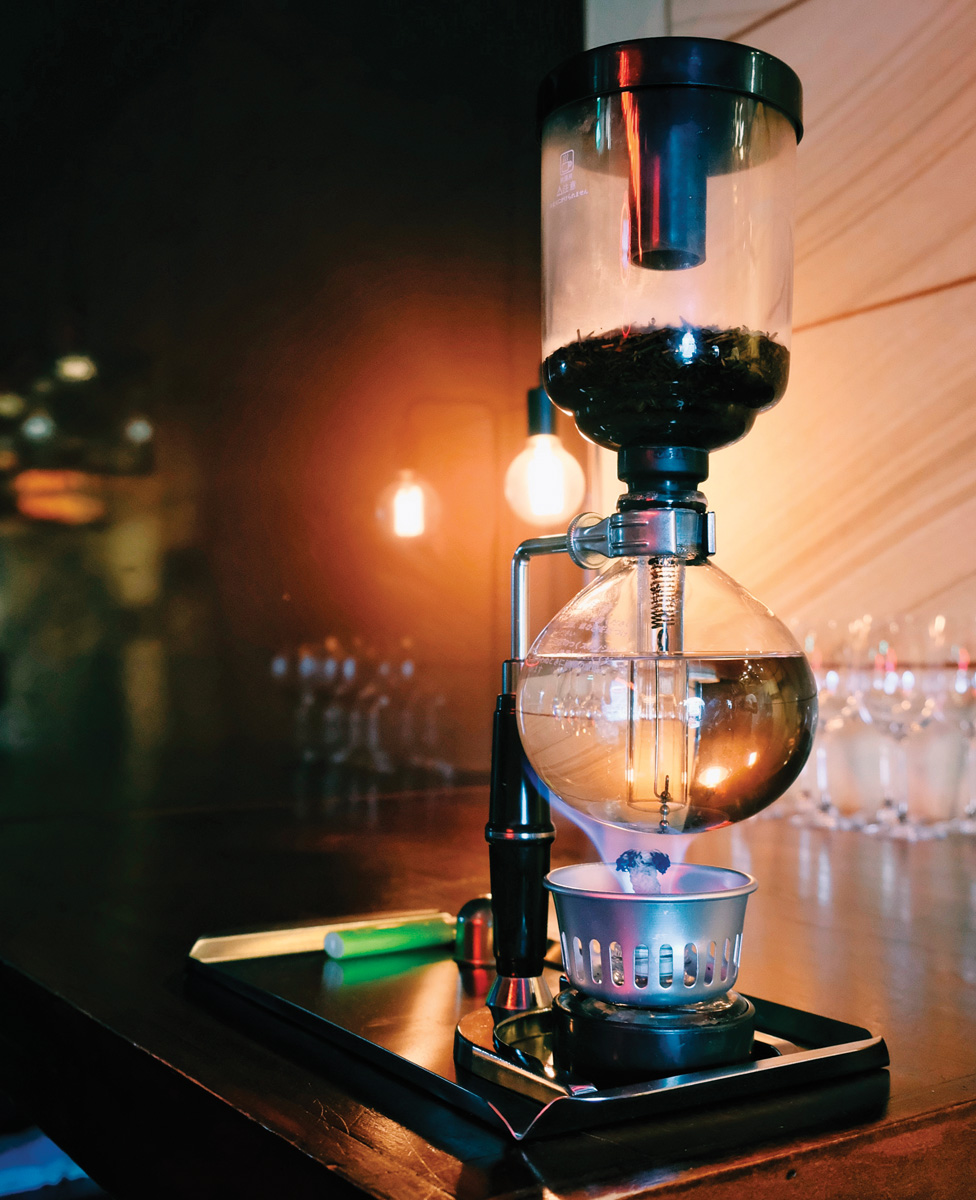 Hipster Pop

PS40 is a cocktail bar with an in-house soda factory that's big on collaborative creations. Drawing from Australian botanicals, this hipster bar uses locally-sourced ingredients to whip up all-natural hand-made sodas. Short for Pop Soda on 40 King St, the PS40 soda range provides quizzical blends as well as classic flavours with a unique twist to create the ultimate custom-blended cocktails. They use all types of spirits from the standards to infused versions like Pandan rum, beet-infused gin and cacao butter fat-washed bourbon – whatever that means!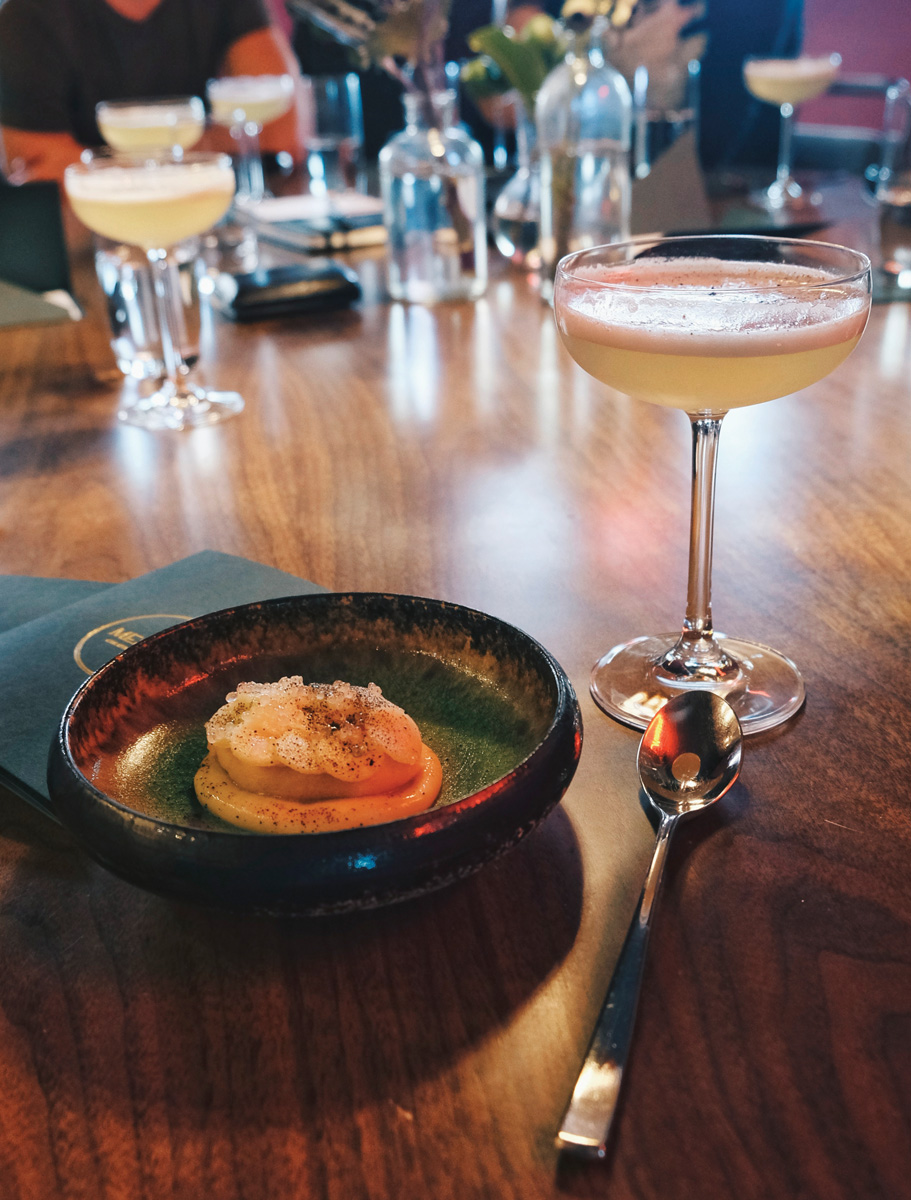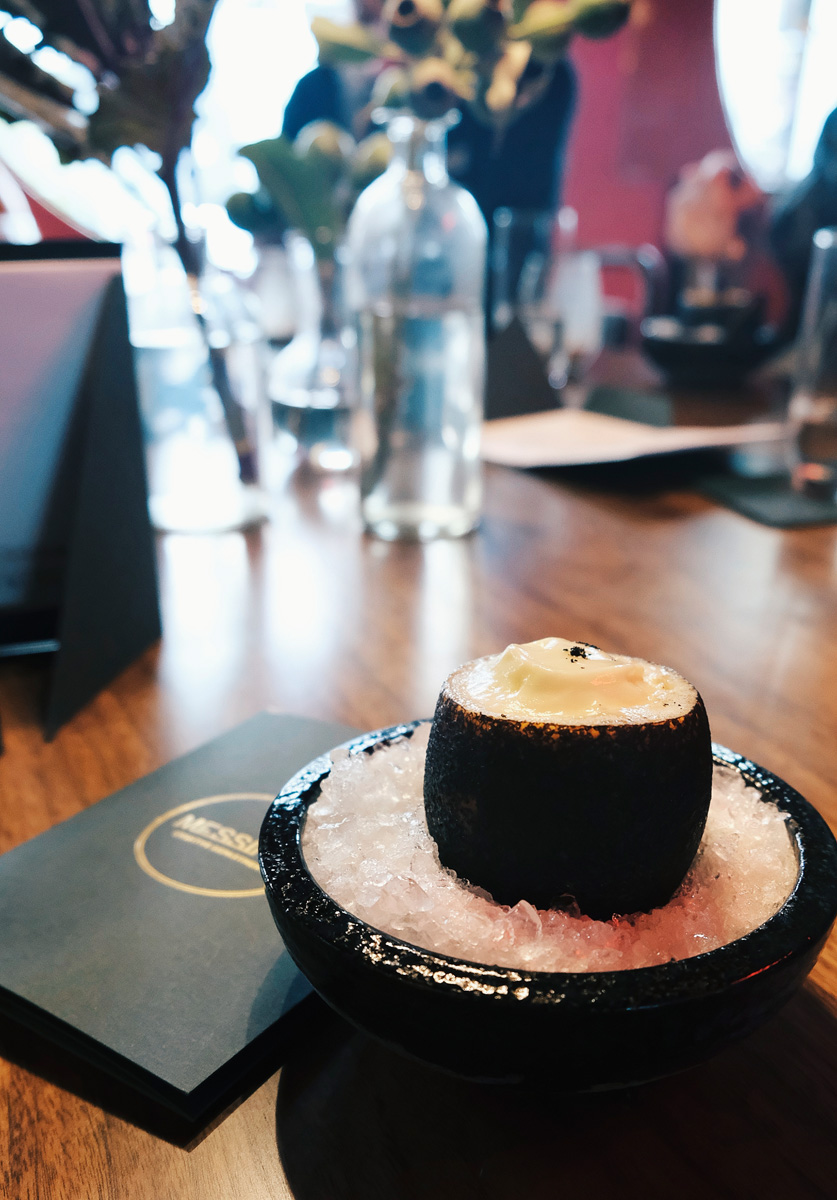 It's a Crime
Located within Ovolo Woolloomooloo, Alibi is the first Australian plant-based restaurant by one of America's best chefs, Matthew Kenney. Hailing all the way from Cali, Kenney injects a youthful energy that serves the desires of new gen kids in this ginormous old-wharf-turned-cosmopolitan-playground. It's colourful, edgy and incredibly design-driven; and the cocktails are just as buzzy and poppy as the architecture and interior design. With plenty of liquid nitrogen and bizarre-shaped cocktail-holders to create ambient settings, Alibi bar is a haven for avid grammers and food photographers. Humorous, picturesque and super effin cool in general, you'll be hiding out at Alibi until closing time.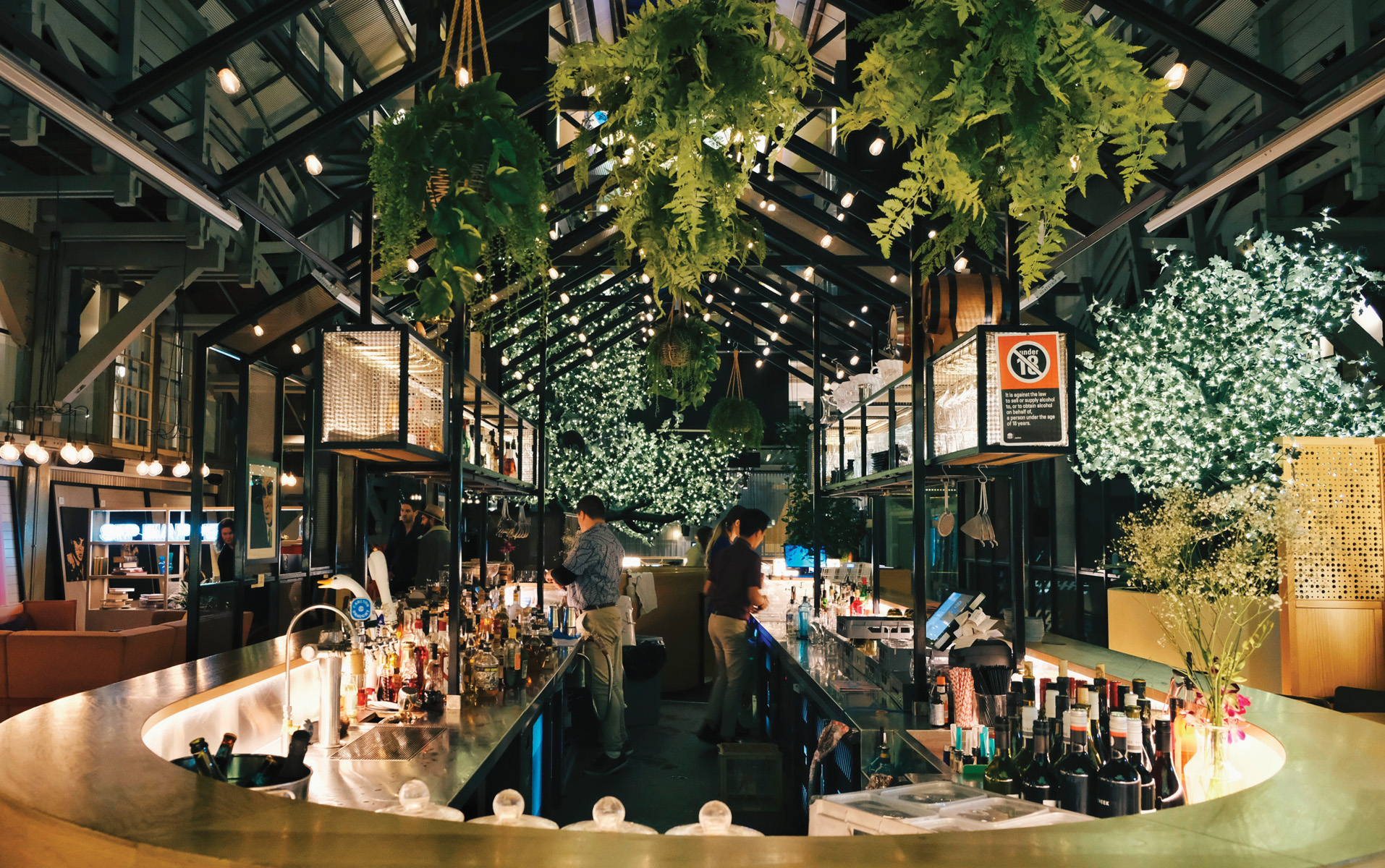 Barbershop
After a hectic schedule of bar-hopping and digesting all the inspiration that day one had to offer, it was time to put the bartenders' creations to the test. The judges were Mikey Enright, owner of The Barbershop; an English expat who's revered in the Aussie hospo scene as the Gin Genius; and Dave Nguyen, the General Manager of the Barbershop, who has a tonne of experience in mixology. As with any crit, there were a lot of compliment sandwiches to develop their cocktail making skills and refine the flavours. Choosing a single stimulant to focus on – taste, touch, sight, smell – the bartenders were challenged to push the boundaries of innovation and creativity as they transformed each unique drink into a sensory and interactive art installation.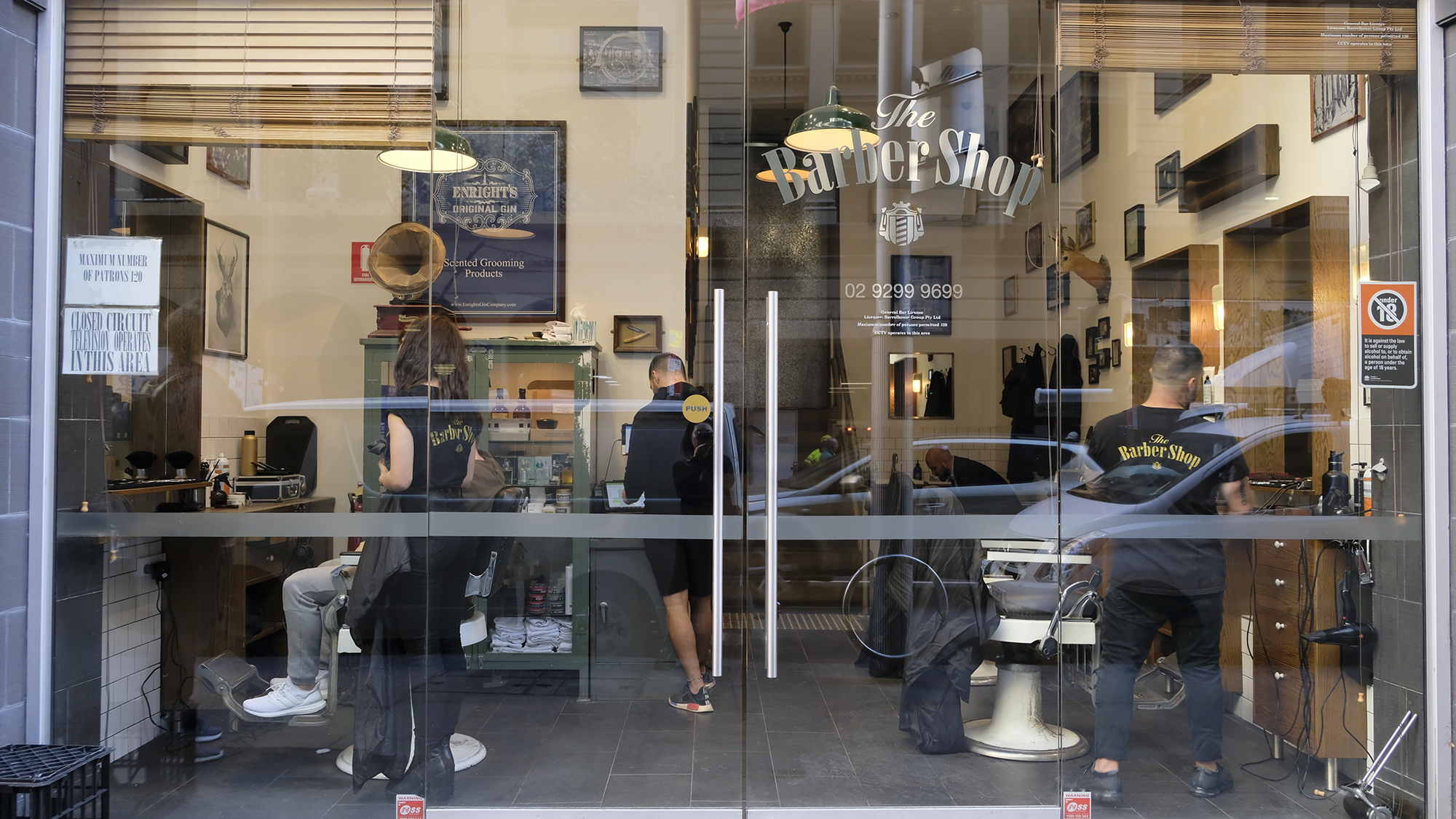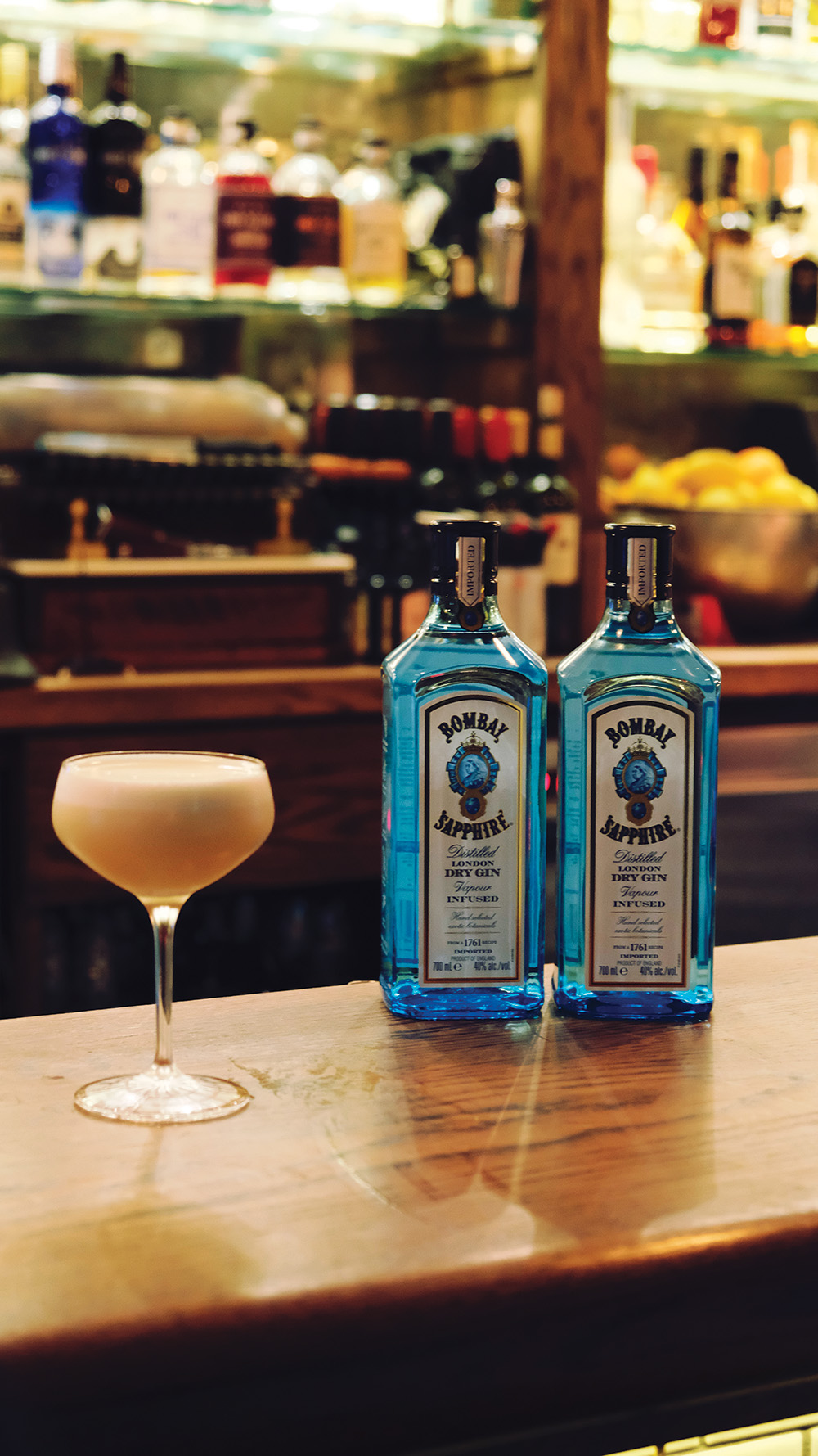 Bombay Sapphire x MCA
Sydney's got scale – that's for sure. Every year since its first curation in 2009, Sydney has put on a massive immersive light and entertainment festival dubbed VIVID. The CBD is worked as a canvas in which the city's key buildings and landmarks seamlessly become part of the 23-night exhibition. Aptly timed with this giant tourist attraction that brings in millions to Sydney, Bombay Sapphire collaborated with the Museum of Contemporary Art to host a pop-up bar on the rooftop's sculpture terrace. With unobstructed views of the illuminated Sydney Harbour Bridge and entrancing Opera House, it definitely exuded some sweet non-wanky VIP vibes. I yarned with many a middle aged white men in the liquor industry. You know when they say you can only have two aspects of three from 'party,' 'sleep,' and 'work'? While I usually opt for work and sleep and near-daily consumption of a de-stressing brew or vino, it seemed that these high-flyers were keen on the partying and work and especially were enthusiasts of combining those two together. However, they were seemingly sleep-deprived based off their thrilling stories that usually ended in a smooth transition from partying to work at 7am. Some food for thought.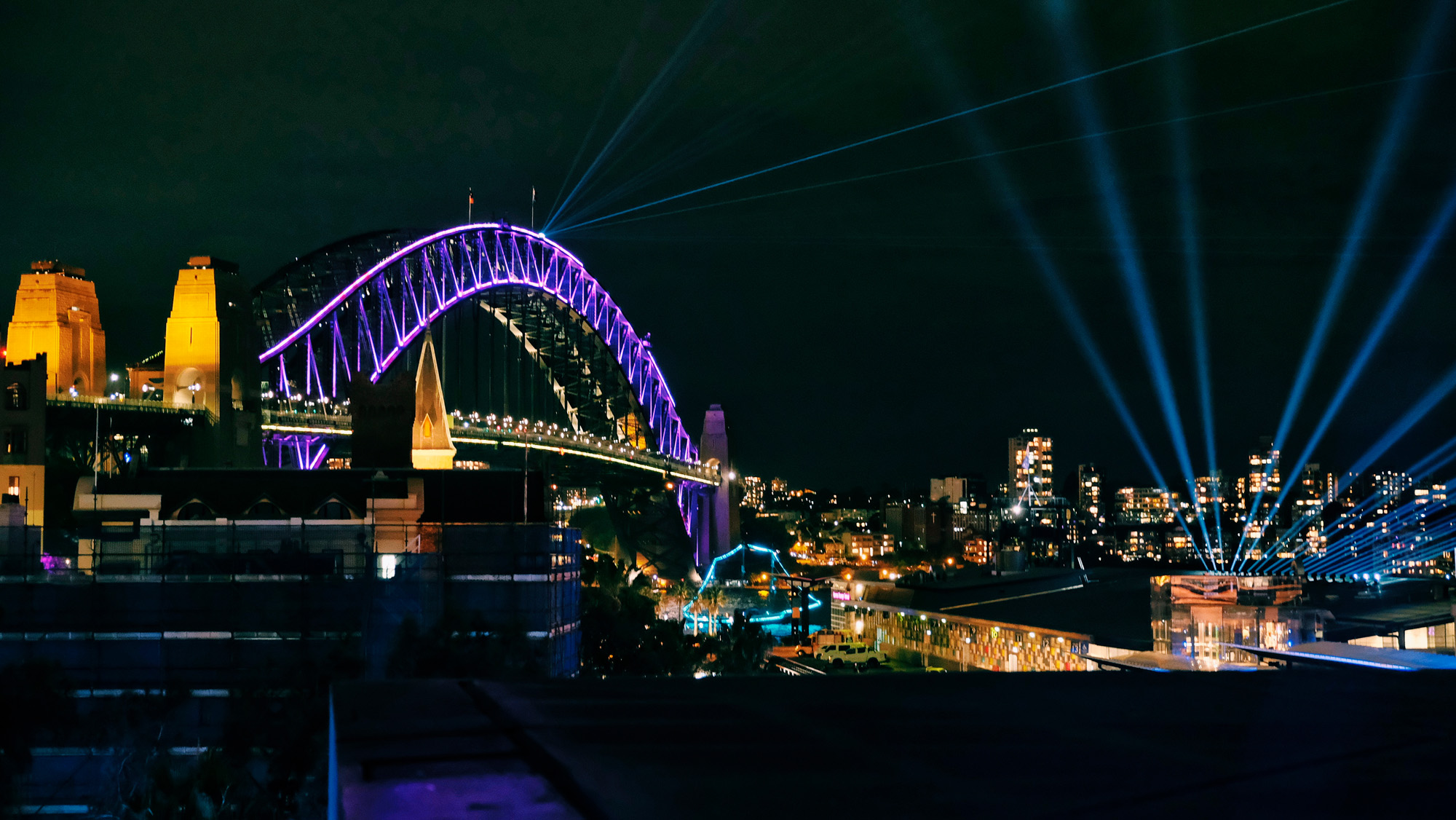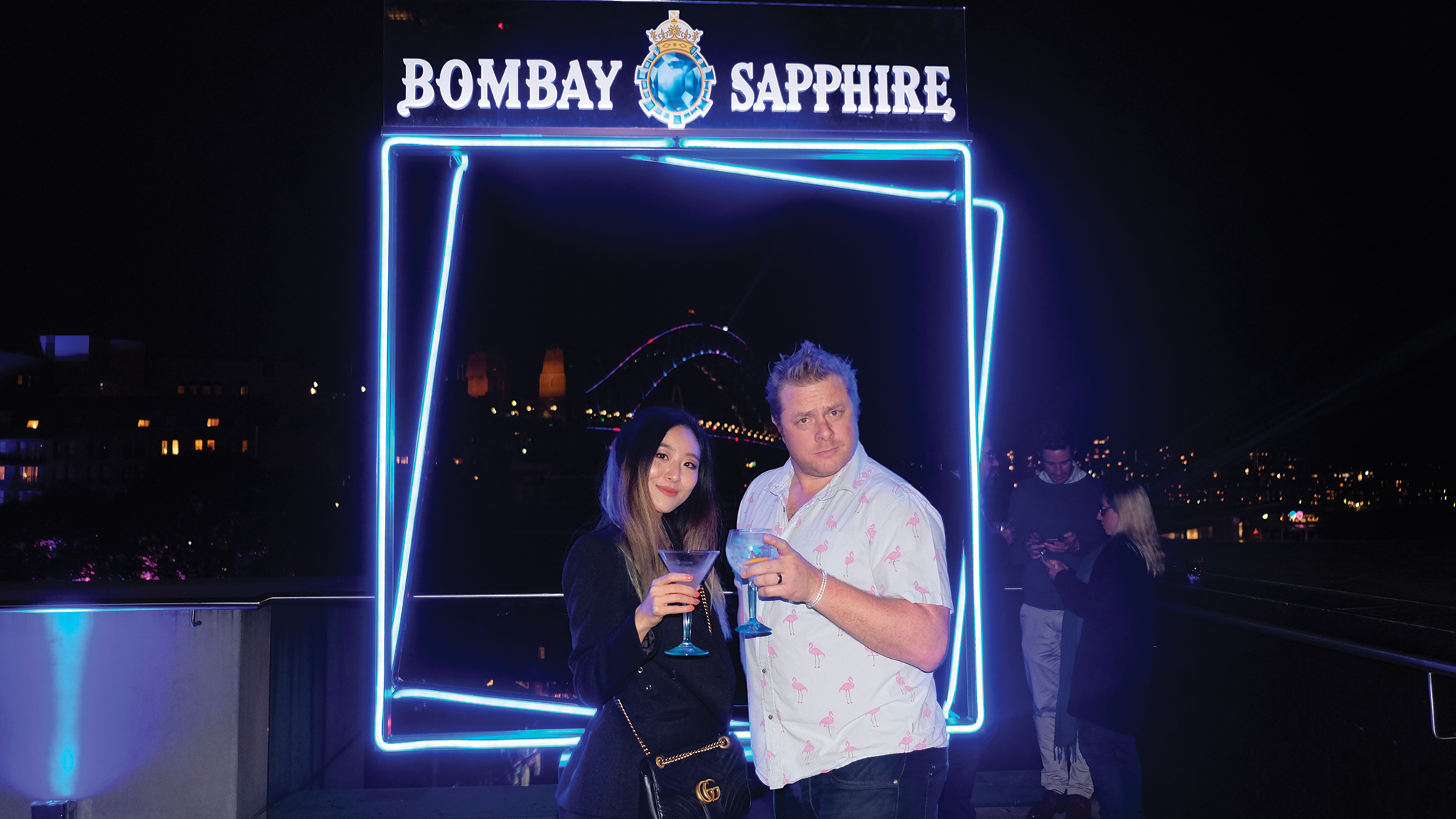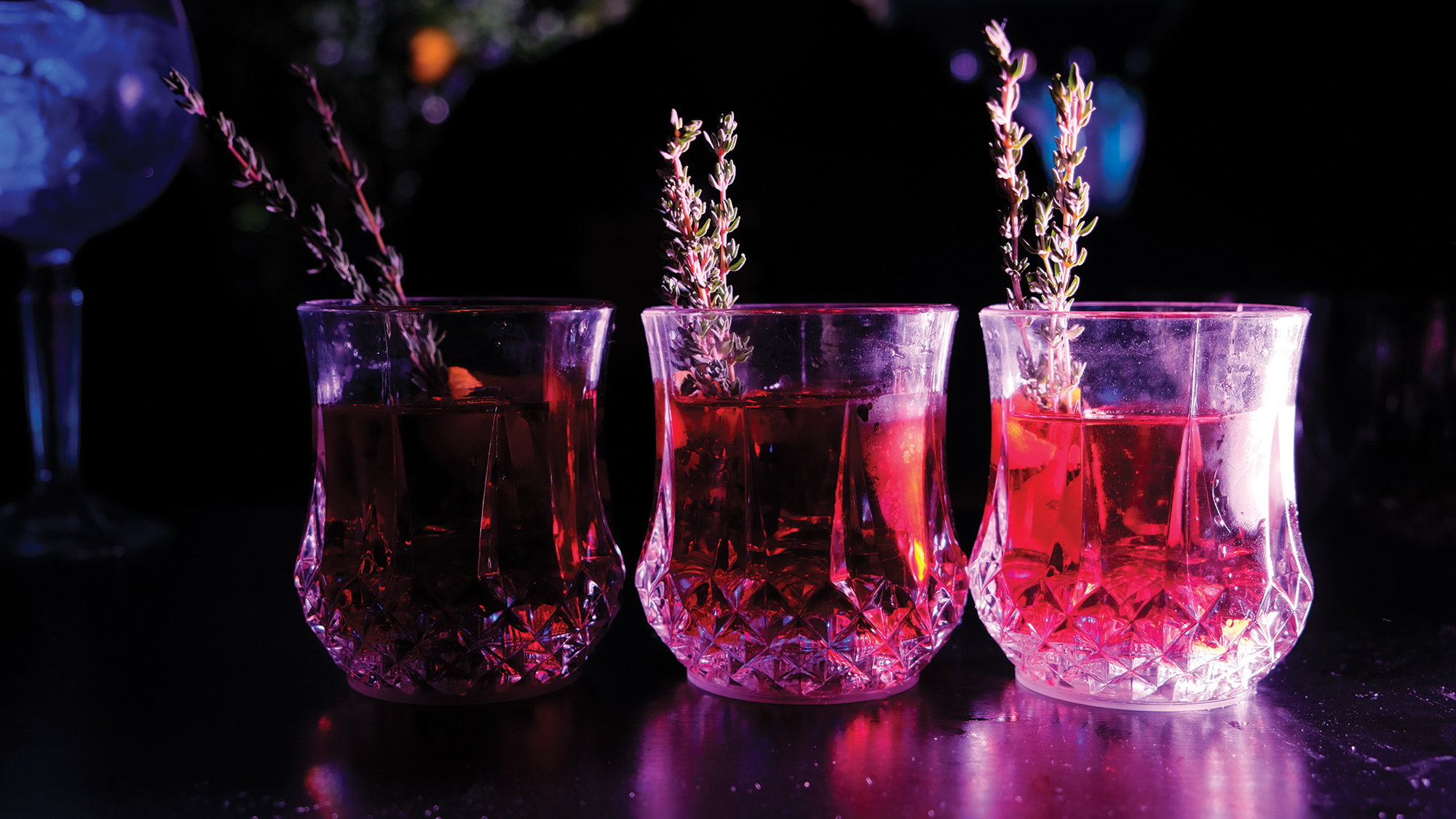 The drinks on offer ranged from interesting G&Ts to Sydney's seemingly most popular choice of drink – the rather bitter negroni; a winter warmer called the hot ginger gin; and my personal favourite, the chocolate and roses cocktail. I can't recollect what was in that, but by George, was it good. It was garnished with a chocolate mushroom that I, without fail, would drop and step on. You might not think it, but drinking from a blindingly bright glass in the dark proved difficult. The lovely Irishman, Andrew, gave me his mushroom though and we bonded instantly (haven't messaged him since but I'm sure he felt the same electricity that only comes from sharing precious ganache). By this time, we were all growing on each other and the shy ones had stripped themselves bare of the first-meet jitters and instead, replaced it with tiddly pizazz and a whole lot of love. Gin makes people very fond of hugging.
I had so much heart-filling fun on the trip, I made an instinctive decision that to move to Sydney. Fuelled with Bombay Sapphire, I ended up networking the shit out of the party, collecting business cards and emails. Natural-born hustler, what can I say.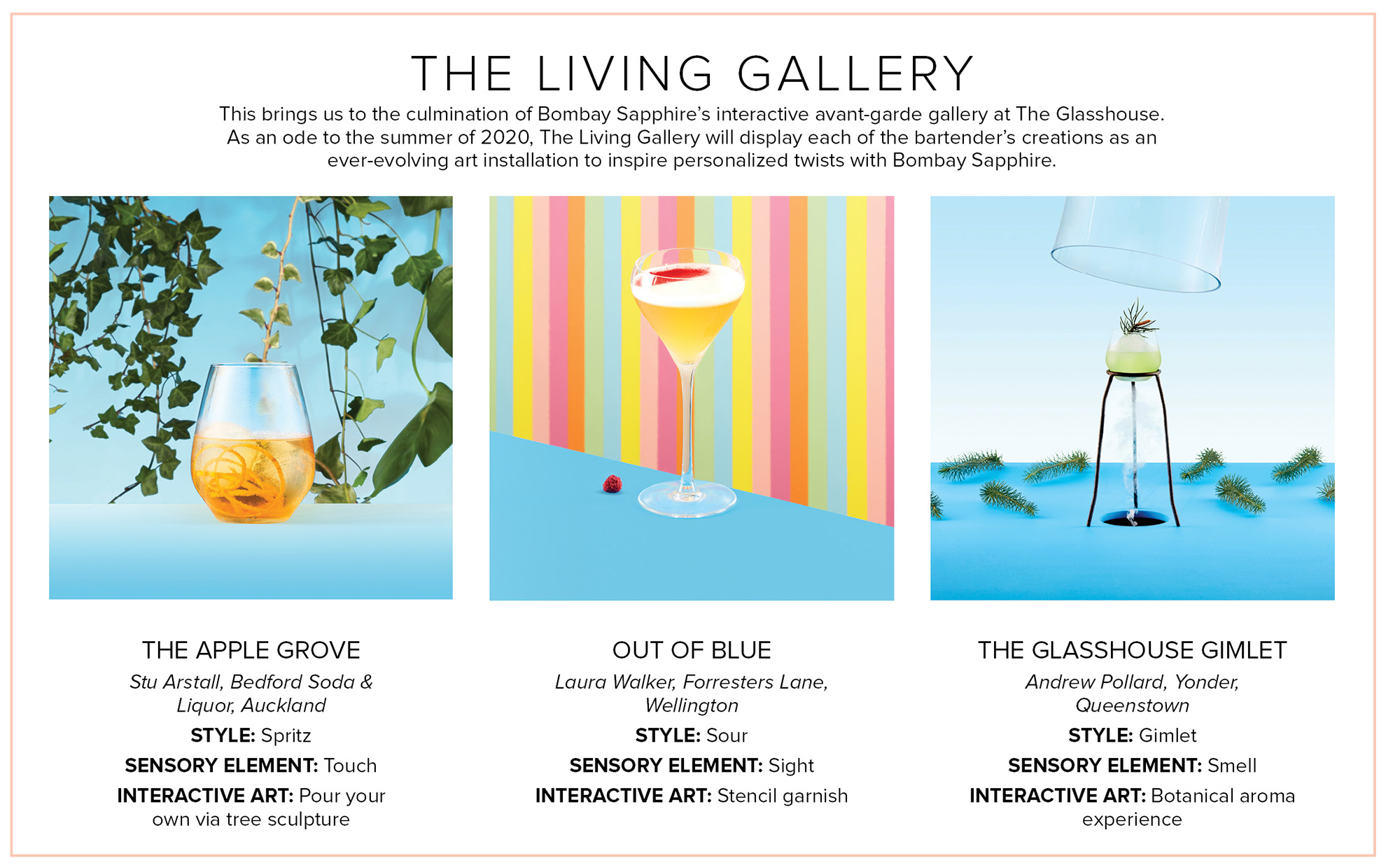 The Living Gallery runs from November 21 to 25, tickets cost $45 plus booking fee and can be purchased here