We are lucky as a nation to have such a vast selection of designers, innovators and makers that champion for quality. We shine the spotlight on brands who integrate sustainable and ethical practices and shoulder accountability to their community and products made both locally and offshore.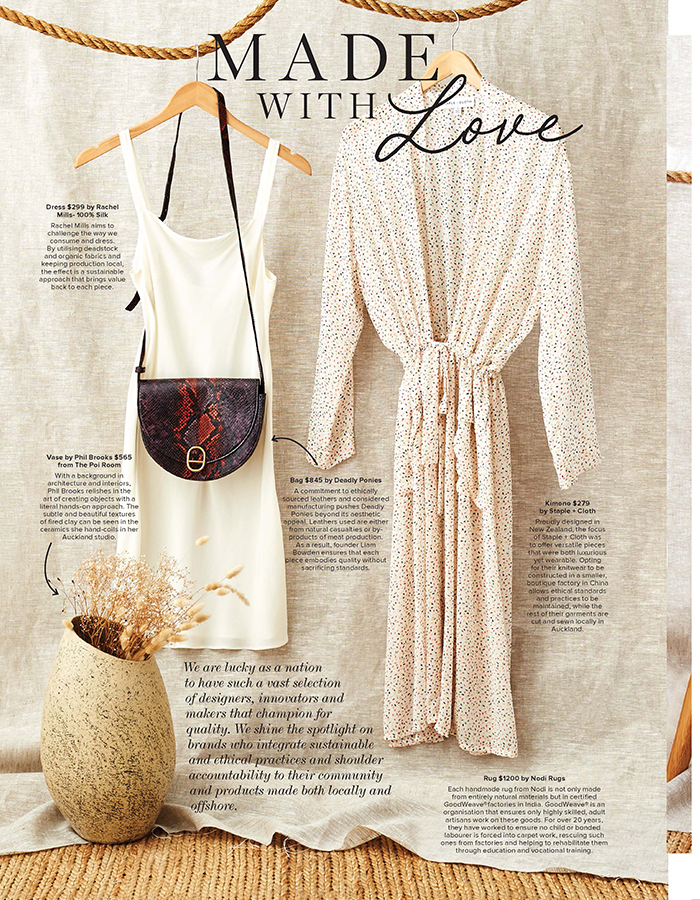 Dress $299 by Rachel Mills
100% Silk Rachel Mills aims to challenge the way we consume and dress. By utilising deadstock and organic fabrics and keeping production local, the effect is a sustainable approach that brings value back to each piece.
Bag $845 by Deadly Ponies
A commitment to ethically sourced leathers and considered manufacturing pushes Deadly Ponies beyond its aesthetic appeal. Leathers used are either from natural casualties or byproducts of meat production. As a result, founder Liam Bowden ensures that each piece embodies quality without sacrificing standards.
Vase by Phil Brooks $565 from The Poi Room
With a background in architecture and interiors, Phil Brooks relishes in the art of creating objects with a literal hands-on approach. The subtle and beautiful textures of fired clay can be seen in the ceramics she hand-coils in her Auckland studio.
Kimono $279 by Staple + Cloth
Proudly designed in New Zealand, the focus of Staple + Cloth was to offer versatile pieces that were both luxurious yet wearable. Opting for their knitwear to be constructed in a smaller, boutique factory in China allows ethical standards and practices to be maintained, while the rest of their garments are cut and sewn locally in Auckland.
Rug $1200 by Nodi Rugs
Each handmade rug from Nodi is not only made from entirely natural materials but in certified GoodWeave®factories in India. GoodWeave® is a organisation that ensures only highly skilled, adult artisans work on these goods. For over 20 years, they have worked to ensure no child or bonded labourer is forced into carpet work, rescuing such ones from factories and helping to rehabilitate them through education and vocational training.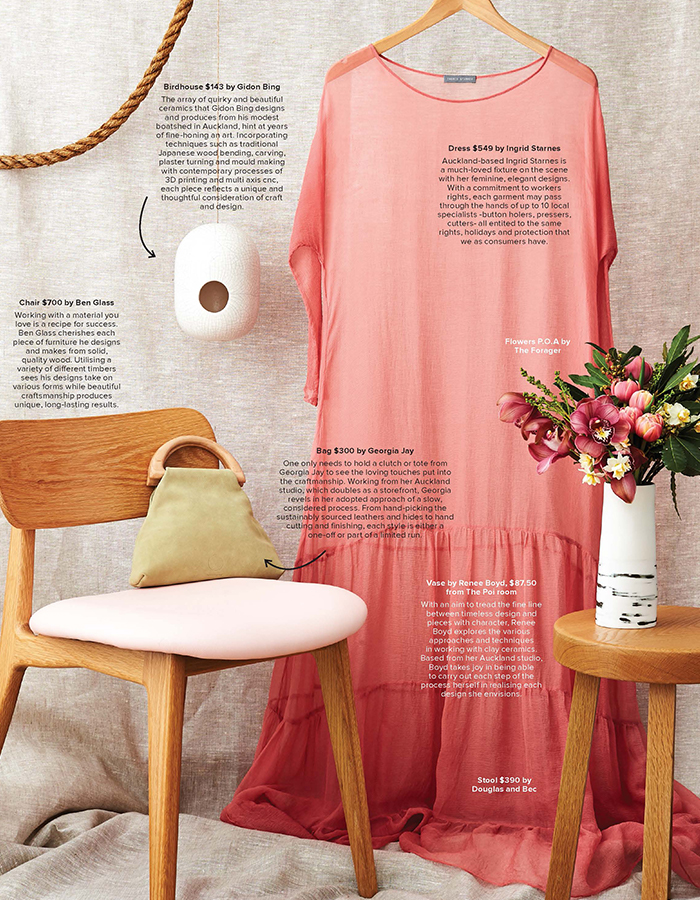 Chair $700 by Ben Glass
Working with a material you love is a recipe for success. Ben Glass cherishes each piece of furniture he designs and makes from solid, quality wood. Utilising a variety of different timbers sees his designs take on various forms while beautiful craftsmanship produces unique, long-lasting results.
Birdhouse $143 by Gidon Bing
The array of quirky and beautiful ceramics that Gidon Bing designs and produces from his modest boatshed in Auckland, hint at years of fine-honing an art. Incorporating techniques such as traditional Japanese wood bending, carving, plaster turning and mould making with contemporary processes of 3D printing and multi axis cnc, each piece reflects a unique and thoughtful consideration of craft and design.
Bag $300 by Georgia Jay
One only needs to hold a clutch or tote from Georgia Jay to see the loving touches put into the craftmanship. Working from her Auckland studio, which doubles as a storefront, Georgia revels in her adopted approach of a slow, considered process. From hand-picking the sustainably sourced leathers and hides to hand cutting and finishing, each style is either a one-off or part of a limited run.
Dress $549 by Ingrid Starnes
Auckland-based Ingrid Starnes is a much-loved fixture on the scene with her feminine, elegant designs. With a commitment to workers rights, each garment may pass through the hands of up to 10 local specialists -button holers, pressers, cutters- all entited to the same rights, holidays and protection that we as consumers have.
Flowers P.O.A byThe Forager
Vase by Renee Boyd, $87.50 from The Poi room
With an aim to tread the fine line between timeless design and pieces with character, Renee Boyd explores the various approaches and techniques in working with clay ceramics. Based from her Auckland studio, Boyd takes joy in being able to carry out each step of the process herself in realising each design she envisions.
Stool $390 by Douglas and Bec
Cotton Shirt $330 by Harris Tapper
Challenging the appeal of fast-fashion, Sarah Harris and Lauren Tapper set out to reimagine the gratification of constant wardrobe updates. Integrating that consumerist tendency with purchases of value, the designers drop new styles every month in the form of luxurious pieces created using ethical and sustainable processes carried out locally.
Wool Sneakers $160 by Allbirds
For a country where sheep outnumber humans 6 to 1, it comes as no surprise that merino is a large part of our textile industry. The clever people at Allbirds utilise this versatile resource to create sneakers that look great and take 60% less energy than synthetic shoes to produce. Working with ZQ merino to ensure standards of farming and animal welfare, every component- down to the shoelaces made from recycled plastic bottles- epitomizes stylish and sustainable design.
Stool $445 by Douglas and Bec
Father and daughter duo Douglas Snelling and Bec Dowie believe in the honesty of pure materials and honouring the people who execute each of their designs. The sleek, exquisite pieces that are produced certainly showcase a wellconsidered, well-made approach. With a focus on the quality of materials used, hand craftmanship and the skills of those creating, each piece feels purposeful and luxurious.
Cashmere Robe $595 by Elle + Riley
Synonymous with luxury, cashmere has long been heralded for its sumptuous feel and warmth. Ethically sourced cashmere requires much care and consideration. As goats tend to produce just 150 grams of cashmere wool each year, it takes the hair from 2 goats to make just one beautiful sweater. Mother and daughter Yolande Ellis and Elle Pugh are dedicated to working with partners in Scotland, Shanghai and Beijing who uphold standards of craft and material sourcing in producing their sophisticated designs.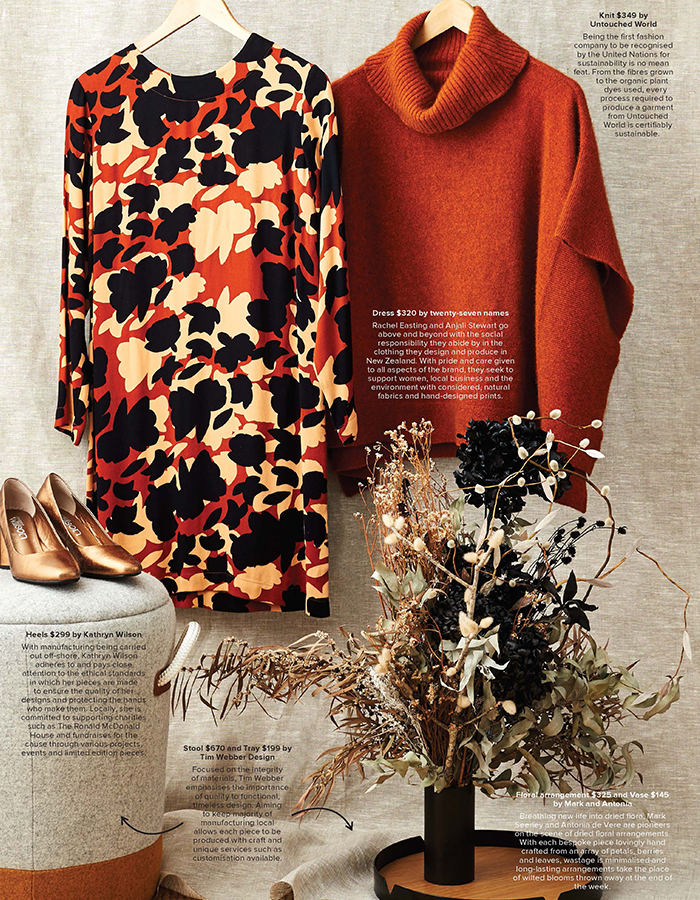 Heels $299 by Kathryn Wilson
With manufacturing being carried out off-shore, Kathryn Wilson adheres to and pays close attention to the ethical standards in which her pieces are made to ensure the quality of her designs and protecting the hands who make them. Locally, she is committed to supporting charities such as The Ronald McDonald House and fundraises for the cause through various projects, events and limited edition pieces.
Stool $670 and Tray $199 by Tim Webber Design
Focused on the integrity of materials, Tim Webber emphasises the importance of quality to functional, timeless design. Aiming to keep majority of manufacturing local allows each piece to be produced with craft and unique services such as customisation available.
Dress $320 by twenty-seven names
Rachel Easting and Anjali Stewart go above and beyond with the social responsibility they abide by in the clothing they design and produce in New Zealand. With pride and care given to all aspects of the brand, they seek to support women, local business and the environment with considered, natural fabrics and hand-designed prints.
Knit $349 by Untouched World
Being the first fashion company to be recognised by the United Nations for sustainability is no mean feat. From the fibres grown to the organic plant dyes used, every process required to produce a garment from Untouched World is certifiably sustainable.
Floral arrangement $325 and Vase $145 by Mark and Antonia
Breathing new life into dried flora, Mark Seeney and Antonia de Vere are pioneers on the scene of dried floral arrangements. With each bespoke piece lovingly hand crafted from an array of petals, berries and leaves, wastage is minimalised and long-lasting arrangements take the place of wilted blooms thrown away at the end of the week.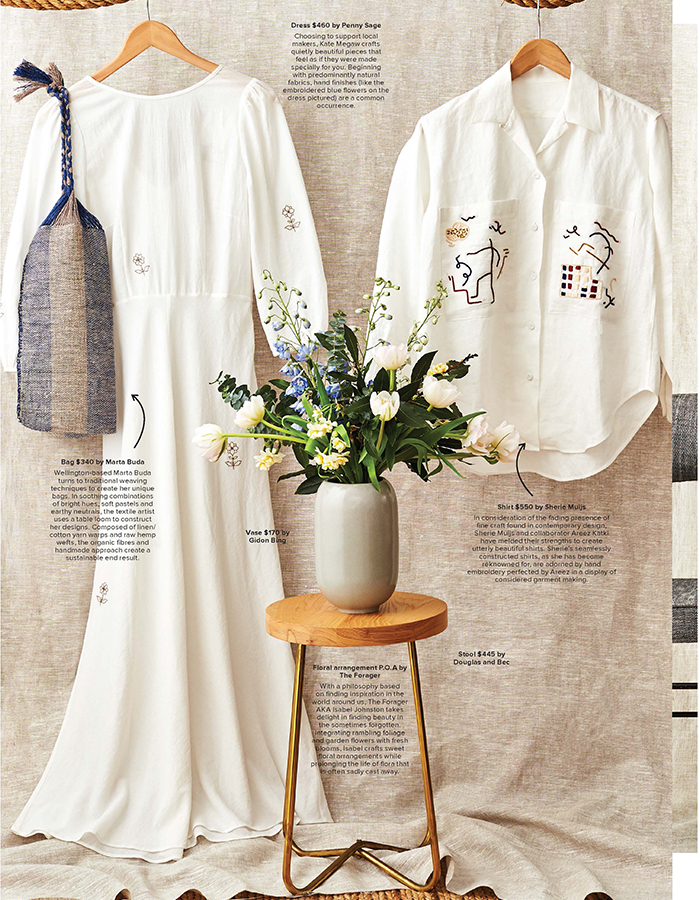 Bag $340 by Marta Buda
Wellington-based Marta Buda turns to traditional weaving techniques to create her unique bags. In soothing combinations of bright hues, soft pastels and earthy neutrals, the textile artist uses a table loom to construct her designs. Composed of linen/ cotton yarn warps and raw hemp wefts, the organic fibres and handmade approach create a sustainable end result.
Dress $460 by Penny Sage
Choosing to support local makers, Kate Megaw crafts quietly beautiful pieces that feel as if they were made specially for you. Beginning with predominantly natural fabrics, hand finishes (like the embroidered blue flowers on the dress pictured) are a common occurrence.
Vase $170 by Gidon Bing
Floral arrangement P.O.A by The Forager
With a philosophy based on finding inspiration in the world around us, The Forager AKA Isabel Johnston takes delight in finding beauty in the sometimes forgotten. Integrating rambling foliage and garden flowers with fresh blooms, Isabel crafts sweet floral arrangements while prolonging the life of flora that is often sadly cast away.
Stool $445 by Douglas and Bec
Shirt $550 by Sherie Muijs
In consideration of the fading presence of fine craft found in contemporary design, Sherie Muijs and collaborator Areez Katki have melded their strengths to create utterly beautiful shirts. Sherie's seamlessly constructed shirts, as she has become reknowned for, are adorned by hand embroidery perfected by Areez in a display of considered garment making.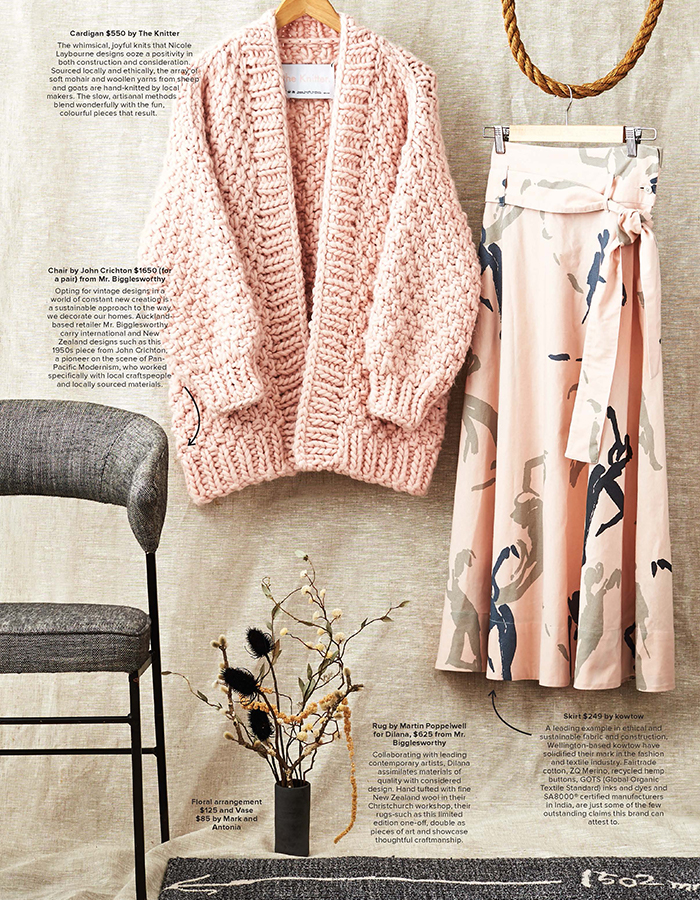 Cardigan $550 by The Knitter
The whimsical, joyful knits that Nicole Laybourne designs ooze a positivity in both construction and consideration. Sourced locally and ethically, the array of soft mohair and woollen yarns from sheep and goats are hand-knitted by local makers. The slow, artisanal methods blend wonderfully with the fun, colourful pieces that result.
Chair by John Crichton $1650 (fora pair) from Mr. Bigglesworthy
Opting for vintage designs in a world of constant new creation is a sustainable approach to the way we decorate our homes. Auckland based retailer Mr. Bigglesworthy carry international and New Zealand designs such as this 1950s piece from John Crichton, a pioneer on the scene of Pan- Pacific Modernism, who worked specifically with local craftspeople and locally sourced materials.
Floral arrangement $125 and Vase $85 by Mark and Antonia
Rug by Martin Poppelwell for Dilana, $625 from Mr.
Bigglesworthy
Collaborating with leading contemporary artists, Dilana assimilates materials of quality with considered design. Hand tufted with fine New Zealand wool in their Christchurch workshop, their rugs-such as this limited edition one-off, double as pieces of art and showcase thoughtful craftmanship.
Skirt $249 by kowtow
A leading example in ethical and sustainable fabric and construction, Wellington-based kowtow have solidified their mark in the fashion and textile industry. Fairtrade cotton, ZQ Merino, recycled hemp buttons, GOTS (Global Organic Textile Standard) inks and dyes and SA8000® certified manufacturers in India, are just some of the few outstanding claims this brand can attest to.