Take a Chance On Me
In New Zealand, almost one in four individuals were identified as disabled, according to a 2013 Statistics New Zealand survey and of these, three-quarters are unemployed for various reasons.
One of the leading reasons, however, has to do with the discrimination they face when it comes to getting a job and even getting the opportunity of an interview. Why are we discriminating against people because they are different and, more importantly, how can we help these individuals who just want to provide for themselves?
It's a topic rarely discussed; we smile and grit our teeth because we don't know what to say. As a result, our ignorance towards and about people who look and act different is creating a world where their disabilities become highlighted. Our avoidance on the topic is part of the reason they are limited and disadvantaged. Areena Deshpande sees herself as the same as anyone else, "normal with no difference but a gem plus more," she says. Society, however, sees her as 'disabled' or, in Deshpande's own words: "uniquely abled, in fact more abled than the enabled." When she was two, Deshpande suffered burns to 80 percent of her body, including her face.
The discrimination she faces, and the different treatment she receives, became most apparent when she was job hunting and the people she was meeting for potential jobs could not look her in the eyes. "They would look at the person that came to support me," she says. "It made me feel like I was no one.
"Somebody once asked ['why it is important for me to have a job?']. I remember asking that person in return: 'why is it important for your to have a job? Why am I any different? Why should I be asked? I have a right to be independent like you and others. I have a right to dream of a future where I can purchase like other people who work hard."
People labelled as disabled could be just as able as anyone else with one hand, no limbs, no eyes, or be completely disfigured like her, she says. "But the moment you are judged and looked at and not given a chance because of unasked questions, then barriers goes up and that's where society makes us disabled.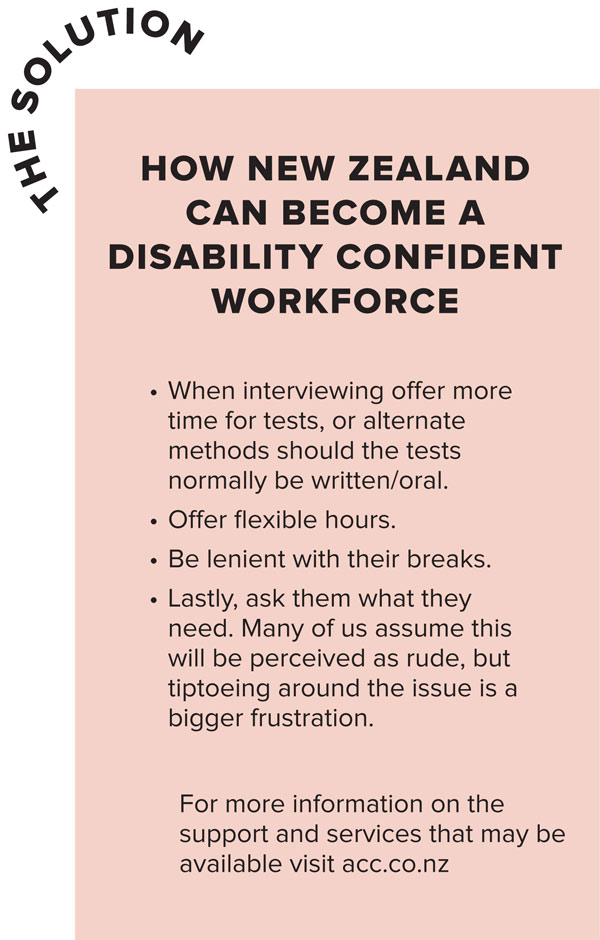 "Take us in, give us just one chance to show ourselves and what we are capable of. Then make a sound decision, but don't turn away without giving us a chance or a try."
While Deshpande's 'disability', or 'special ability' is visible, there are varying types of disabilities, some are more obvious, others take time to notice. There are five categories that need to be taken into account when considering disabilities, according to the New Zealand State Services Commission: sensory (hearing, seeing); physical (mobility, agility); intellectual; psychological; and other – such as long-term health problems or difficulty learning or remembering. Consequently, there are various definitions of the term disability in New Zealand alone. Statistics NZ defines disability as: "any self-perceived limitation in activity resulting from a long-term condition or health problem; lasting longer or expected to last longer than six months or more; and not completely eliminated by an assistive device." In 2001, then Minister for Disability Issues, Hon Lianne Dalziel, defined it as: "Disability is not something individuals have. What individuals have are impairments. They may be physical, sensory, neurological, psychiatric, intellectual or other impairments… Disability is the process which happens when one group of people create barriers by designing a world only for their way of living, taking no account of the impairments other people have…" It is the latter definition that encourages us to rethink about how we define 'disabled' and consider the barriers we put up, not only in everyday life, but more specifically in the workplace. Take, for example, your office: are there ramps and elevators or only stairs? Does your company offer flexible hours for those who mentally and physically require more regular breaks? And, even more importantly, does your company employ anyone with a disability or do they step back? Is your workplace creating barriers or is it taking into consideration the needs of all New Zealanders?
One company opening doors to everyone and helping all New Zealanders seek employment, regardless of their abilities, is Adecco New Zealand, the leading recruitment agency in New Zealand. Adecco has been working with ACC over the past year to try and break down some of the barriers to employment that people with disabilities encounter. At a seminar run by Adecco and ACC encouraging corporate New Zealand to help more individuals with disabilities get work, Adecco's managing director, Mike Davies, said this topic is rarely discussed and it often ends up in the too-hard basket – something they are fighting to change. This is because it is a confronting subject that can be uncomfortable for some people, he said when M2woman spoke with him after the seminar. Most people are conditioned to take the path of least resistance. Adecco New Zealand has a long history of supporting those with disabilities, both in their workplace and by assisting them to get a job. Davies says this work stems from their engagement with Paralympics New Zealand, which opened their eyes. "It's easy; we hire the best person for the job, disability or not," he says. "It's our moral obligation to consider all people and it's rewarding to create an inclusive and diverse culture in the business. Everyone wins."
Take, for example, Areena Deshpande, who works as an after-hours consultant at Adecco and commends them for seeing her as no different. "They took me in and asked me the hard questions that I was dying for the workforce to ask me. It made me feel valued, like I was seen as a person and not a special case – because I am not a special case," she says.
Likewise, they hired Mano Thompson in 2016, he had been injured in a rugby league game and had broken his neck and left a quadriplegic three years prior. He went through rehab and was able to regain the majority of his mobility back and began walking again. However, that incident still left him struggling to get a job. "The hardest thing [was] getting to the interview stage, as people would look at my CV and see a year's gap of being unemployed because of rehab and didn't want to progress further," he says. "The biggest thing of living with a disability, I believe, is trying to adapt back to living life as normally as possible, so gaining employment helps hugely with that step to getting back on track." Like Deshpande, Thompson says it was people's assumptions that were among the most frustrating things. "Things like 'he can't do this or that any more' because of his injury." He would like to see workplaces become more aware and open to those with disabilities, and consider how they can become an asset to their company.
A lot of the problem comes down to society's assumptions of what people can and can't do, but it is also that people are afraid and, like Davies said, putting it in the too-hard basket. Similarly, a lot of people use excuses as to why they do not hire individuals with disabilities. Commonly, people talk about health and safety issues. They are concerned that they need to have additional safety measures in place, which rings 'expenses' alarm bells. Similarly, they assume a hazard exists, whether it is the concern that someone with hearing limitations will not hear the fire alarm, or someone with a visual impairment will not see something in front of them and trip and injure themselves. Relationship manager at ACC, Tanya Colvin, says this health and safety concern is one of the most common obstacles they encounter when suggesting the idea of hiring someone with a disability to employers. "Almost always, these concerns are completely unfounded or easily addressed. The rate of workplace accidents to people with disabilities is actually much lower than that of their non-disabled colleagues. People with disabilities spend their whole lives navigating risks and becoming extremely creative as they figure out the safest way to do things."
The persistence commonly displayed by individuals with a disability is something that needs to be celebrated, and something Colvin says should be considered as an asset. " Disabled people often have excellent problem-solving skills. They spend their lives figuring out new and novel ways of doing things." In fact, there are many things those with disabilities do better than their non-disabled counterparts. "They take the same or a fewer number of days off, often remain loyal to employers for very long periods, are extremely resilient and they cost employers a similar amount to employ," Colvin says. Their devotion was supported in a Statistics NZ Sense Partners study, which found the average time with the same employer for a disabled person is 10 years compared with seven years for a non-disabled person. "Many people with disabilities are highly qualified and have good transferrable skills… They [also] bring a rich diversity to the workplace and can have a positive impact on workplace culture as they inspire and motivate their non-disabled colleagues. Often all they need is to find their first employer to take a chance with them," Colvin says.
There is the age-old argument that we shouldn't be giving those with a disability a special advantage when it comes to jobs, but if the people who have shared their journeys taught us anything, it is that they don't want a special advantage, they just want a chance. At the seminar, Tom Johnson from ACC spoke. He was in a wheelchair and had limited mobility after an accident when he was younger; he said that individuals, like him, just want a purpose: "I'm not saying give us a job because of the disability, you have to pick the best candidates. I'm just encouraging you to look past the wheelchair or the mobility issue."
It really is that simple. No special advantages but also no discrimination, just  chance.
You'll also like: