The Child Inspiring the World
While some kid's these days might think it's the end of the world if their download of Angry Birds fails there are some who have a totally different perspective and who can actually teach adults a thing or two as well.
One such child is 9-Year-Old Daniel Cabrera. You can often see Daniel studying under the soft glow of a McDonald's Restaurant in the Philippines. Daniel lives with his mother and younger brother in a food stall without walls and one day wants to become either a doctor or a policeman. Medical student Joyce Torrefranca noticed the boy whilst walking home late at night and felt so moved, she took a quick photo and shared it on her social media page.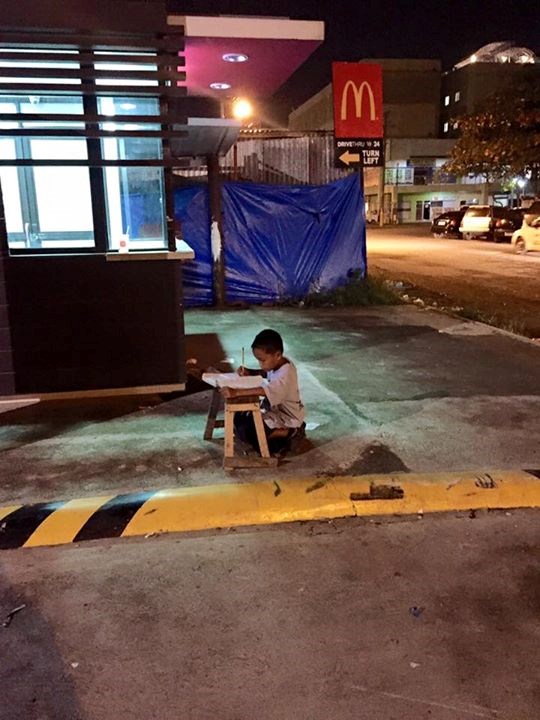 As well as not having a home and proper place to study, Daniel only owns a single pencil after one of his fellow students stole his second pencil from him. Despite the difficult conditions, Daniel is committed to his studies and whilst his classmates are playing football in the streets, he is often spotted studying in the light of the restaurant.
The photo was quickly went viral with thousands of people commenting how impressed they were with the young boy's studying efforts. Joyce later wrote: 'I didn't think that a simple photo can make a huge difference. Thank you guys for sharing the photo. With that, we were able to help Daniel in reaching his dreams.'
A fundraising page has been set up for Daniel, intended to reward the young boy's dedication to his studies by encouraging people to help fund the young boy's education.
Wow.
You'll also like: