Dry shampoo is the ultimate beauty savior for many busy women – sometimes, you just don't have time to wash, dry and style your hair every morning because you really need the sleep in. This efficient spritz is an absolute hero when it comes to time-saving and immediately giving life and lift to your dirty and dull second or third day hair. I feel no shame in saying that I'm addicted and can't survive without it.
It's a revolutionary invention but it's been around for a while. It absorbs excess oil and impurities and you can have non-greasy roots for days after an expensive blowout. For those with thin, flat hair, dry shampoo is a good way to add that sexy, carefree oomph and volume. Flip your head upside down and add the dry shampoo all over clean hair to add texture and volume. Another tip is to brush your hair after spraying to disperse and activate the thickening agents. For extra oomph – backcomb. Also, it gives a bit of grip and hold to your hair, making it easy to manipulate your hair with bobby pins.
Usually resorting to Batiste or Pureology, I tried the new Kardashian beauty line. The packaging is sassy, classy and stylish – all in good Kardashian fashion. The first thing I noticed was that it smelt really good. I realize that fragrance is subjective but in describing the scent, it's mature and sultry; I imagine this is what a Kardashian would smell like. Secondly, there was no white and chalky residue – it's clear! The tip is to spray in a continuous movement about 20cms from your hair.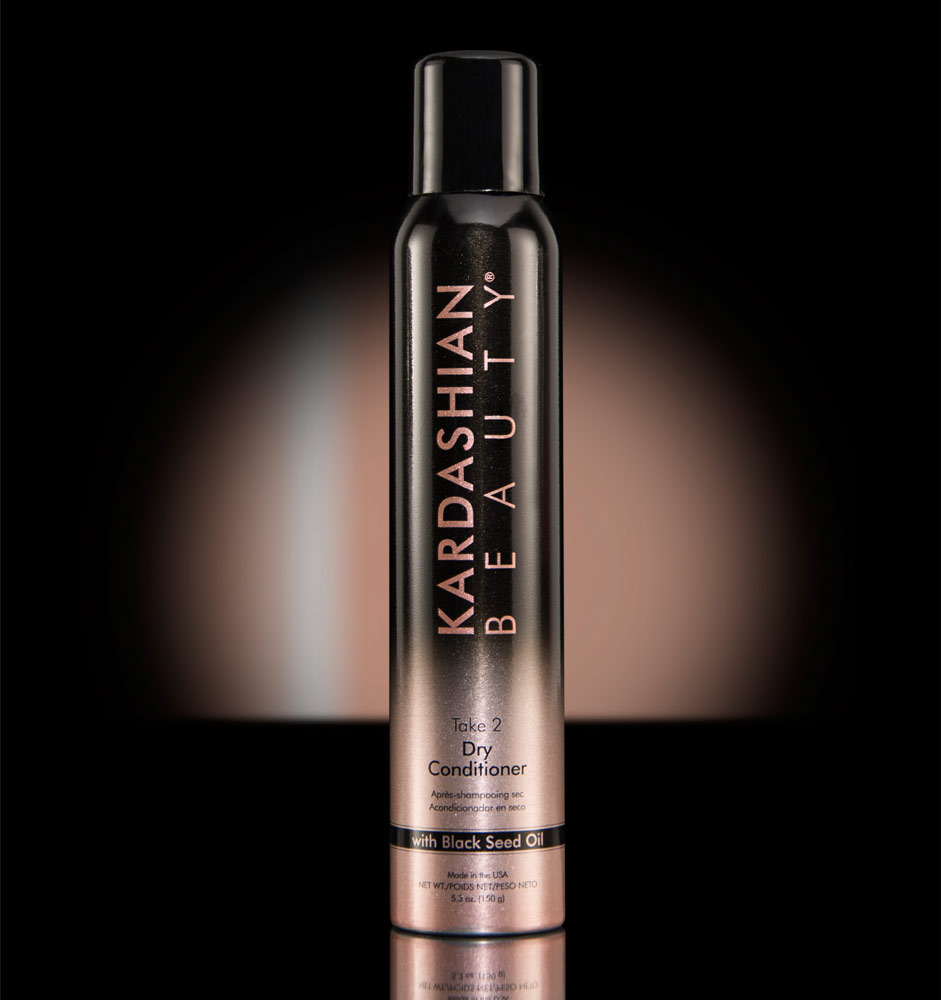 The real star of the show is the new game-changer: dry conditioner.
I have severely dry, damaged hair from constant bleaching and chemical straightening – you get the drift. This makes me an avid hair oil user to temporarily fake shine and health. Dry conditioner is next level in making your hair feel silky and soft – which is something that I rarely experience. I can't seem to fingercomb my hair without pulling out a handful of hair. It instantly adds moisture and tames my wild and unruly tangles while being super lightweight, so those with limp and fine hair don't need to worry about hair being weighed down. You can fake a glam blow-out with minimal effort – again, efficiency is a major pro. It's also great in maintaining your blowouts for added radiance.
They're $38 a pop so value-wise, in all honesty, I'd pay that for the dry conditioner because it's is my new best friend and immediate salvation in a can. The dry shampoo? Perhaps I'd fork it out if it was pay day. But it's a 2-for-1 deal for both the dry shampoo and conditioner so I'm sold.
Black seed oil is an ancient healing oil that is highly rich in essential fatty acids that are known to thrive hostile conditions in the Mediterranean region. The extract of the seeds of Nigella Sativa is used in the formulas throughout the Kardashian Beauty Hair line. It moisturizes, strengthens and rejuvenates damaged hair to makes it soft, supple and shiny.
Click here for the 2-for-1 deal for the Kardashian dry shampoo and dry conditioner set.