Wholesome Homemade
Everyone loves to indulge in a homemade sweet treat every now and then, but those without the luxury of time are often left to buy theirs from a bakery cabinet, rather than creating their own from scratch at home. Designed for those who are time-poor and value whole food and plant-based baking, Hill Street Wholefoods are affordable and easy-to-make baking mixes that are gluten-, dairy- and refined sugar-free. With the choice of Banana Bread, Cacao Fudge Brownie, Chewy Choc Chip Cookies and pancakes, those with a love for baking can make tasty homemade treats without costing them in both time and money.
All About Artichokes
You may have seen the latest trend of edible flowers that are gracing the cabinets of trendy cafes but there are some edible flowers that offer more than just some pretty decorations on a cupcake. The humble Jerusalem artichoke is in fact the root of a species of sunflower, native to North America, and while not as aesthetically pleasing as pansy petals, packs a lot of punch when it comes to taste and nutrition. Luckily for us, the Jerusalem artichoke is coming into season this April and, being a rich source of dietary fibres, Vitamins A,C and E, potassium, iron and copper, is a great way to get some essential nutrients into your diet. Great roasted and used in a salad or in a soup, its subtle, sweet and slightly nutty flavour works well paired with Pinot Gris. The fragrant Matawhero 2018 Single Vineyard Gisborne Pinot Gris is one such wine that would match well, with its full-bodied palate of spice, pear, fig and honeysuckle flavours.
Feijoa For Good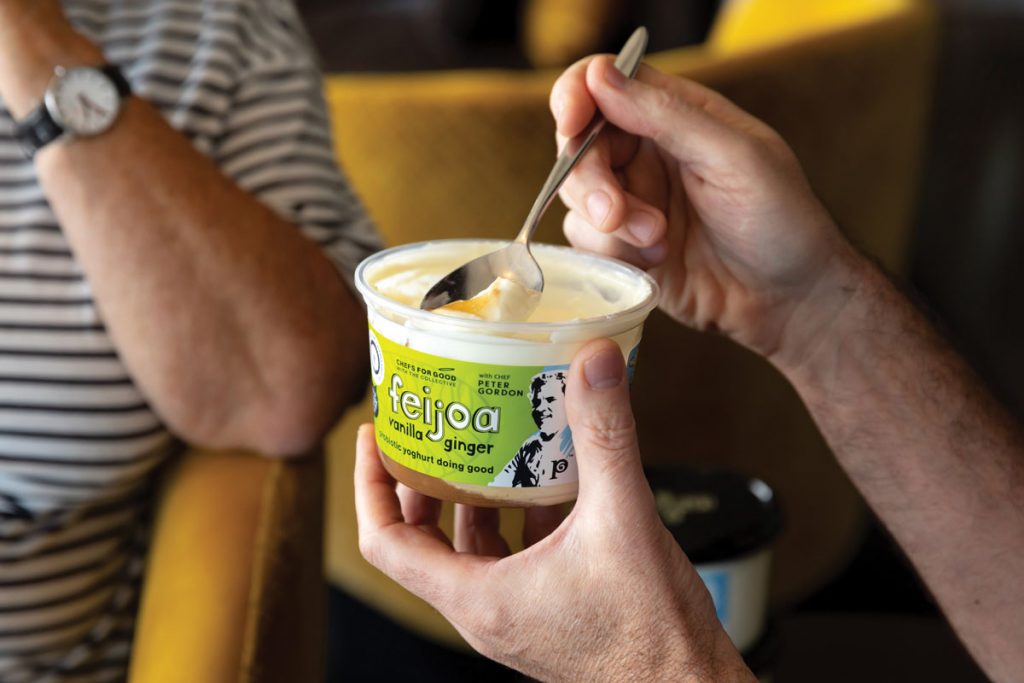 While Summer days spent gorging on stone fruit and berries are almost over, March brings feijoas back into our fruit bowl. And what better excuse than to consume this sweet delight than for charity? The Collective have teamed up with Peter Gordon for their third 'Chefs for Good' collaboration, this time presenting their gourmet probiotic yoghurt with aromatic feijoa and vanilla with the warming spice of ginger. As with previous 'Chefs for Good' collaborations, The Collective will be donating the proceeds from the sale of the yoghurt to Peter Gordon's chosen charity, The LAM Trust. Close to Gordon's heart, The LAM Trust raises awareness of lymphangioleiomyomatosis (LAM), a rare lung condition affecting women aged between 25 to 45. Now you can treat yourself knowing this delicious collaboration is also going to good.
Coconut Cool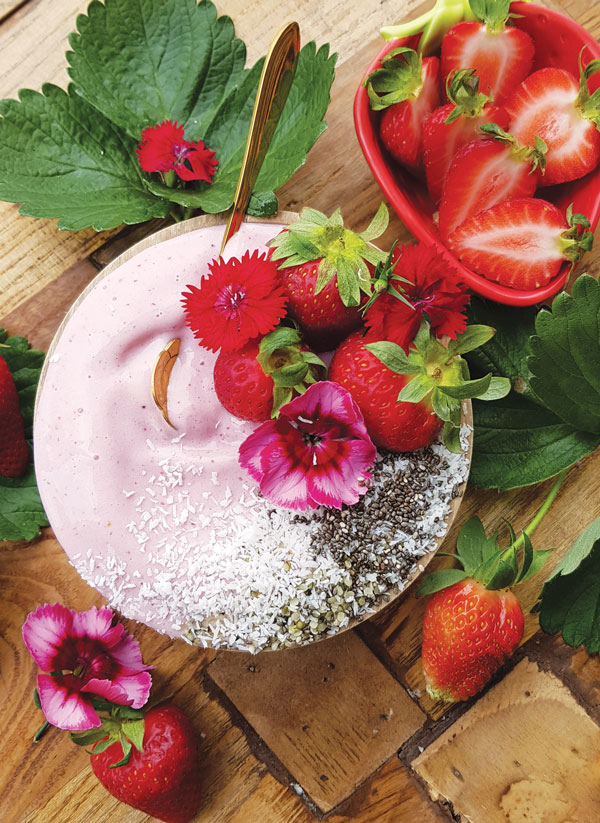 We all love an ice-cream treat. However, the calories that come with it? Not so much. Luckily, Wahiki Creamery are here to fulfill our ice cream cravings without the post-treat guilty feeling. The coconut ice cream company have even come up with a low calorie, low sugar strawberry smoothie bowl to satisfy our sweet tooth, using their delicious vanilla-flavoured coconut ice cream.
Ingredients
1 x 120ml Wahiki Vanilla flavoured coconut ice cream
1 x frozen banana (chopped into 2cm segments)
½ cup of mylk of choice
3-5 fresh strawberries (depending on size)
Toppings:
1 tsp desiccated coconut
½ tsp hemp seeds
½ tsp chia seeds
3 whole strawberries
Pour milk of your choice into your blender, followed by all other ingredients. Pulse several times, then blend on high speed until smooth. Pour into a serving bowl and add your toppings.