If you were to look for albums made entirely by men, it wouldn't take too long to lose the ability to count them on both hands. Albums made entirely by women? Well that is a different story. Georgia Nott noticed this gap and decided she needed to do something about it, and so The Venus Project was born. Emma Taylor spoke to Nott about making a change in the music industry finding her voice and demanding respect.
Ever since she was a young girl, Nott wanted to create a positive impact on the world and make a difference in people's lives. In fact, she recalls having her first panic attack over the responsibility she felt toward making a change and she appreciates the poetic justice looking back on her first panic attack now that she is hoping to make a difference by singing about vulnerabilities and encouraging people to have their own voice and stand for what they believe in. "The amount of times that I talked to myself as a kid thinking, 'What am I going to do for the world?'… I don't think that I'll ever stop trying to do something to make a difference." It is this devotion to making a change that makes empowering other women come naturally. Because, quite simply, it is what she believes in.
Having been in music for over four years with Broods, Nott is well and truly immersed in the industry and has experienced first-hand the lack of women in music: "The main thing I realised over and over again [during this project] was the lack of women in the industry. And I don't even feel that's an assumption or a lie, look at the statistics and it's pretty dire, [for example] the amount of female producers that are making a name for themselves in mainstream music."
The music industry may look to be progressive from the outside, with a lot of empowerment-focused, feminist, female artists, but it is still a male-dominated industry. And instead of passively accepting the current situation, Nott decided to make a change by reaching out to talented women she knew and creating the project. "To be honest, I thought, 'Why hasn't this been done before? Why is there not this in the world? And I thought, 'Well I'll just do it.'" And now, three years after she started writing the music, and a year and a half since she decided to make it happen, The Venus Project, volume one, is set to be released on International Women's Day.
The album is entirely brought to life by women, including, keyboard player and producer, Camila Mora; project manager Sherry Elbe; mix engineer Adrianne 'AG' Gonzalez; mastering engineer Emily Lazar; photographer Catie Laffoon; producer Ceci Gomez and visual artist and illustrator Ashley Lukashevsky. It was very important to Nott this album, and entire project, was seen as a celebration of women and this inspired the name: "I didn't want to just call it Georgia Nott because it's not about me. And I also didn't want to call it 'The Album Made by Women,' so [we called it] The Venus Project." Nott wanted to create a project that embodied what she believed in – celebrating and empowering women. The process of creating the album did just that, reminding Nott how unique and — women are: "Women are from their own beautiful planet and it's like we've just gone into our own planet [creating this album] and made something that is very specifically feminine, but also not in the way that society has told us feminine is. The way that I feel as a female. And the way that the other women in the project feel as a female."
Notts is no stranger to these expectations of what it means to be a 'a women' and 'feminine', and admits there have been times where she questioned whether doing things differently or acting a certain way would impact her success: "There's been so many times where I've thought, 'Maybe if I was prettier I'd be more successful. Maybe if I was to try a little bit harder with the way I looked, or who I hang out with, or what I said. Maybe if I changed some things about me, I'd be more successful?' And then I think, 'I've seen so many guy musicians that are scruffy as shit. Why can't I be scruffy as shit?' That's how I am. That's how I think, I don't like wearing makeup.
I don't like doing my hair, I don't care about those things." It is these thoughts and ideas that are a result of societal pressures and Nott hopes to help others break free of these by encouraging them to embrace their differences, their vulnerabilities and their opinions. "I don't have to change who I am. But to know my own worth and to encourage other people to find their own worth and to actually be able to express that freely and be who they truly are. That's what I want to represent. And like that's not just an encouraging women thing. It's encouraging the men around me to be more emotional and feel like they can fully express themselves. And encouraging people that feel like they haven't quite been allowed to be themselves – in a career sense, or a respect sense."
At just 23-years-old, Nott has become a role model locally and internationally with countless fan accounts on social media and sell out concerts worldwide. With two younger sisters and two nieces, stepping up and being someone her family, and other individuals, are proud of was a simple choice. "I don't think that it's like a privilege to be a role model, I think it's like an obligation," she says. "And if you have voice, you'd better f**king say something worth saying…I'd be really squandering my position in my career [if I didn't try]. I have to be somebody that I'm proud of, so that I look back on this time when I'm an old lady, and I think, 'Well, I didn't waste my life, I didn't waste my voice, and I didn't waste my opportunities.'"
Having done solo tours, joining Ellie Goulding, Haim, Sam Smith, Two Door Cinema Club and Tove Lo on the road, making prime-time television appearances and taking home New Zealand and international nominations and awards for the music with Broods, this solo project is giving Nott the opportunity to not only be a name recognised in music, but become someone who could make a change in the industry. With women lacking from the stages and all behind-the-scenes areas, Nott ultimately hopes this album will encourage other women to embrace music – or their ambitions – and just give it a go. "I don't want young women to grow up thinking that there's no place for them here, because there is. Essentially that is the reason why I was doing this, is to say that and show that there is a place."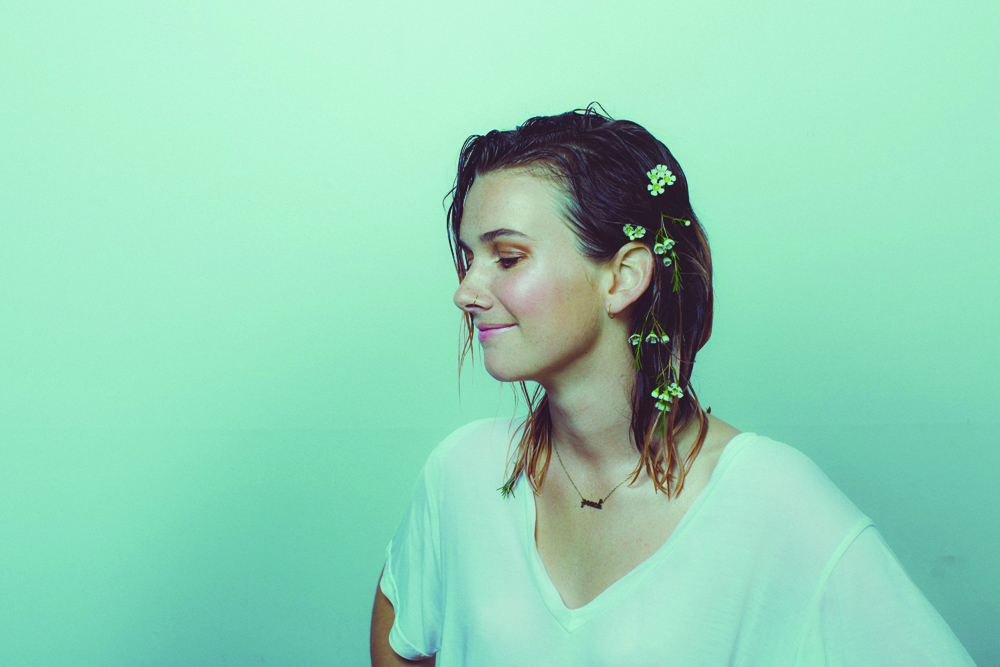 Accepting her own ambitions and talents hasn't always been easy, as Nott admits she has fallen victim to the societal ideas that women need confirmation that they are worth something and can't come outright and celebrate their talents without being seen as over-confident.
"This attitude that's been around since the beginning of time that women need some sort of confirmation that they're worth something. And I'm sure there are men that feel this way as well.For four years I was putting myself down, saying 'Oh, I'm not that good…Oh you really think so? Oh thank you, I thought it was shit', and then I think, 'actually no I didn't think it was shit. If I thought it was shit, I wouldn't have shown you.' Why do I keep telling people that I think I'm average, when I know deep down that I think I'm brilliant at what I do? And why am I pretending that I'm worth less because I'm a 23-year-old woman amongst a lot of older men that have been in this industry longer than me?"
She hopes this project will encourage other women to stop apologising for being confident in themselves and confident in their abilities and instead have faith in themselves.
Nott says she has noticed a change in the way women think about confidence, and she believes women are beginning to call for more respect. "Women are demanding equal pay, and woman are demanding respect. And demanding justice for harassment in their general life and the workplace, and speaking out about what they think is wrong. And I think that's the beginning of change in that attitude. It's showing that like you don't have to take shit. You don't have to just think that, 'Oh well I'm a woman so I that's just what it's like for me. I just have to watch my back. I just have to take half the amount of money that the man sitting next to me doing the same job is getting. And I have to look a certain way to get any success in this world.'"
As much as this project is a labour of love for Nott, she doesn't necessarily want to be the one to carry the flame for volume two and hopes someone else would take it on. "I really want it to keep going, [but] I don't want to do the next one. I want to hand it over to somebody that I believe in, somebody that's not in the height of their career. Somebody that's up and coming, they've got so much more to give." In order to reach as many women as possible, Nott hopes volume two would be embraced by someone who was involved in different kind of music to her in order to reach different corners of the industry: "Because I think there are so many different types of music and women [who] are sometimes held into a certain box of what makes them successful or what will like keep their career going, or whatever. I want to get all those other genres and I'd love to like extend it out to a bunch of different women in different genres with different perspectives and different ideas.
It is clear from the music, and the conversation with Nott that the project not only recognises female creatives, celebrates all women and challenges society's expectations of women but also hopes to create change."I'm really proud to be a part of this movement and to do something that I hope will spark other changes and spark other projects like this," she says. There is little sugar coating the current societal challenges that face women – equality, pay equity, sexual abuse, education, harassment… the list goes on. And as movements and marches take life, it is these independent efforts that make a difference and in turn inspire other women and men to do something as well in order to create change and embrace who they are.