These 3 Skin Products Are Like A Fairy Godmother For Your Face This Winter
If you are anything like me your skin is freaking out now that winter is upon us. My skin is dryer than ever, which is a rare occurrence considering I am prone to an oily T-zone. Smothering my body in thick lashings of moisturiser is easy, but my face needs a more gentle care regime.
Enter Antipodes Kiwi Seed Oil range, which is cruelty free and organic. These three products have become all I use to boost my skin and give it some much needed TLC.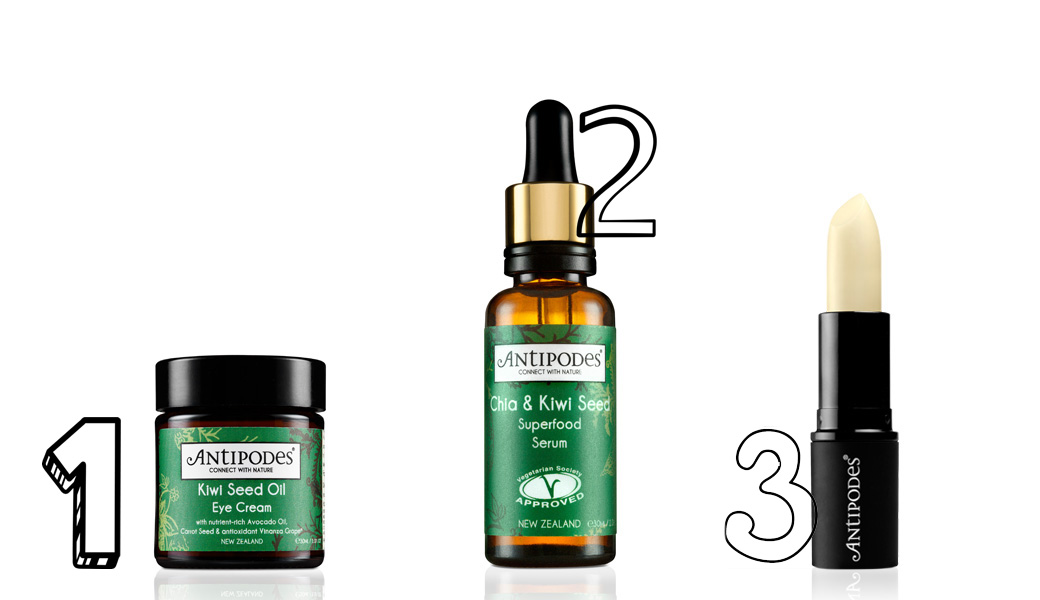 This luscious eye cream is scientifically proven to stimulate type1 collagen production in human firboblast skin cells by up to 82% – in other words it will help rescue damaged tissue and moisturise and soften fine lines. Apply the eye cream at sunrise and sundown to the precious areas around your eyes.
2. Chia & Kiwi Seed Superfood Serum
This serum is basically superman. It is not only hydrating but also strengthens your skin, is anti-inflammatory, has anti-aging properties and it is a light oil – making it perfect for every skin type.
3. Kiwi Seed Oil Lip Conditioner
The worst thing about dry skin is when your lips join in and you end up with cracked, dry lips. This is why you must carry around a nourishing lip conditioner all the time! The formula keeps your lips soft because it protects against water loss and increases surface lipids (molecules that retain moisture).
Why are they so amazing, well, it is all thanks to the Kiwi Seed oil. This oil has high concentrations of Omega 3, which we all know is a godsend to keeping skin hydrated. It is also a rich source of Vitamins C and E.
The trick to perfecting your skincare routine is applying your lotions and potions in the right order and starting with the lightest products first.
I start by cleansing so I have a clean, blank canvas. Then after toning my face, I apply a few drops of the Kiwi & Chia Superfood Serum to my face, neck and decolletage. For extra hydration, I apply a few drops of moisturiser and finish off with a pea-sized amount of the Kiwi Seed Oil eye-cream. Last but not least, I smother my lips in the Kiwi Seed Oil Lip Conditioner – especially at night time so I can wake up with soft lips.
I then practice incredible self control as I try not to pat my face and enjoy the incredibly smooth skin I now possess.
I think the best part of all of this, despite my skin feeling ridiculously smooth, is that $60,000 of the sales from the Chia & Kiwi Seed Oil Superfood Serum go toward WWF.
You'll also like: