New products come out all the time – and sometimes it can be daunting to figure out which one to choose that will be the best for your skin without breaking the bank. We've found the easiest skin care kit that contains all the essentials – a cleanser, toner and moisturizer to suit any skin type.
The prestigious skincare line Dr. Hauschka has released new 1-2-3 step skincare kits that put all the essentials in a box. Meeting the demand for the surge in popularity for animal cruelty-free and certified natural cosmetics, Dr. Hauschka is a brand that is certified to NATRUE and BDIH standards and of course, free from all the nasty stuff like synthetic fragrances, dyes or preservatives, mineral oils, parabens, silicones and PEGs.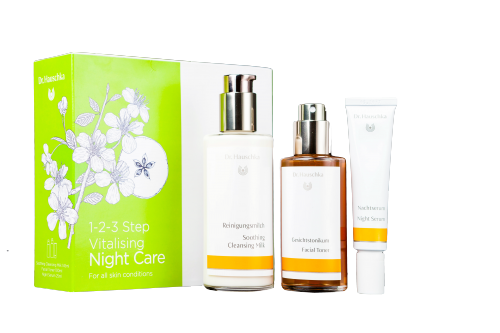 The 1-2-3 step skincare kits come in a variety of options to suit different skin types – we recommend the 1-2-3 Vitalising Night Care to start your night time skin care regimen.
The Soothing Cleansing Milk is pretty much a godsend. It removes makeup (even thick stubborn multi-layers of mascara) dirt, and oil without stripping our skin of its naturally protective acid mantle.
Use the fortifying Facial Toner morning and night after cleansing – it's super invigorating and you'll feel as fresh as a daisy after a long day at work.
If you're after oil-free night care, this night serum is great for allowing your skin to find its balance. It's super light, refreshing and quick-absorbing, your night-time beauty routine will be done within 5 minutes.