I can honestly say I do not go a week without using this product, actually, I do not think I could go two days without using it. It has the ability to draw out my blow dry (or my at-home attempt), conceal my greasy tips and give my hair a fresh, just-washed scent – all while letting me sleep in for an extra half an hour.
What is this miracle product you ask? Batiste Dry Shampoo.
This is one of those products that promises a lot: it is a regime changer, it offers fresh hair from a can. Well, I can vouch for these statements, because a can really does these things. I first found this product when I was travelling in the UK, a time where sleeping was valued and nice looking hair was important for tourist photos. Countless cans came home with me and it has now become a staple product in my beauty collection. So much so that I have one at home, one in my gym bag and one at my mum's house.
I even converted my old flatmates, who were skeptics of dry shampoo after trying different types and complaining they looked in the mirror and saw a white-haired version of themselves. But I discovered they were in fact a fan of Batiste when my can got suspiciously lighter and one day appeared in my flatmates room…
It is no accident this product took home three awards at the Best in Beauty in 2015. If I could give it an award, it would be the 'makes me look good even when I over slept' trophy.
Now, I am sure I am not the only one who does this. But I base a vast majority of my beauty buys on how good they smell. So when a dry shampoo can leave me smelling like honeysuckle and sugar melon or pomegranate and jasmine, I am sold.
However, it is not all about how great they smell. Fancy volume? They can sort out your flat, lifeless hair. Have a few grey hairs you want to hide? The colour range has you covered.
A lot of people worry that dry shampoo is not for them because they have darker hair, but I have been a bit of a hair chameleon, featuring my natural chestnut brown, chocolate brown, black (this was a very unfortunate accident) and now blonde Ombré. Batiste has followed me through this journey and I have never had to change my dry shampoo, of course, if you are concerned you can go for the aforementioned colour range, which features 'light and blonde', 'medium and brunette' and 'dark and deep brown'. Of course, the key way to avoid a white coating is to apply it the right way.
Dry shampoo is not just a coveted item, it is actually saving you from making a common hair faux pas. Fabian Lliguin, stylist and Rahua brand creator, spoke to Elle and busted the common myth on how often you should wash your hair. "Washing your hair daily will remove hair's natural oils and proteins, drying it out" he said,  "Best to wash twice a week." Of course, some of us do not have this luxury and find our hair gets greasy on day two or three, which is where Batiste comes in. Day two and three of my wash see my hair blasted with a healthy dosing of dry shampoo, and when I do wash my hair it feels so much better than when I wash it every day.
If you have not cottoned on to this miraculous beauty trend yet then you seriously need to head to your closest store, pronto.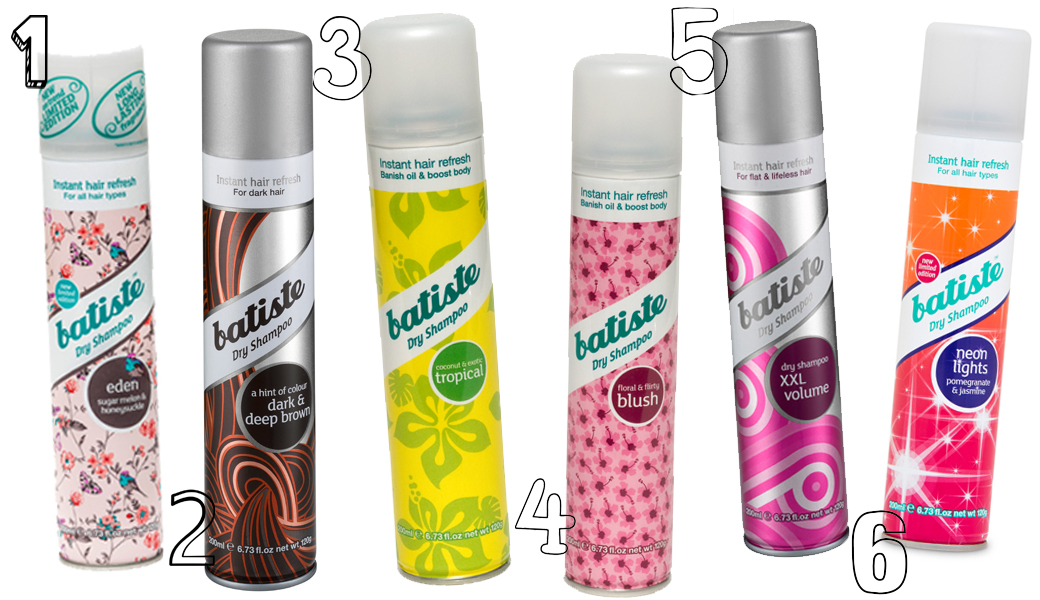 Available at Farmers,  selected supermarkets and Pharmacies nationwide.