When Abigail Kingston set out to pick her dress for her upcoming wedding she knew that she wanted to carry on the tradition of wearing her families 120 year old dress. It's been circulating through the family since 1895 when Kingston's great-great grandmother first walked down the aisle in it.
The dress which has been passed down 11 times now on her mothers side wasn't without its wear and tear though. Always kept in safe keeping by its last occupant it was last used in 1991 the sleeves had begun to disintegrate and the satin had begun to brown.
[columns_row width="half"][column]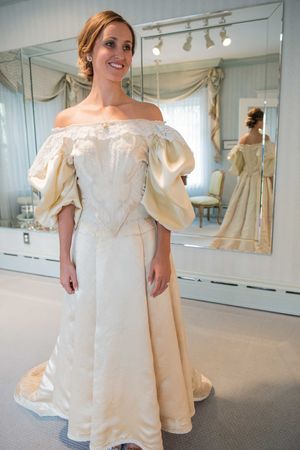 [/column][column]
[/column][/columns_row]
After 200 hours of painstaking work though the dress has come out beautifully!
"It's not just the dress that's been handed down," Leslie Kingston said. "It's the love."