Diversity & Inclusion Transcript: Journey To Excellence – 21 June 2019
On Friday 21 June, nearly 500 guests at Pullman Auckland joined an expert panel of business leaders to discuss the hurdles to Diversity & Inclusion in the workplace and define the solutions. The panel featured Rebecca Thomas, Founder and CEO of Mint Asset Management; Kaye-Maree Dunn, Director of Indigital Blockchain Limited; Kristen Lunman, FinTech Innovator and Founder of Hatch; and Dean Taylor, CEO and Founder of Contagion. Hosted by broadcaster Carly Flynn, the panel discussed hurdles they've experienced while trying to challenge the status quo, while also looking at solutions that we can all take back to our workplace. The following is the first half of the transcript of the panel discussion. The second half of transcript will appear in M2woman September / October 2019 issue.
Ingrid Vercammen (Keynote Speaker 2)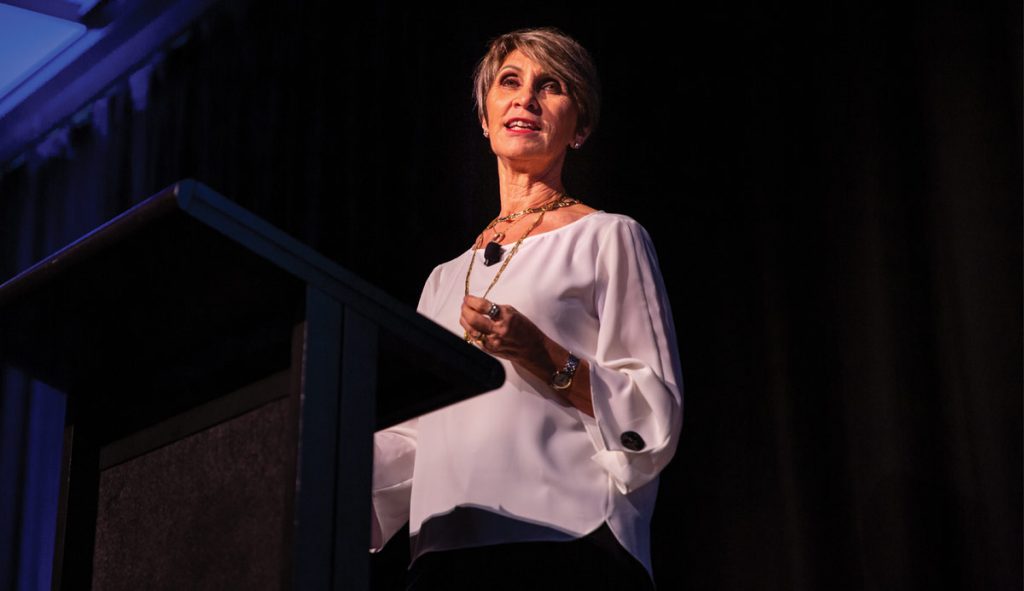 Ingrid Vercammen is a Belgian inspirational speaker, leader, influencer and intuitive entrepreneur. From diamonds and psychotherapy to pancake domination, Ingrid's business life has been anything but ordinary. Faced with extreme challenges, Ingrid realised the importance of leading herself first, and then others. Now she's sharing her learnings and leadership style to women all over the world. She is passionate about helping women recognise themselves as leaders in all areas of life and is committed to encouraging women to lead themselves first from the inside out.
Dean Taylor (Panelist)
Dean graduated from The London School of Economics in 1994 and has been in the communications industry for 25 years leading some of the world's top advertising agencies. He founded Contagion with his wife Bridget which is a full service brand and media advertising agency. He is proud to call it a family values business that believes New Zealand business can make the world a better place. They are not driven by global profit, but by a sustainable future.
Sam Stubbs (Keynote Speaker 1)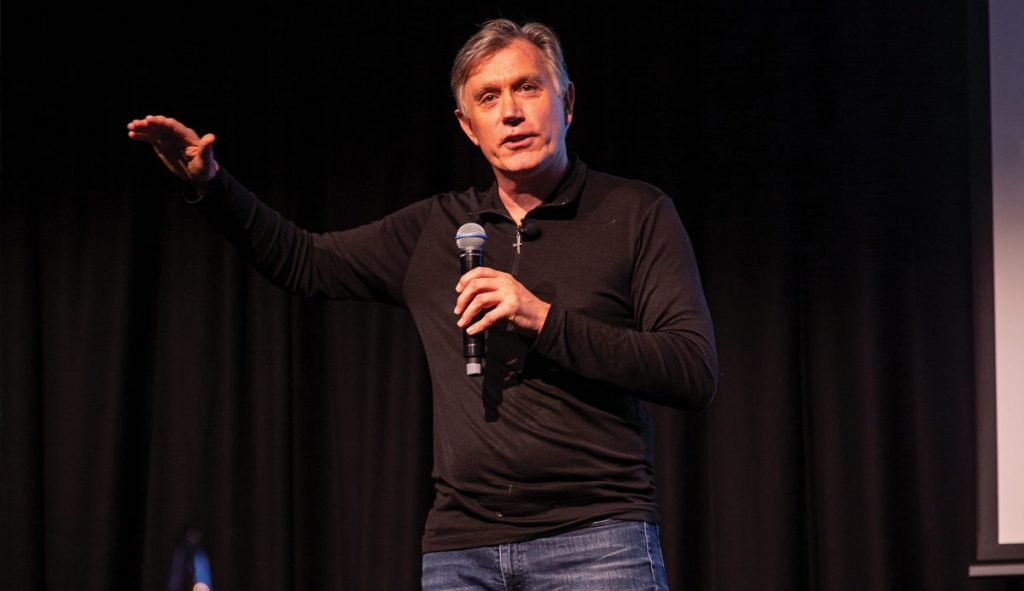 Sam was most recently the CEO Of Tower Investments, a KiwiSaver default provider. Before that he was Managing Director of Hanover Group, and spent 10 years working for Goldman Sachs in London & Hong Kong. He previously worked for Natwest Markets, Fay, Richwhite and IBM New Zealand. He has been a Board Member of the Financial Services Council, and a member of the Government Taskforce on Financial Services. He has an MA (Hons) from Auckland University, is a father of two children and dreams of simplicity and sailing around the world!
Stubbs is currently the Managing Director of the non-profit Kiwisaver fund, Simplicity.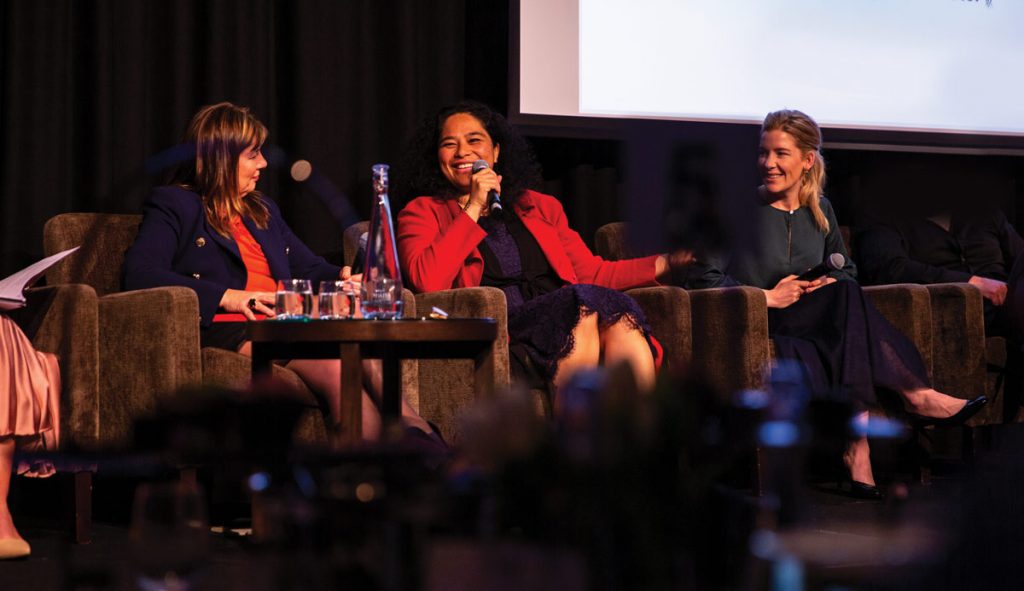 Rebecca Thomas
Rebecca founded Mint Asset Management in 2006. She has a strong pedigree in funds management, with a career spanning 30 years, both in New Zealand and offshore. Her previous executive positions include Managing Director and Chief Investment Officer of Johnson Fry, a London-based funds management firm, acquired by Legg Mason, where she went on to hold the position of Group Chief Executive Officer. On moving to New Zealand, she became Chief Investment Officer for ING (NZ) Limited. Rebecca has been a Director and Chair of the AFRC of KiwiRail Holding Limited and an Associate member and AFRC Chair on the Board of the Financial Markets Authority from 2011-2016.
Kaye-Maree Dunn
Māori Entrepreneur and Facilitator, Kaye-Maree, has been working in the space of Māori and Community Development, public relations, and communications, with a particular talent for strengthening cross-cultural relationships. Kaye-Maree is fascinated with family, community and technology, and works with Māori groups, especially at a grassroots level to build capability, and identify risks and possibilities for development.
Kristen Lunman
Working as a senior strategy professional for several years both here and overseas, Kristen has made a name for herself in New Zealand's startup ecosystem including scaling the startup Wipster and at the Kiwibank Fintech Accelerator, where she encouraged and championed Kiwi startups to compete globally. In her role as Kiwi Wealth's Director of Innovation, Kristen challenged the status quo by opening up the US share markets to all New Zealanders with the self-directed investing platform, Hatch. In 2018, Kristen Lunman was nominated as one of New Zealand's Women of Influence Innovator of the Year award.
Mediator
CARLY FLYNN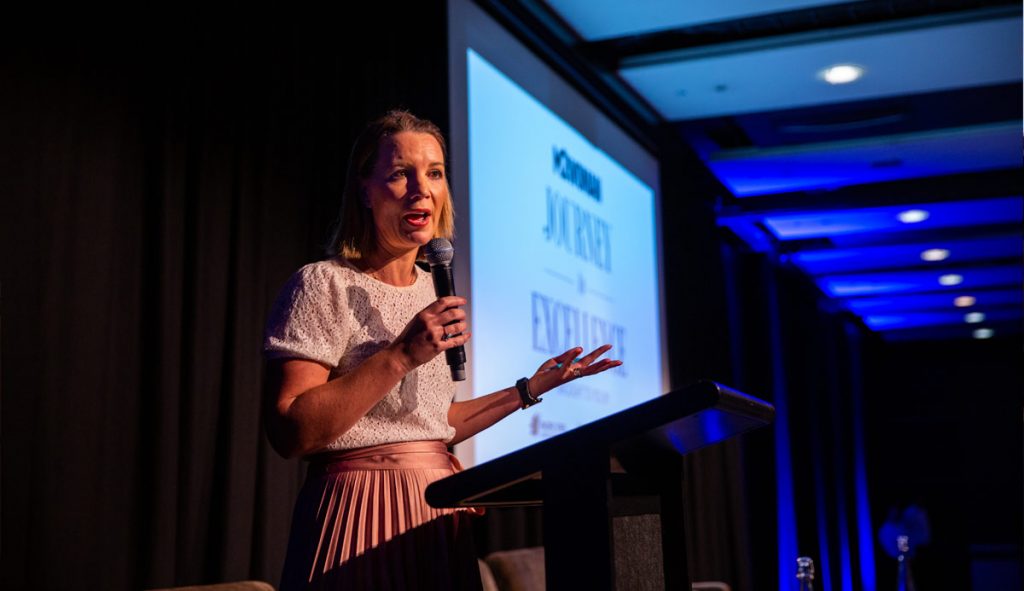 Broadcaster Carly Flynn is a New Zealand journalist, presenter, MC and host, who's worked in the industry for more than 20 years. A former Nightline, Sunrise and 3News presenter and journalist, Carly is more recently known for her role as presenter of TV3's flagship consumer affairs programme Target, reporting and hosting 60Minutes, as well as lifestyle shows Cook the Books and the Healthy Food Guide. Carly gained a Bachelor of Media Arts in the late 90s and has worked in the industry ever since. She also writes on a variety of topics for newspapers and magazines, all while juggling a busy family life.
Carly Flynn: Lets start the panel with each of our panellists sharing a personal story and what their personal interest in diversity and inclusion is.
Rebecca Thomas: I was very, very lucky to become a very young female leader. I ran a listed business on the London Stock Exchange when I was 34. That was pretty unusual in those days and the one thing I wanted to say is I got there, because I had amazing male mentors. They really supported me in what was quite a difficult and unusual environment. I think that made a really, really big difference to me on the way through. Everybody's got different stories, some less encouraging than others. I do believe that self confidence is the most important thing that you can have as a women leader. Confidence in yourself. Nobody else is going to lift you up any more than you are, and I think that you need to learn to be confident in yourself. Put ourselves forward. Put ourselves out there.
What made you interested in diversity and being inclusive and helping other women?
RT: I'm involved in the money management industry now as a barrister originally, and I left the bar to go into financial services. The first thing I did when I became CEO of the business was I got rid of the entire management team which consisted of quite old, white males.
I got rid of a whole raft of people that had been in the business for 20-30 years and we set out by trying to hire the best people. It was totally a meritocratic thing. Ironically, we ended up with a female CFO and a female Marketing Director and then ultimately a female Sales Director, and I was often asked if this was positive discrimination, if that's how we'd achieved it. I said 'no, we just hired the best people for the job.' We actually interviewed the people and we were able to change the mix in the business and the business went forward significantly.
My biggest passion from the money management industry is about women's financial independence. I had a dad who absolutely supported his daughters and desperately wanted us to be very independent. He supported our education all the way through and I think female empowerment is very much about having choices, as Sam said, and women learning to take responsibility for their finances is a really, really big part of that. That's a big passion for me.
Kaye-Maree Dunn: I'm the youngest of 11. I'm a proud mother of a 14-year-old son who's going through some really interesting teenage times and I wear a range of pōtae, or range of hats in my life. I am the Director of three companies. One is Making Everything Achievable or the acronym is MEA. In Te Reo Māori, 'Mea' means thing or anything basically. So that really gives me a great blank canvas to talk about anything, which I'm going to do today with all of you. It also means that we can really bring a distinct perspective to the different projects that we're involved with as a business inside of that.
I have the opportunity to be the Special Project Manager for Māori Women's Development, Inc. We're a 30-year young organisation and we're a finance institution. We provide capital to Wahine Māori and their whanau. At the time 30 years ago, Māori generally were struggling to get any capital from banks. Through the wise stewardship of Dame Georgina Kirby and a series of other strong Wahine Māori Leaders from the Māori Women's Welfare League, they established the Māori Women's Development Fund. We've helped to catapult hundreds of Māori women into business, with the intent of not just lifting them out of poverty, but to help create Mana Motuhake, which is their own self determination and their own ability to decide their futures for themselves through business. That's a wonderful role, working with young people, working with start-up and emergent businesses and social enterprises.
The second business that I am very proud to be part of is called Indigital Blockchain Limited. The purpose of that particular company will be to act as a steward around data sovereignty and, in particular, creating systems where we will be able to manage and store our own sacred knowledge and information. That is a company in evolution. And the third business that I'm really proud to be part of is, as a co-founder of the first, I believe, Kaupapa Māori-centred blockchain company called Āhau. Our pure purpose is to create a platform for digital identity to enable anyone, but in particular to start off with, Māori communities, to have a storehouse for their own genealogy, their Whakapapa. To start to take control of their own personal information, their own personal data. Diversity as a word is quite a misnomer, because it starts off with an intent of arbouring in that we are diverse to a particular model. Because I'm Māori, am I diverse to other populations? What does that actually mean when we say diversity? And what do we really mean when we say inclusion? My hope is to challenge some of the norms that we might hold around the sense of diversity and inclusion and actually help lift the conversation to something else quite separately, which is as a matter of diversity and inclusion, just part and parcel of great practice.
Just to go back and peel some layers off you in your talk about self- confidence, empowerment and helping all these other women. Where did you get it from?
KD: Well I am the youngest of 11 children, so we have the story called Maui Opotiki, which is being the youngest, mischievous member of your whanau. It's pretty hard being the youngest. The next sibling up from me is 12 years my senior and I was also the youngest of my first cousins, they're all much older than I am, so I had to learn pretty quickly. I also mentioned in my introduction that I'm also an uri of the North. We call it the waves of the dragon or the waves of the Taniwha, which is 'you better shape up and be on to it, because there really is no excuse for you to muck around.' With that, lots of experiences, lots of mistakes and falling over, scuffing my knees.
I also feel that I've been really, really lucky in my lifetime to have had some amazing mentors, both men and women, that have given me space and opportunity to learn and grow. So mihi to them as well, because I'm not here because I'm also on my own. I'm actually here because I've had lots of support, lots of whanau and also quite a few twists around the ears when I don't get it right.
Kristin, I know you, as a woman in finance, have had a different pathway compared to say Rebecca, right?
Kristen Lunman: I've come from a tech background actually so while I'm in FinTech, I prefer to call it TechFin. We've learned a lot being in market, in finance. In particular about women and what they're doing their money, so I think we need to hatch into that later.
My maternal great, great grandmother was one of the first women in the world to vote here in New Zealand. My paternal grandmother was a physician, which at that time was very rare in London, and my mum has circumnavigated the globe on a sailboat for seven years and so I come from a long line of formidable women. There was really no choice. It's in my genes to at least attempt to be one. And I'm attempting to raise one as well. I would describe my first 10 years of my career as flailing. I had significant opportunities to excel in my childhood, both in school and in sport and I was able to do that. I was blindsided in those first ten years of career, and so I'm also here to right those wrongs and to hand the next generation a more equitable future as well. I'm pretty passionate about that.

Dean, tell us a little bit about you.
Dean Taylor: I'm here, like most people here, because of a great woman. My mother made a lot of sacrifices when she was young to make sure I could go to college and do things. I remember her dropping me off at 4am at the library all the time. I didn't know I was into diversity at all, but I remember looking at my mum and dad's marriage. My father went off playing golf four hours a day on the weekend and I saw my mum working all the time and I just didn't think that was right. When I went off to university, I realised I was the fish out of water. I was the one with the different accent and I was stuck between two worlds. I studied psychology. Psychology of gender, ethnicity and I started to understand the differences of what makes us unique and what sets us apart, and also what our prejudices are, which I found fascinating.
I took all that on board and the sociology of all that and went into advertising, which I thought was a wonderfully gender-neutral business and it was, until I got into management and I became the CEO of Saatchi's, and I realised there wasn't any females at all. It became quite depressing and it just didn't appeal to me. I ended up in New Zealand about 14 years ago, intending to stay for about 18 months. I met a wonderful proud Māori woman, and we now have two children and we founded Contagion. We founded it on very different principles. We employ a lot of people on four-day weeks. We give special holidays for school holidays. We champion being a parent at work. We think parent is the best leadership position you'll ever have.
I saw my Mum and I see a lot of people compromising all the time, particularly women. I have to make excuses for it, which we find unacceptable. So I think that's where we come from. From a diversity point of view and it's something that we're very passionate about.
There are a couple of elevator stories that were doing the rounds at our table before, and that might just set the scene. Rebecca, do you want to share yours first?
RT: I learnt very early on in life never to have a good conversation in a lift, because you never know who would be listening. We were on the 25th floor of a building with 27 floors and I was in the lift with a bunch of property guys who were boasting about their weekend and what a great time they'd had. They said 'Can you believe it,? We went on a private jet and that idiot Greg took his wife with him.' They didn't know that I knew that idiot Greg or indeed knew his wife and so I just gave them a big lecture about being very very careful what you say in lifts.
We have these panels on diversity and inclusion and yet stuff is still going on in the lifts and behind closed doors. Or sometimes not even behind closed doors.
DT: Mine was a bit of a shocker. I met my wife and I was a young MD here. I was at the back of the lift and a lot of girls got in. And they said 'Oh, have you seen the new MD's girlfriend? She's a bit dark, isn't she? She's quite dark. I've heard he's going to get engaged to her. No! Surely not!' I didn't say anything, but it taught me a lesson. It's not what's said to your face, it's the corrosiveness behind the doors that's the issue. I think that's why we have to keep pushing today and keep pushing forward because this will never end. But if we're strong and we keep pushing forward, we can certainly make a difference.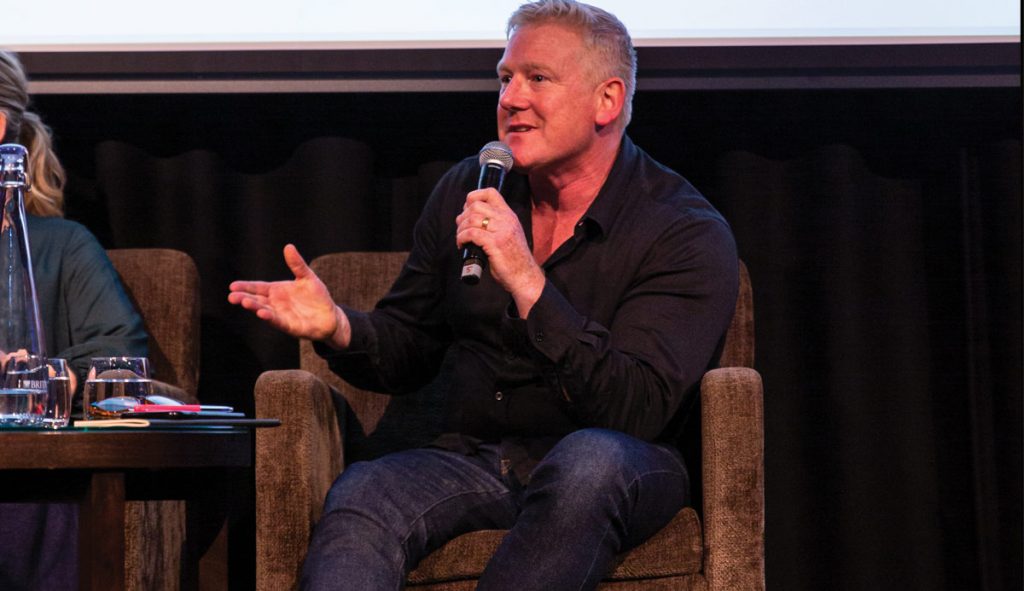 What are you views on calling things out? We can have quotas and programmes and unconscious bias training and panel discussions. But to call somebody out in that instance.
DT: I called them out 15 years later. I saw the girl in a bar the other day. I said 'do you remember what you said in that lift?' And she said 'I don't know what you're talking about, Dean?' And she went, 'No, I don't remember.' She bloody well did remember it, I'll tell you. But it's a tough one calling it out, isn't it? I don't think it's the Kiwi way. I think Brits would do it. I'm not saying that's a right thing, but I certainly don't think it's a New Zealand way.
KM: I'm just speaking as a Māori woman and sometimes feeling responsible for having to call people out all the time and having to be the grumpy voice. It's cooler when you've got great allies that could do that calling out on your behalf. In fact, I've made it a point that that's not really my job. First and foremost, it's up to you to get yourself right within in regard to your own stuff, your own cultural awareness. You need to get that sorted first so that you can actually come to the table and actually present appropriately.
Being the youngest of 11, I'm not slow or afraid of speaking my mind. But I do think about the one Māori person in a predominantly non-Māori environment. The one woman or the couple of women or young marginalised communities that are in these spaces and really taking it. What that looks like are people that are just feeling quite heavy with this emotional labour that goes with trying to get people to be more conscious and aware of their behaviour. The calling out is a call for you to be responsible for yourself. I call you to step up and make a better attempt at doing, not just the right thing, but actually getting yourself educated so that you can participate in a way where you're not causing offence or making anybody feel uncomfortable.
RT: Certainly the people in positions of power need to be the one calling it out, and women actually are predominantly the ones that do. We know the majority of whistle-blowers have tended to be women. They tend to exert influence with the downtrodden and so certainly there's got to be some pressure on the men. Diversity is an issue for all and so there's got to be some pressure there for those men in positions of power as well to call it out.
Kaye-Maree, I'm wanting to expand on what you alluded to at the start. Challenging the norms of diversity and inclusion and what you mean by that and the other thing.
KM: Some of the challenges that have been brought to my attention are things like diverse from whom? What is the normal? What is considered normal first and foremost and is it that anything else that sits outside of that frame is considered diverse? Māori, we have a term called 'ia' which is He and She. It's not necessarily about women over men, or men over women. It's about the fact that actually we are both one and the same.
That also links with another term called 'Wairoa', which is that we have two waters that run within us, both our male line and our female line. It's quite different from my own perspective because I think about my brothers and my sisters. I think about my father and my mother. I think about Wahine and Tane. Men and Women. Not one over the other or vice versa. When you have that level of thinking, then it's a "we". It's a "we" discussion and then alongside that, it's about behaviour. It's about practice and what are we doing to help create inclusive safe environments for us to be our authentic selves.
That's where I'd like us to start to elevate the discussion toward. I've been lucky to have some really good male friends. I find personally, in regard to having emotional conversations, that we as women are quite lucky. We can talk to our sisters, talk to our friends, our metes, and just have that space to spare. But I also wonder what about our men folk? Who do they have to talk to about some of the greatest challenges that they're facing both in the workplace and at home? And how do we also not have this kind of diversity conversation which excludes our Tane from being empowered and feeling capable and able to have that conversation? I also think about that as a perspective of being a mother to a 14-year-old son. I don't what him to feel whakama or ashamed of him being a young man. How do we build up our men, as well as our women?
RT: I think the simplest form I tell my kids about is representation and wouldn't it be amazing if everywhere we went, to our children's classrooms, or our workplaces, our government boardrooms, is representative of New Zealand and it feels like New Zealand. When I went to my daughter's school, what I quickly realised was they'd actually segregated the classrooms, and there was a largely Pakeha classroom and then there was those that weren't. I was horrified and I actually ended up pulling my daughter from that school. I've always just felt I should be able to walk into a room and it should feel like New Zealand because we should look like New Zealand for New Zealand. I just think its representation and that's how I explain to my children what diversity is.
Dean, keen to hear from you as a man, particularly in response to Kaye-Maree.
DT: Dialling it back a bit on why we're all here and going back to the earlier point about being confident in who you are. I think that's what diversity gives us – the opportunity. Where's that place where you can be you and the strength that comes from being you. Having this conversation being talked about is where you go 'Yeah, it's okay to be me and I'm very good at being me' and I think once we cross over that, as a person, your ambition's much easier to get. We have a "manny". I have a six foot three, adorable Māori man who looks after our children because again he wanted that job. He was the best guy for the job. And I want my kids to grow up thinking anybody can be who they want to be.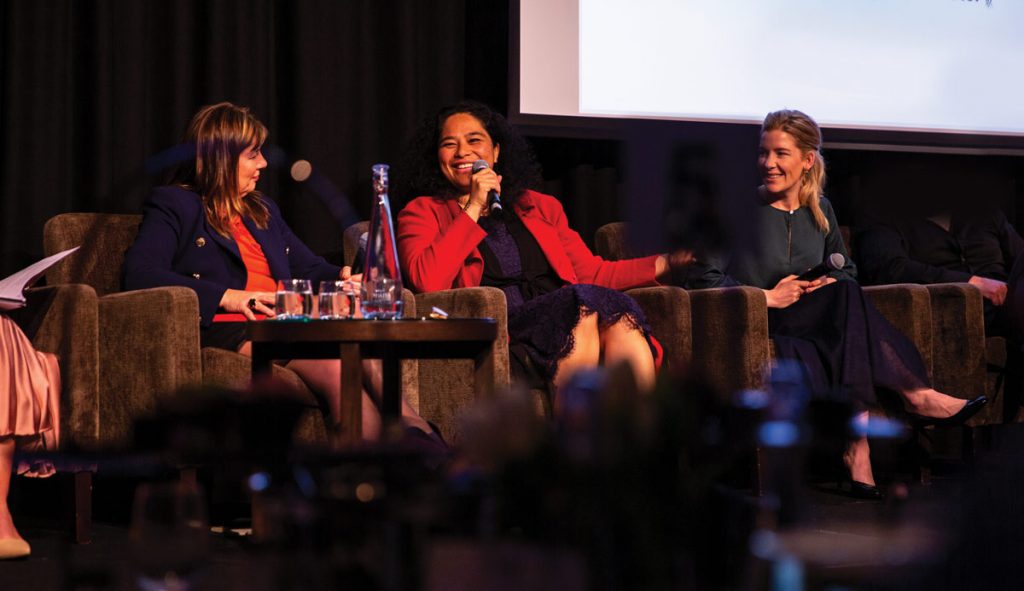 Rebecca, barriers to diversity in New Zealand at your level and in finance, business and governance. What are they?
RT: Sam mentioned the percentage of females on boards in Crown entities. The government really did take a stand and actually move the needle in the public sector very, very significantly. Now that hasn't followed through in terms of the private sector. I think we've got two female Chief Executives on the stock exchange at the moment in New Zealand. It's still a very, very rare thing that we have female leaders at that level in private businesses in the commercial sector. One of the main challenges is just the sheer small size of the economy. The turnover in senior positions is very, very slow. People hang on for grim death to those very highly paid jobs when they've got them. They may be the Chief Executive, or it may indeed be on the board. Tenure is very, very long in positions.
That means that the normal turnover that you get in other Anglo-Saxon economies, is probably every two to three years. Average tenure here might be even as long as nine years. That's a big challenge, the scale. We as institutional investors, we've got to engage companies and we've got to make them realise and understand that we want them to change. They want our money from an investment point of view, and so they need to adopt better standards around corporate governance and part of that is the diversity piece. Yes, scale is a challenge and there hasn't really been the impetus from organisations and developments that there have been overseas. The US and the UK have had this massive 20% project running now for about 20 years, in terms of getting 20% of all leaders as female leaders. So I'm not a believer in quoters, because I'm a meritocrat at the end of the day. But I really do think we need something to move the needle in the private sector.
KD: Can I say that I'm a quoter? I do like it and the reason being is because Isaac Newton's Law of Inertia, if anyone's aware of it, is that our body will remain in the same state, be it in motion or at rest, unless an outside force is exerted upon that state. And that's just humans, isn't it? It's what you feel. See it in finance with apathy. We take the easiest course of action. That greater force, in my opinion, is quoters. They can be legislated, or they can also just simply be pressure.
We're ten years on now from Norway and some other countries that have implemented quotas. The greatest fears have gone unrealised. They were concerned that in the business world, we'd have all these unqualified people in the top roles, and those fears are now unrealised. Number one, it fixed the parity problem at the very top level. Now, what it didn't do is trickle down. I recognise that. But it did solve that problem of gender equality at those top levels. The second thing it did was an attitudinal shift in all of the naysayers of these quotas. They now actually support them and that's ten years on. I'm actually an advocate of them and again it's just, how do we overcome this inertia? I think we're going to have to take a pretty heavy-handed approach to do that.
Join us for our next & final Live Forum for 2019 – CLICK HERE FOR DETAILS
You'll also like:
You're seeing this M2woman article with compliments of our channel sponsor. If you enjoyed it why not try our entire library from only $1.99 a month - get instant access right now, every issue of M2woman since June 2017. Get local NZ made content on beauty, health, style, design, technology, entertainment and more right now!
CLICK HERE
for options.