Treat Yourself With This Healthy Choc Raspberry Smoothie Bowl
As a yoga instructor, award-winning journalist, marathon runner and the Health and Wellness ambassador for Polynesian Spa, Rachel Grunwell is the person to go to for all things wellness. In between helping clients reach their health goals with her business, Inspired Health, and running Polynesian Spa's Mindful Moments Retreats, Rachel has recently released her first book, Balance: Food, Health + Happiness. In the book, Rachel interviewed a multitude of experts in the fields such as psychology, neuroscience, yoga and fitness, and asks for their advice on health and wellbeing. As well as expert tips, Rachel also includes a myriad of Instagrammable recipes for tasty snacks and smoothies.
Here she shares with us her delightful looking Choc Raspberry Smoothie Bowl.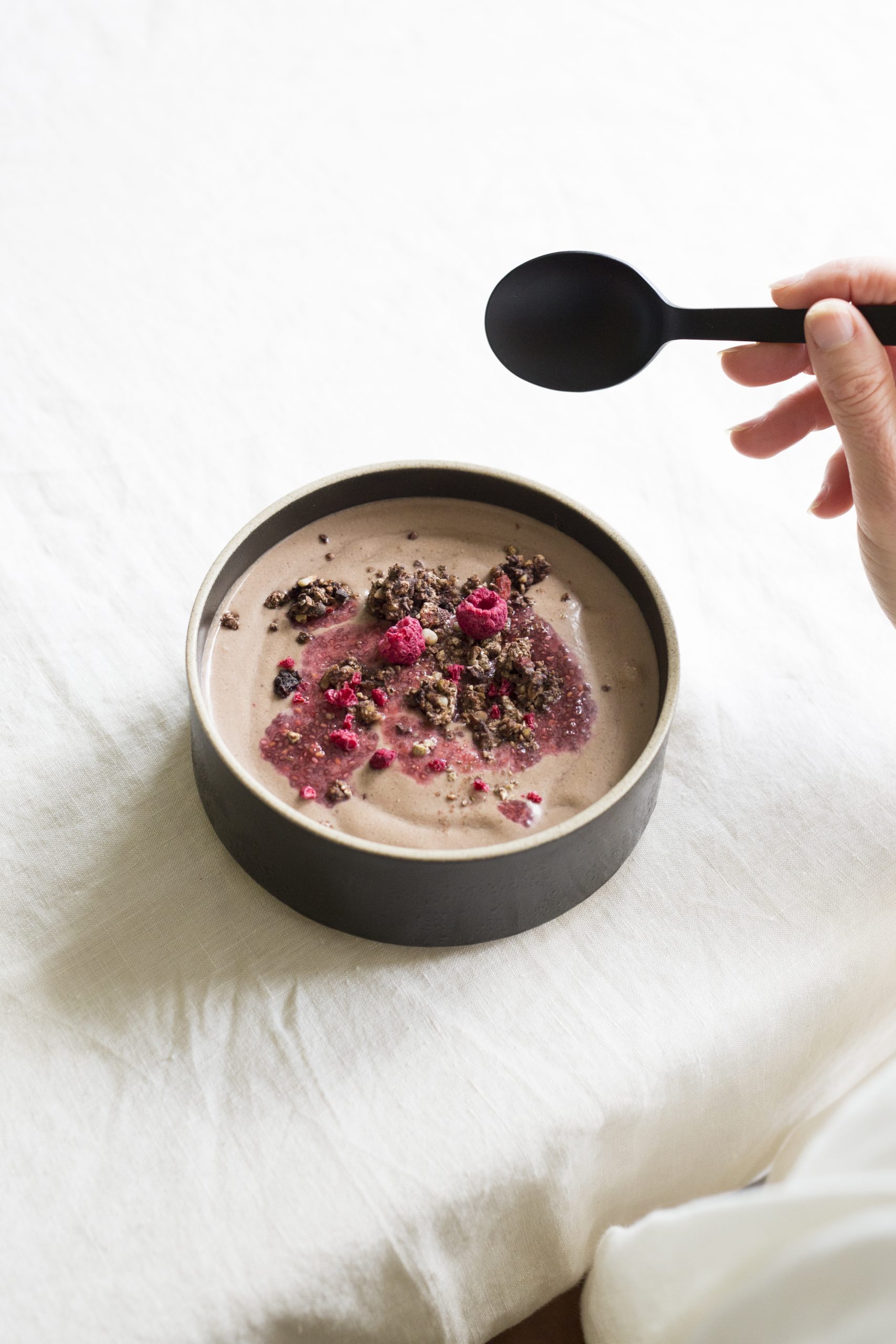 Choc Raspberry Smoothie Bowl
SERVES 2
This recipe can be used in two ways – in a bowl or frozen into iceblocks. I also sometimes double or even triple the recipe and have a smoothie bowl and leftover mixture for making iceblocks. My kids love these iceblocks. They are a healthy option for an after-school treat. They are preservative-free, gluten free and dairy-free. And who doesn't like the combination of chocolate and raspberries, right?
1 cup water
¼ cup cashews, soaked previously for
two hours in water and then water
removed and rinsed with fresh water
2 frozen bananas, skin removed
1 tbsp cacao powder
¼ cup coconut cream
pinch of salt
½ tsp vanilla essence
1 tsp honey
RASPBERRY CHIA:
½ cup raspberries
1 cup water
2 tsp honey
¼ cup chia seeds
OPTIONAL TOPPINGS FOR THE SMOOTHIE BOWL:
handful granola
sprinkle of raspberries (use freeze-dried raspberries or fresh ones if they are in season)
Put all the first list of ingredients for the smoothie bowl into a blender and blitz until smooth. Leave to the side.
Next, make the raspberry chia by blitzing the raspberries, water and honey in a blender and then gently stir in the chia seeds and leave for 30 minutes to plump up in the fridge. To make your smoothie bowl, pour the choc smoothie mixture into a bowl and then spoon as much raspberry chia on top as you like.
We then sprinkled a handful of granola and raspberries for added crunch and flavour. You can add as much of this (or as little) as you desire.
ICEBLOCKS:
This same smoothie bowl recipe mixture (and the raspberry chia) can double as nutrient-dense iceblocks. Just put roughly a tbsp of the chia recipe into iceblock moulds first and then fill with the chocolate smoothie recipe mixture to get the two layers. Then pop these into the freezer overnight. For added chocolate sweetness and flavour (as well as wow factor), I then remove the iceblocks from their containers and drizzle melted dark chocolate on top of them.
Balance: Food, Health + Happiness by Rachel Grunwell, Beatnik Publishing, RRP $40.00, beatnikshop.com
Photographs and styling by Aimee Finlay-Magne. Recipe first published in Good magazine.
You'll also like: