When former X Factor NZ judges Willy Moon and Natalia Kills made a speedy exit from the country, it seemed like that would be the last we ever heard of them. Unfortunately not, it seems.
Willy Moon posted a tweet earlier today, "New Zealand. Pours racist hatred on an opinionated black woman, replaces her with a guy in blackface." – a clear dig at present judge Shelton Woolwright who, as part of his performances with Kiwi band I Am Giant, has painted his face and neck black.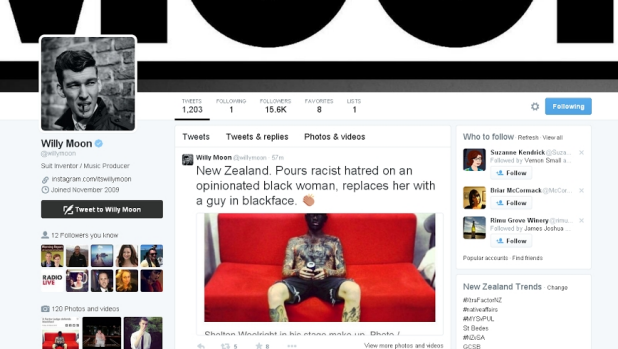 'Blackface' is a form of theatrical makeup used to represent a black person. It was commonly used during the 1800's to portray racial stereotypes and became a social taboo after the civil rights movement of the 60's.
Moon obviously didn't care to distinguish between Woolwright's performance facepaint (which takes inspiration from KISS and other artists who used makeup as part of their performance) and blatantly racist 'blackface', taking a cheap shot at his replacement.
As for the "hatred" Natalia received? It's fairly evident that most of the invective leveled at her had nothing at all to do with her race but merely with fact that she tore into some kid for no good reason.
In the end, it seems like this is just one more excuse for Willy Moon to lash out at the nation that was so quick to call him out on his nastiness.