The internet has again proven itself to be a bastion of heartless cruelty and dumb hurtful comments when a group of trolls took exception to Ashley Stevens' boyfriend Christopher Glenn Reed. Not anything he had done or said but his weight.
The couple's relationship when viral after the Columbus, Georgia pair attended a wedding last month and the 21-year-old Stevens was snapped catching the bouquet with Reed beside her.
Reed posted the photo to his Facebook account and within hours it had thousands of likes and was shared on Reddit – along with the likes though came the internet trolls with comments aimed at Reed's weight.
"People were saying she was too good-looking for me and that it looks like I have Down syndrome," Reed, told PEOPLE in one of many follow-up interviews. "Some comments said there was no way I could be her boyfriend and they made fun of my weight."
The mocking insults spread like wildfire compelling Stevens to jump to her boyfriend's defense with a Facebook post that then also went viral: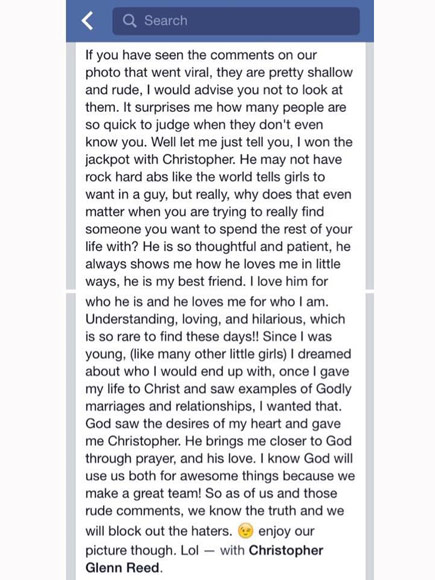 "If you have seen the comments on our photo that went viral, they are pretty shallow and rude. I would advise you not to look at them. It surprises me how many people are so quick to judge when they don't even know you.
Well let me just tell you, I won the jackpot with Christopher. He may not have rock hard abs like the world tells girls to want in a guy, but really, why does that even matter when you are trying to really find someone you want to spend the rest of your life with?
He is so thoughtful and patient. He always shows me how he loves me in little ways. He is my best friend. I love him for who he is and he loves me for who I am. Understanding, loving and hilarious, which is so rare to find these days!!
Since I was young, (like many other little girls) I dreamed about who I would end up with. Once I gave my life to Christ and saw examples of Godly marriages and relationships, I wanted that. God saw the desires of my heart and gave me Christopher. He brings me closer to God through prayer, and his love. I know God will use us both for awesome things because we make a great team!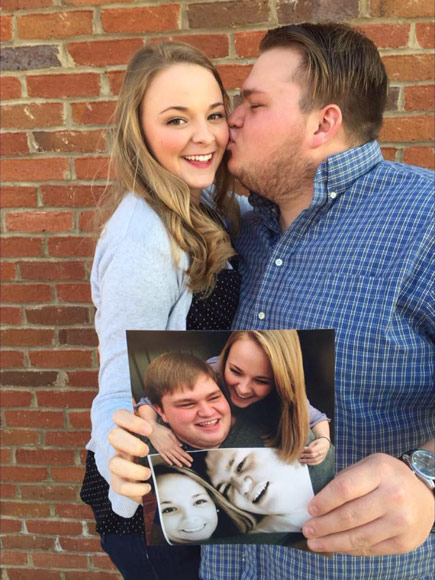 While her words might have shamed some of the trolls it hasn't stopped them all and Reed still finds himself attacked because of his weight. Still, he hasn't let them get him down…
"You know, you'd figure I was beyond the caring of the internet trolls, but still, they lurk, commenting on even the stories bashing them for their, already rudely adolescent, ignorant comments. Keep em coming folks. I got all day to brush you off and keep trusting in the Truth that covers my life. ‪#‎AllforHim‬ ‪#‎hatersgonnahate‬ ‪#‎ForHisGlory‬"