Women for Change
We're providing opportunities to support women to develop into  leaders now and in the future, while at the same time building our diversity of thought to mitigate any potential effects of conscious and unconscious bias towards women." 
Nikhil Ravishankar – Chief Digital Officer at Vector
Every year, Vector's Women in Leadership is held to help empower women to strive for higher roles in their careers – positions like CEO's or business owners. A 2016 study, posted online by the US National Library of Medicine stated that three factors that may sometimes prevent women from reaching higher in their careers are stereotyped views, masculine workplace cultures and institutional sexism. Vector's main intention behind their programme was to hit hard against that mould. The programme was designed in partnership with Massey University Professor Sarah Leberman and Sarah Schulz of Capability Group. Vector's Business Relationship Manager, Sophie Gardiner and Digital Strategist, Rose-Marie Dennis talked to M2Woman about what the programme means to them and how it should be widely implemented.
See more about job opportunities with Vector and their Women in Leadership programme
Why did you decide take part in Women In Leadership Programme?
Sophie Gardiner: The feedback received from the previous years' participants was so positive, I knew it was a great course. I also knew that there are some inspiring women in our organisation and I thought this was a great opportunity to meet them as well as getting to meet and interact with senior leaders that my role does not often give me exposure to. This course is about empowering women and teaching us how to sell ourselves, which is not something that comes naturally for women – certainly not myself! This was something I wanted to work on. I feel that this is one of our challenges in getting the jobs and promotions that we as women deserve. The course covers a lot of challenging work which is made possible by a strong network of women in the business who are different from me but who I can learn from, who can challenge me and test me to put me outside my comfort zone – and I will admit I have been put outside my comfort zone!
Rose-Marie Dennis: This was a chance to work closely with other women leaders across the organisation to identify and address the issues and opportunities faced by the company and industry.
Tell us more about the projects you're working on
Sophie Gardiner: My team's project is to evaluate Vector's current performance in attracting, retaining, developing and supporting older workers, as this is an issue the business is passionate about; I would love to see our recommendations taken forward. For my personal development, this course has inspired me to approach other areas of the business and seek out opportunities that I can integrate into my role as a Business Relationship Manager. I want to expand the role and take opportunities to our key customers that put Vector at the forefront of their minds when they think of new energy solutions.
Rose-Marie Dennis: As part of a team, we focused on understanding the drivers behind developing a workforce that 'looks forward to Mondays', and we're currently building out a roadmap of initiatives that I'll be putting my hand up to help implement, to continue the leadership learning process. In addition, I'll be supporting women more consciously as it is key for everyone's success.
What's the most surprising thing that you have learnt so far?
Sophie Gardiner: Something particular that struck me was a story regarding orchestras and how they were noting that the split of members was not 50/50 and that it was heavily male-oriented. They began carrying out blind auditions but noted that this did not drive the change they had envisaged. Not until they had females and males remove their shoes so that you could not hear the heels entering the audition did they find that there was an even split of male to female representation in their orchestra. This to me really demonstrated unconscious bias and how we really need to highlight these stories to drive change. This course has opened my mind to thinking about leadership in its many forms and the different paths we can and will all take in our career. Hearing from other women who are further through with their journey was also really inspiring to hear; their struggles as well as the opportunities that they fought for to progress their own careers. It was surprising to see and hear their different paths to where they are now and the different ways they demonstrate leadership today.
Rose-Marie Dennis: That even now, in these times, there are persistent issues around gender biases and a requirement for support structures to be in place for women to get ahead. Furthermore, the majority of women continue to undersell and fail to back themselves due to the lack of belief in their own capabilities and/or experience.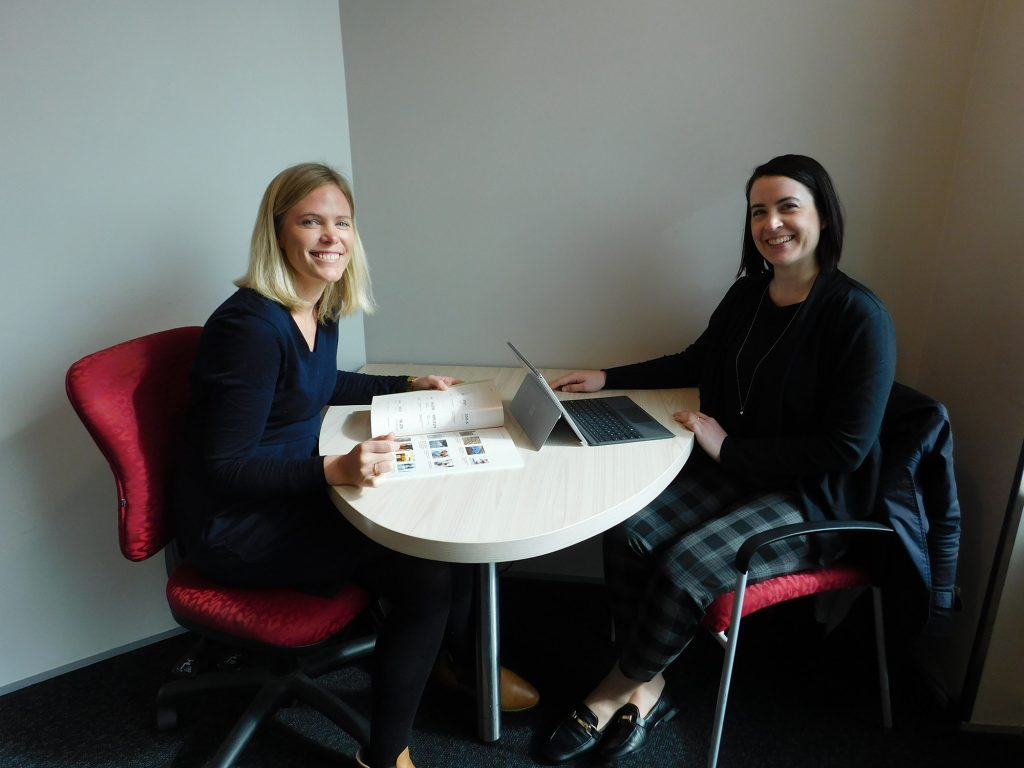 What does unconscious gender-bias in the workplace look like to you?
Sophie Gardiner: I think this can be and is demonstrated in the unbalanced nature of a lot of the workforce. I have had discussions with friends outside our organisation about how they know of times where males get hired over a females primarily due to the fear of a woman leaving to raise a family or due to assumptions around females and their career or non-career path. This is not wholly unconscious but indicates that there would be other underlying issues and concerns that are not so easily articulated. No longer are women seen as definitely going off to have families at a particular age, however I think there is still a bias that at a certain age, women have different priorities.
Rose-Marie Dennis: Unintentional Boys' Clubs.
What do you think we as New Zealanders can do to implement more equality?
Sophie Gardiner: I think we are moving in the right direction but I think empowering women and sharing stories of bias that is felt and observed in the workplace is going to really help with driving the change. Challenging decisions made and questioning why leadership positions are not evenly shared, or why boards are not diverse will all help in achieving equality. If we could all be more open about our career ambitions, our pay and our pathways then the issue can no longer be ignored.
Rose-Marie Dennis: Support the women in our lives to believe they can take the new role / position / responsibility / adventure.
What do you think the biggest challenges are in that field?
Sophie Gardiner: Some of these things are not easy to discuss and it is about making safe places for people to share their experiences and to challenge what the norm is and what has previously been accepted. It is hard to challenge things that have been accepted for so long and difficult to challenge peers or others more senior than you about this norm.
Rose-Marie Dennis: Women need to believe in themselves more but they also need assistance from their support structures, both at work and at home. We all need to know that someone has our back!
Vector's Women in Leadership programme is designed to empower women. What steps should New Zealand businesses take to allow genders to sit side-by-side in any business and allow women to shine at their full potential?
Sophie Gardiner: As has been mentioned in this course – the dream would be to not have to have these development programmes but until we are side by side in the field, this is still going to be required. We are moving in the right direction but I think increased awareness by sharing our experiences helps to gain understanding of one another to allow genders to sit side by side as equals.
Rose-Marie Dennis: I feel there is a couple of components to this. To recognise that diverse thinking generates positive outcomes by challenging the status quo, solving problems by new approaches which has a knock-on effect for both the bottom-line and culture. Provide equal opportunities by removing the conscious and unconscious biases. Help women lean into the opportunities: establish a culture of support that enables women to think beyond the restrictions they place on themselves to do a great job; and work hard at creating an environment where various leadership styles are accepted. Finally, support the women in succeeding at those opportunities by enabling flexible structures that encourages work-life effectiveness.
Name one woman who has really inspired you?
Sophie Gardiner: I have had the privilege to hear Frances Valentine speak twice now and what really strikes me about her is her obvious passion for what she was speaking about and her passion for where she wanted to go. She truly believed in the journey she was taking and I felt inspired after she spoke and invigorated to find that for myself – perhaps a period of saying "yes" to everything is my next goal and to see where that leads. She highlighted that we aren't going to bring about change and development by not challenging ourselves and doing things that scare us so I am inspired by this and am going to endeavor to be put outside my own comfort-zone as often as possible.
Rose-Marie Dennis: Anita Roddick – founder of The Body Shop. Roddick was a trailblazing business woman who created a green movement, in the cosmetics industry before it was popular and managed to forge a £6.5 billion sector in the process. Committed to being socially responsible, she helped raise awareness of animal testing, implemented a sustainable supply chain that ensured people at the source were adequately paid, and helped the homeless sell papers on the street, to name a few. So committed was she that she left her £51 million fortune to charity when she passed away in 2007! I use one of her famous quotes repeatedly: If you think you're too small to have an impact, try going to bed with a mosquito.
What is the most valuable piece of advice you've been given?
Sophie Gardiner: It is around having the confidence to stand beside your male colleagues and to have confidence in your ability and your voice. Diversity of thought can really benefit a business and being part of discussions and putting your thoughts and questions out there will really help a business, as well as the opportunities that can come by putting yourself out of your comfort zone. We can be in charge of our own development and career path and how we want to go through it is up to us. We may have set backs, but it is our own strength of character and our resilience and perseverance that will get us somewhere.
Rose-Marie Dennis: Judge your success by how you've helped others succeed.
See more about job opportunities with Vector and their Women in Leadership programme
You'll also like: